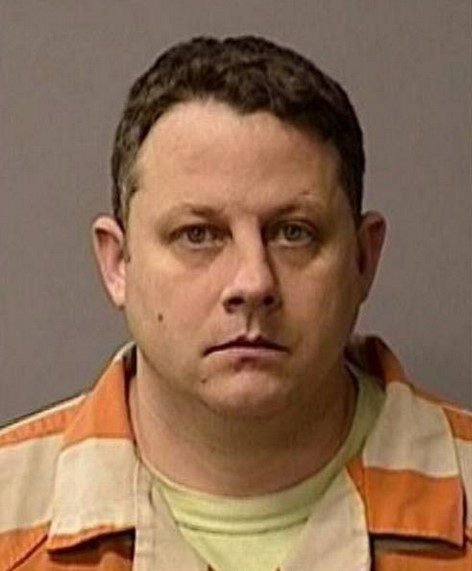 The Black Collar Crime Series relies on public news stories and publicly available information for its content. If any incorrect information is found, please contact Bruce Gerencser. Nothing in this post should be construed as an accusation of guilt. Those accused of crimes are innocent until proven guilty.
Jim Arnold, a youth ministry volunteer at Big Valley Grace Community Church in Modesto, California, stands accused of child molestation. The Modesto Bee reports:
Jim Patrick Arnold, 40, is accused of the continuous sexual abuse of a family member.

Arnold was a part-time volunteer youth ministry worker at Big Valley Grace Community Church. He has not been charged with any crimes associated with a child outside his family.

A week after Arnold's Feb. 19 arrest, Senior Pastor Rick Countryman sent a letter to the parents of children in grades 5 through 12 saying Arnold had been removed from the ministry and is no longer allowed on the Big Valley Grace campus.

"We perform interviews and background checks on all employees and volunteers who work with children and youth …" the letter says. "Jim Arnold passed all background checks without report of any past indiscretions."

The letter goes on to say the allegations occurred off campus with a relative, not with a Big Valley Grace student, but asks anyone with information about "inappropriate behavior … on the part of Jim Arnold" to first notify the Modesto Police Department, then Executive Pastor Bobby Kirchner.

In an email to The Bee Tuesday, Kirchner said he could not say in what capacity Arnold worked with children, if he ever accompanied them on any overnight trips, how long he'd been volunteering there and if he only worked with children in grades 5 through 12.

"I hope you can appreciate that Big Valley Grace cannot and will not comment further on an ongoing criminal case," he said.

The alleged abuse by Arnold occurred on three different occasions between March 2018 and February 2019, according to a criminal complaint. He has been charged with continuous sexual abuse of a child, possession of an image of a minor engaged in sexual conduct, exploitation of a minor and using a concealed camera to secretly videotape another person.

….

In an email to The Bee Wednesday Reilly [Arnold's attorney]  said, "Mr. Arnold not only promptly admitted culpability and accepted responsibility for his actions, he did so under circumstances in which he was suicidal. Law enforcement contact resulted entirely from Mr. Arnold's own regret and shame, rather than as a result of a complaint by the minor."

Judge Shawn Bessey kept Arnold's bail at $100,000 but added a condition to his release that he have no unsupervised contact with anyone under the age of 18, in addition to the terms of a restraining order granted to his wife.