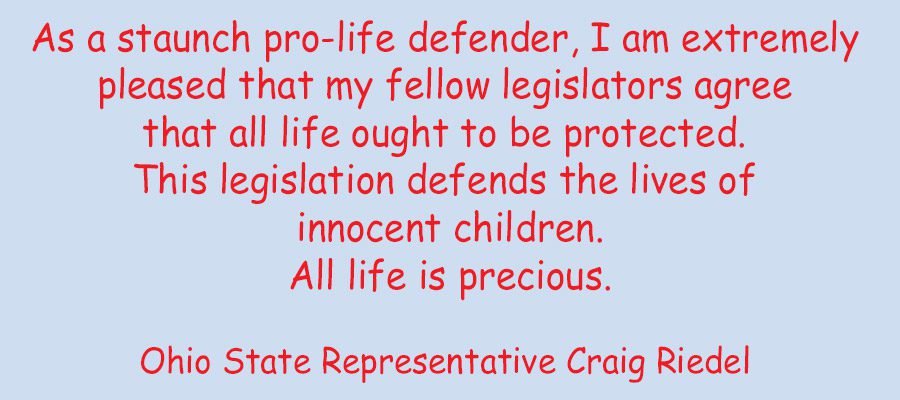 The following letter was recently submitted by me to the editor of the Defiance Crescent-News.
Dear Editor,
Supposedly, Republican Craig Riedel represents the interests of all his constituents in the 82nd District. However, it seems clear, at least to me, that the only people Riedel is interested in representing are people who hew to his right-wing political and religious beliefs. Riedel continues to trample the line between church and state, repeatedly supporting legislation that forces his religious beliefs on others. (Please see Should Every Effort be Made to Preserve Human Life?)
I get it. Riedel is adamantly anti-abortion. However, many of his constituents, including some of his fellow Republicans, do not support his extreme views. Take Ohio House Bill 413, legislation supported by Riedel. This bill, if enacted, effectively outlaws abortion in Ohio. Further, HB413 criminalizes abortion, both for the physician and the patient. HB413 adds terms such as abortion murder and aggravated abortion murder to Ohio law. If convicted, Ohioans could face life in prison.
Not only does HB413 effectively outlaw and criminalize abortion, it makes no exception in cases of rape and incest. That's right. Riedel has no problem with forcing women to carry fetuses to term, even if they have been raped. Worse yet, Riedel supports requiring physicians to reimplant fertilized eggs from ectopic pregnancies. Never mind, that such a procedure is medically impossible and could lead to women bleeding to death. All that matters is that the fertilized egg be spared at all costs. It seems, then, that not only is Riedel anti-abortion, he is also anti-science.
I am left wondering what happened to the Ohio of my youth. There was a time when our political parties worked for the common good of the people of Ohio. Today, right-wing extremism rules the roost in Columbus. How can Ohioans ever find common ground on issues such as abortion as long as men such as Craig Riedel demand pregnant women be kept hostage by his peculiar religious views? And make no mistake about it, Evangelicals and other conservative Christians are the ones driving women to resort to back-alley abortions. Using an incremental approach, right-wing Republicans have enacted a plethora of legislation meant to roll back Ohio to pre-Roe v. Wade days.
Is it really in the best interest of Ohio women to outlaw and criminalize abortion? I think not. While I support legislation that regulates abortion post-viability, I can think of no rational reason to ban access to morning-after drugs and procedures that end unwanted pregnancies. The only thing standing in the way is religion.
Bruce Gerencser
Ney, Ohio
Other posts about Rep. Craig Riedel
HB565: Ohio Republicans Take 'Abortion is Murder' to its Logical Conclusion
Children Should be Taught Facts, not Religious Beliefs, in Ohio Public School Classrooms
About Bruce Gerencser
Bruce Gerencser, 62, lives in rural Northwest Ohio with his wife of 41 years. He and his wife have six grown children and twelve grandchildren. Bruce pastored Evangelical churches for twenty-five years in Ohio, Texas, and Michigan. Bruce left the ministry in 2005, and in 2008 he left Christianity. Bruce is now a humanist and an atheist. For more information about Bruce, please read the About page.
Are you on Social Media? Follow Bruce on Facebook and Twitter.
Thank you for reading this post. Please share your thoughts in the comment section. If you are a first-time commenter, please read the commenting policy before wowing readers with your words. All first-time comments are moderated. If you would like to contact Bruce directly, please use the contact form to do so.
Donations are always appreciated. Donations on a monthly basis can be made through Patreon. One-time donations can be made through PayPal.