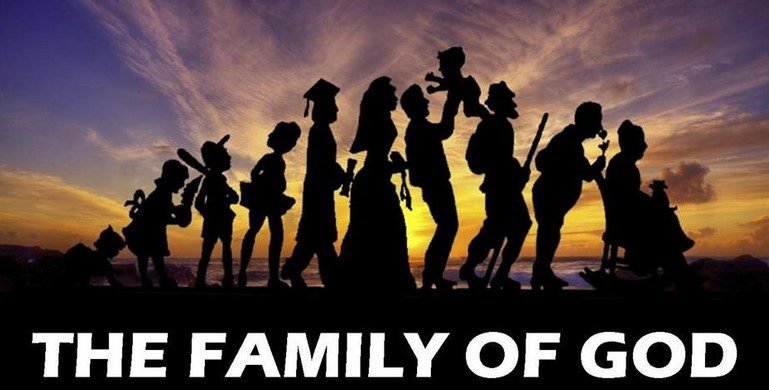 Many Evangelical preachers promote the idea that the bond Christian church members have with one another is better than the one people have with blood relatives. Blood is thicker than water, the old saying goes, but not in Evangelical churches. The water of baptism unites fellow believers together into what is called "the family of God." In this sense, water is indeed thicker than blood. One of the selling points of Evangelicalism is that it provides people with unique relationships with not only God, but also their fellow members.
Years ago, a popular song among Evangelicals was The Family of God by Bill and Gloria Gaither:
For I'm part of the family,
the family of God.

You will notice we say "brother
and sister" 'round here-
It's because we're a family
and these folks are so near;
When one has a heartache
we all share the tears,
And rejoice in each victory
In this family so dear.

I'm so glad I'm a part
of the family of God-
I've been washed in the fountain,
cleansed by His blood!
Joint heirs with Jesus
as we travel this sod,
For I'm part of the family,
the family of God.

From the door of an orphanage
to the house of the King-
No longer an outcast,
a new song I sing;
From rags unto riches,
from the weak to the strong,
I'm not worthy to be here,
But, praise God, I belong!

I'm so glad I'm a part
of the family of God-
I've been washed in the fountain,
cleansed by His blood!
Joint heirs with Jesus
as we travel this sod,
For I'm part of the family,
the family of God.

Yes I'm part of the family,
the family of God.
You will notice we say "brother and sister" around here, the Gaither's wrote, and we greet one another this way because "we're a family." Gaither goes on to say that when brothers and sisters have troubles, the church is there for them, just as the church rejoices with them when they have victories. From the outside, the notion of church members all being one, big happy family is appealing. One of the common things ex-Evangelicals miss is the social connection and camaraderie they had with fellow Christians. And not just during Sunday services either. The churches I pastored over the years had frequent potluck dinners, dinner on the grounds, and banquets, along with social events that drew congregants together.
If you come from a dysfunctional family as I did, it is not hard to see how the church could supplant your blood relatives. "I don't need my parents, siblings, and extended family! I have my church family. They love me unconditionally and are always there for me!" Or so the thinking goes anyway. What ex-Evangelicals learned is that, unlike blood relatives whom you are related to no matter what, the "family of God" has certain requirements for participation. Don't play by the rules, don't have the right beliefs, or don't march in lock-step with the preacher's edicts, and you will find that that "unconditional" love is anything but, and the people who promised to always be there for you are nowhere to be found.
Those of us who left Evangelicalism and became atheists/agnostics quickly found out that the "family of God" was not what we thought it was; that the people we called friends distanced themselves from us or turned on us. I was part of the "family of God" for fifty years. I had scores of intimate relationships with fellow Christians and colleagues in the ministry. I naively believed that if I were honest about my loss of faith these people would at least "understand" and continue to be friendly. Instead, once word of my unbelief became common knowledge, it was not long before my church family turned on me. I received countless emails and letters from former congregants and colleagues in the ministry decrying my atheism. The very people who loved and respected me set me on fire with angry, hateful words. I wish I had saved their correspondence, but their words hurt me to such a degree that I threw them away after receiving them.
One letter, in particular, came from a couple I had known since I was a teen. Their older boys were my age. I spent countless hours at their home hanging out. They were instrumental in me becoming the pastor of Olive Branch Christian Union Church in 1995. We were close, to say the least. In early 2009, I sent out Dear Family, Friends, and Former Parishioners. After, receiving my letter, this couple sent me a scathing letter that, in essence, told me I was possessed of the Devil. Their words were beyond hurtful. Several months later, I received another letter from them — an apology of sorts. Unfortunately, the damage was already done. I tend to believe that people say what they mean the first time, and usually apologies are just them feeling guilty about being assholes.
What my post-Jesus experiences taught me is that the beliefs I had about the "family of God" were largely untrue; that membership in the family required fidelity to certain beliefs and practices. From a sociological perspective, I understand why this so. All of us are drawn into relationships with people who have similar beliefs, experiences, hobbies, and the like. As social creatures, we like to hang out with likeminded people. When I divorced Jesus, I broke the bond I had with congregants and colleagues. Fine, but you'd think that, at the very least, they would treat me with love, kindness, and respect, if for no other reason than the possibility that my loss of faith was temporary. Instead, they burned our relationships to the ground. "No Jesus? Rot in Hell," their sentiments seemed, at the time. My best friend so savaged me that I am not sure I have emotionally recovered to this day. When he first emailed me, I couldn't believe how nasty he was. I hadn't heard from him in several years. I replied, "Really? How about asking how I am doing?" We traded several emails after that, but it was clear, at least to me, that all that we had shared together over the years mattered not to him. All that mattered was fealty to Jesus and the Bible.
I was fifty years old when I left Christianity; when I lost a lifetime of friendships and social connections. This, I suppose, was the price I paid for being open and honest. If I were to repudiate atheism and swear allegiance to Jesus again, I have no doubt that I would regain many of these lost relationships. That's not going to happen. It's too late, age-wise, for me to build new social connections and friendships. Sure, I have a few heathen friends and I am grateful for the relationships I have through this blog. Maybe, if I live long enough, I will write a song called The Family of Reason.  Deconversion has forced me to focus on the family that really matters: Polly, my children, grandchildren, and my siblings. Contrary to what I believed for fifty years, blood really is thicker than water.
Please share your experiences with the "family of God," both as a Christian and as an ex-believer in the comment section. Do you still have close friends from your church days? If not, what have you done, if anything, to build relationships with likeminded unbelievers?
About Bruce Gerencser
Bruce Gerencser, 62, lives in rural Northwest Ohio with his wife of 41 years. He and his wife have six grown children and twelve grandchildren. Bruce pastored Evangelical churches for twenty-five years in Ohio, Texas, and Michigan. Bruce left the ministry in 2005, and in 2008 he left Christianity. Bruce is now a humanist and an atheist. For more information about Bruce, please read the About page.
Are you on Social Media? Follow Bruce on Facebook and Twitter.
Thank you for reading this post. Please share your thoughts in the comment section. If you are a first-time commenter, please read the commenting policy before wowing readers with your words. All first-time comments are moderated. If you would like to contact Bruce directly, please use the contact form to do so.
Donations are always appreciated. Donations on a monthly basis can be made through Patreon. One-time donations can be made through PayPal.