Imagine for a moment that you find a wallet someone has accidentally dropped on the ground. In the wallet are the person's ID, credit cards, and $300. What would you do?
I suspect most of us would attempt to track the person down and return the wallet. Why? Because it is the right thing to do.
The Christian Post reported a story about an anonymous Christian finding a wallet and returning it to its rightful owner. The Christian did the right thing and he should be commended for doing so. If you have ever lost your wallet or ID, you know how stressful and gut-wrenching the experience is, especially in this day of identity theft.
The problem I have with the Christian Post story is the motivation the Christian had for returning the wallet. Instead of it being a good, decent, honorable thing to do, the Christian had a "Biblical" reason for returning the wallet.
The Christian attached a Post-it note to the wallet: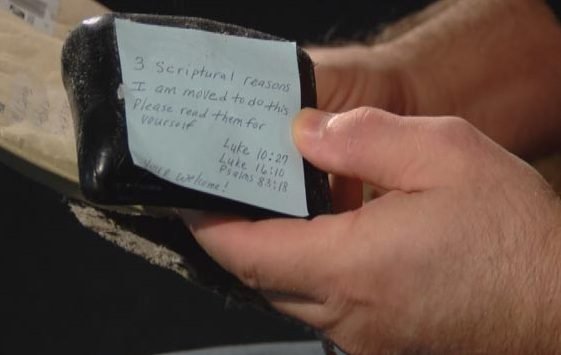 The Christian who returned the wallet stated that the following verses were his reason/motivation for returning the wallet:
And he answering said, Thou shalt love the Lord thy God with all thy heart, and with all thy soul, and with all thy strength, and with all thy mind; and thy neighbour as thyself. Luke 10:27

He that is faithful in that which is least is faithful also in much: and he that is unjust in the least is unjust also in much. Luke 16:10

That men may know that thou, whose name alone is Jehovah, art the most high over all the earth. Psalm 83:18

In other words, the Christian's act of decency and kindness was all about God.
From my seat in the atheist pew, it seems to me that religion and the Bible complicate the issue. Would the Christian have returned the wallet if these verses weren't in the Bible? Would he have returned the wallet if he weren't a Christian? While these questions might be viewed as trying to turn a good deed into an argument, I think motivations are important.
This story is connected quite closely to arguments over morality and ethics. Most Christians think morality and ethics require religion — theirs — and a supernaturally written book, the Bible. In their thinking, they do good because of their religion and its teachings. It is God that keeps them from being bad people. If it weren't for Jesus, the world would be overrun with thieves, rapists, and child molesters.
It is not enough, then, for an act of goodness to be performed just because it is the right thing to do. Instead, it is God who gets all the praise and glory because, without him, humans would do bad things. In other words, without God, the Christian would have kept the wallet.
If the Christian had left a Post-it note with these two verses:
And as ye would that men should do to you, do ye also to them likewise. Luke 6:31

Thou shalt love thy neighbour as thyself. Matthew 22:39
. . . perhaps I would see this story differently.
All of us should treat others as we would want to be treated. Isn't that a universal moral value?
I commend the Christian for returning the man's wallet. It was the right thing to do, whether the man was a Baptist Fundamentalist, an Episcopalian, or an atheist. Would an atheist have returned the wallet? I'd like to think so. But I know among atheists and Christians alike, there are those that would have viewed the lost wallet as an opportunity to steal. Finders keepers, losers weepers, right? As we all well know, religious belief does not inoculate a person from being a bad person. (Please see the Black Collar Crime Series.) The religious and godless alike have the capability and power to do bad things. Why? Because bad people do bad things. A narcissistic view of the world often motivates people to only think of self. When presented with an opportunity to return the lost wallet, the narcissist is only concerned with what he can gain. In this case, he gains the money that is in the wallet.
We should all strive for a higher ideal regardless of our religious belief. As a humanist, I try to treat others as I would want to be treated. If I lost my wallet, I hope someone would return it and I would gladly offer the finder a reward. Far more important than lost cash is lost ID. And I know if I found a person's wallet, I would return it to the owner. How do I know I would do this? Because that is what I have done in the past. It is the moral/ethical code I live by. I know how panicked I get when I can't find my wallet in the house, and I can only imagine how stressed out I would be if I knew I had lost it at a store or parking lot somewhere.
Here's the point I want to make — good people do good things. Yes, sometimes good people fail and might, at times, do bad things, but the arc of their lives is toward good. The same can be said of those who lack moral and ethical character. (Think Donald Trump) They may, at times, do good things, but the arc of their lives is toward bad. It is not religion that determines goodness or badness, though it certainly can, for some people, play a part. What determines the kind of person we are is our character. People with good character do good things like returning a lost wallet. People with bad character, don't.
Bruce Gerencser, 66, lives in rural Northwest Ohio with his wife of 45 years. He and his wife have six grown children and thirteen grandchildren. Bruce pastored Evangelical churches for twenty-five years in Ohio, Texas, and Michigan. Bruce left the ministry in 2005, and in 2008 he left Christianity. Bruce is now a humanist and an atheist.
Connect with me on social media:
Your comments are welcome and appreciated. All first-time comments are moderated. Please read the commenting rules before commenting.
You can email Bruce via the Contact Form.