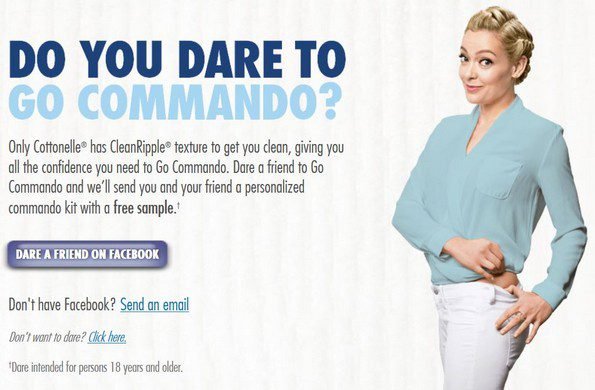 Repost from 2015-2016. Edited, updated, and corrected.
One Million Moms, the female outrage department of the American Family Association, are upset over a new Cottonelle ad that asks women to dare to go commando. Here's what director Monica Cole's press release had to say:
In Cottonelle's newest advertising campaign "Dare to Go Commando," a company spokeswoman asks individuals if they feel cleaner after using Cottonelle because of the ripple texture. The Cottonelle spokeswoman goes so far as to ask another woman if she feels clean enough to go commando now. The woman agrees and walks back into the restroom to return with her undies in a small shopping bag. The commercial ends with both women pulling down the waistbands of their pants just enough to reveal they don't have panties on.

Cottonelle is encouraging consumers to go without underwear. Oh, please! This is ridiculous. This type of advertising is extremely inappropriate.

The tissue paper company also has a similar ad, "Go Cottonelle. Go Commando." In this ad, the spokeswoman asks a man to go commando, and it ends the same way.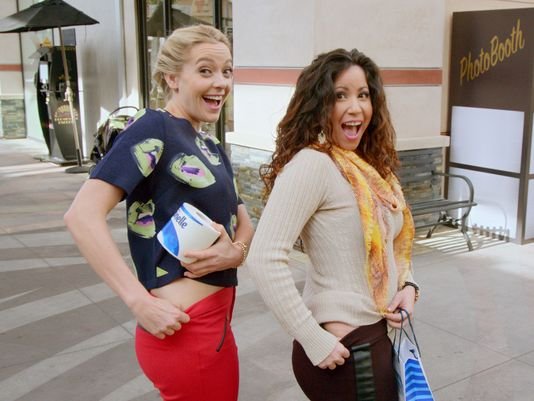 Evidently, the women of One Million Moms want to hold on to their cotton Fruit of the Looms, and don't want American women walking around sans underwear. They really should pay more attention. As a man who has seen plenty of female backside over the years, I can say that women have been going almost commando for years. These days, they can make dozens of pairs of underwear from a yard of material. I will leave it to female readers to decide whether going commando is more comfortable or appropriate. All I can say is that One Million Moms better not ask their husbands to support their effort. I've seen on the street Christian men, hand over one eye, carefully observing the female anatomy. I highly doubt they want to see the return of panty lines.
This is so silly, is it not? Of all the things one could be offended and outraged by, women not wearing underwear tops the list?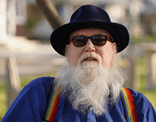 Bruce Gerencser, 65, lives in rural Northwest Ohio with his wife of 44 years. He and his wife have six grown children and thirteen grandchildren. Bruce pastored Evangelical churches for twenty-five years in Ohio, Texas, and Michigan. Bruce left the ministry in 2005, and in 2008 he left Christianity. Bruce is now a humanist and an atheist.
Connect with me on social media:
You can email Bruce via the Contact Form.
Your comments are welcome and appreciated. All first-time comments are moderated. Please read the commenting rules before commenting.