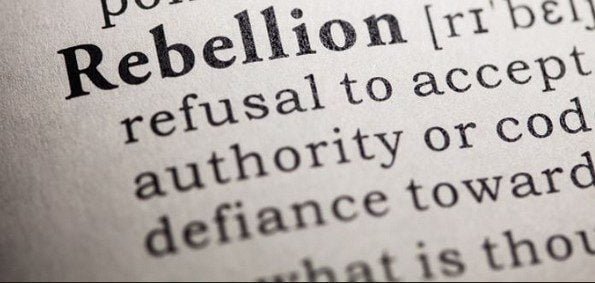 Rebellion is a common word in the vocabulary of Evangelical Christian pastors, church leaders, husbands, and parents.
Here's what the Bible says about God's view of rebellion:
For rebellion is as the sin of witchcraft, and stubbornness is as iniquity and idolatry. Because thou hast rejected the word of the LORD, he hath also rejected thee from being king. (1 Samuel 15:23)
Those who practiced witchcraft were to be put to death (Exodus 22:18, Deuteronomy 18:9-11), so it is clear that God considered rebellion a serious matter.
God commanded a harsh punishment for a rebellious son:
If a man have a stubborn and rebellious son, which will not obey the voice of his father, or the voice of his mother, and that, when they have chastened him, will not hearken unto them; Then shall his father and his mother lay hold on him, and bring him out unto the elders of his city, and unto the gate of his place; And they shall say unto the elders of his city, This our son is stubborn and rebellious, he will not obey our voice; he is a glutton, and a drunkard. And all the men of his city shall stone him with stones, that he die: so shalt thou put evil away from among you and all Israel shall hear, and fear. (Deuteronomy 21:18-21)
The Old Testament is the written record of how a thrice Holy God dealt with a rebellious people, Israel. Page after page details God's judgments against his people and those who got in his way.
When we get to the New Testament, the word rebellion is not used. Does this mean that God has changed? Of course not. How is it possible for a perfect God to change? Malachi 3:6 says:
For I am the LORD, I change not; therefore ye sons of Jacob are not consumed.
The Bible says, speaking of Jesus:
Jesus Christ the same yesterday, and to day, and for ever. (Hebrews 13:8)
It is clear, from the inspired, inerrant, infallible Word of God that God is immutable. He doesn't change (though there are a few texts that seem to suggest otherwise).
Evangelical churches and pastors generally believe that both Testaments are authoritative (especially those Old Testament verses about tithing). Granted, Evangelicals are quite contradictory in their interpretations of the Old Testament, picking and choosing what they want to believe, but they do say all sixty-six books of the Bible are authoritative.
The key word is AUTHORITATIVE.
Evangelicals take seriously the matter of rebellion because they believe that the Bible is an authoritative text, and from that text they deduce an authority structure.
It goes something like this:
The Christian God is the supreme authority over everything. He is the sovereign King and Lord over everything. He is the creator. He is in complete and absolute control. Even with salvation, no one can be saved unless God permits them to be saved. Both Calvinists and Arminians alike believe God is the final arbiter when it comes to salvation.
The Christian God has established an authority hierarchy in the church. Under Jesus Christ, pastors (elders, bishops) are the head of the church. They have been called by God to teach, correct, lead, and direct the church. They are to initiate discipline when necessary to ensure the church is a pure, holy body (though many churches have a pretty low standard for pure and holy).
The Christian God has established authority hierarchy in the home. Again, under Jesus Christ, the husband is the head of the home, and his wife is to submit to his authority. Children are to obey their parents, and submit to their authority.
The Christian God has established an authority hierarchy for nations. All nations are to bow to the authority of the Christian God. Their laws should reflect God's law. Better yet, theocracy, God rule, is the best form of government.
Evangelical Christians believe God rules over everything. There is no King but Jesus, and no God but the trinitarian deity of Christianity.
The problem here, of course, is that Evangelical Christians are human. Contrary to all their talk about being saved and sanctified, Christians are pretty much like the unwashed, uncircumcised Philistines of the world. For all their praying and confessing sin, they live and talk just like everyone else. Simply put, like all of us, they do what they want to do.
And that is a big, big problem.
You see, the authoritative God of the authoritative Bible demands absolute obedience. God expects Christians to implicitly and explicitly obey his commands. All of them. God will have none of this picking and choosing that American Christians love to do.
So everywhere you look you have Christians in some form of rebellion against God, their pastors, their parents, or their husbands. No matter how much they pray, read the Bible, go to the altar, and promise to really, really, really obey God this time, they continue to lapse into sin and rebellion.
This is what Jesus told his followers in Matthew 5:48:
Be ye therefore perfect, even as your Father which is in heaven is perfect.
It seems "nice" Jesus didn't lower the standard when he came to earth. God expects and demands perfection. God will have none of this "I am not perfect, just forgiven" cheap grace Christianity. Jesus expects his followers to walk in his steps. Empowered by the Holy Spirit, they have been given everything they need pertaining to life and godliness. (2 Peter 1:3)
The difference between atheists and Evangelical Christians is guilt. Evangelicals live in a constant cycle of living right, rebelling, feeling guilty, repenting, and going back to living right. This cycle can go on numerous times a day. Atheists can feel guilty at times, but since they are not encumbered by a long list of Biblical laws, commands, rules, regulations, precepts, or standards, they are less likely to feel guilty. With no God hovering over them and no pastor preaching at them, the atheist is pretty much free to enjoy life. Generally, atheists try to live by the maxim: don't hurt or cause harm to others, and when they fail they are likely to make restitution and ask for forgiveness from the people they hurt. No need for a God, Bible, church, or pastor. As humans, atheists have all the faculties necessary to be a good person.
What makes it worse for Evangelicals is that when they go to church on Sundays, their pastors remind them, from the Bible, of course, of how rebellious they are. These fallible, frail, sinful men of God point out the sins of their congregants, reminding them that God hates sin. These whitewashed sepulchers call on rebellious church members to repent. You would think that people would get tired of all this, but each week they dutifully return to church so their pastors can remind them of their sinfulness and need of repentance.
Children, especially teenagers, get this same treatment from their parents. When children don't obey their parents, they are chastised and reminded that God hates rebellion. But kids will be kids, as every parent knows, and in most homes, it seems that children are either starting into rebellion or coming out of it.
Parents are commanded by God to beat the rebellion out of their children (Proverbs 13:24). God provides himself as a good role model to follow. Hebrews 12:5-10 says:
And ye have forgotten the exhortation which speaketh unto you as unto children, My son, despise not thou the chastening of the Lord, nor faint when thou art rebuked of him: For whom the Lord loveth he chasteneth, and scourgeth every son whom he receiveth. If ye endure chastening, God dealeth with you as with sons; for what son is he whom the father chasteneth not? But if ye be without chastisement, whereof all are partakers, then are ye bastards, and not sons. Furthermore we have had fathers of our flesh which corrected us, and we gave them reverence: shall we not much rather be in subjection unto the Father of spirits, and live? For they verily for a few days chastened us after their own pleasure; but he for our profit, that we might be partakers of his holiness.
The Bible records how God goes about chastising rebellious Christians. He maims them, makes them sick, kills their families, takes away their possessions, starves them, and, if necessary, kills them. God goes to great lengths to make sure a Christian seeks after the "peaceable fruit of righteousness." (Hebrews 12:11)
Here's how God expects Evangelical Christian parents to respond to the rebellion of their children:
Foolishness is bound in the heart of a child; but the rod of correction shall drive it far from him. (Proverbs 22:15)

Withhold not correction from the child: for if thou beatest him with the rod, he shall not die. Thou shalt beat him with the rod, and shalt deliver his soul from hell. (Proverbs 23:13,14)
Let me tie this all together.
A divinely authoritative text from an authoritarian God establishes authority structures (hierarchies) for the church, family, and nations. Disobedience to God-ordained authority is to be punished.
For those of us raised in this kind of Christianity, we well know how this works out practically. The Bible, in the hands of God's man, the pastor, is used to dominate and control people. Individuality and freedom are discouraged, and, in some cases, severely punished.
Pastors remind their churches about "pastoral authority." Parents remind their children that they are to be obedient, and threaten them with punishment if they don't. Husbands remind their wives that they are the head of the home and their word is f-i-n-a-l. Collectively, Christians warn government officials that Jesus is the Lord of Lords and King of Kings, and God demands they submit to the authority of God, the Bible, and his people (this is the essence of the theocracy movement in this country).
Some readers are likely weeping by now. Their minds go back twenty years or more to a time when they were teenagers. Their parents considered them rebellious. Often their rebellion consisted of things such as listening to rock music, smoking, getting pregnant, talking back, having sex, or smoking marijuana. Their parents, needing to show them that they were in charge, sent them off to group homes to get their "rebellion" problem fixed. What really happened is that they were cruelly misused, abused, and debased. Years later, their lives still bear the marks of the Godly "rebellion" treatment they received.
It is hard not to see cultism in all of this. I am sure Bible-believing Christians — people of the book — will scream foul, but the marks of a cult are there for all to see if they dare but open their eyes. Millions of people attend churches that believe the things I have written about in this post. This is what Bible literalism gets you. How could it be otherwise?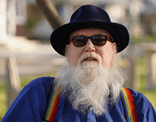 Bruce Gerencser, 65, lives in rural Northwest Ohio with his wife of 44 years. He and his wife have six grown children and thirteen grandchildren. Bruce pastored Evangelical churches for twenty-five years in Ohio, Texas, and Michigan. Bruce left the ministry in 2005, and in 2008 he left Christianity. Bruce is now a humanist and an atheist.
Connect with me on social media:
You can email Bruce via the Contact Form.
Your comments are welcome and appreciated. All first-time comments are moderated. Please read the commenting rules before commenting.