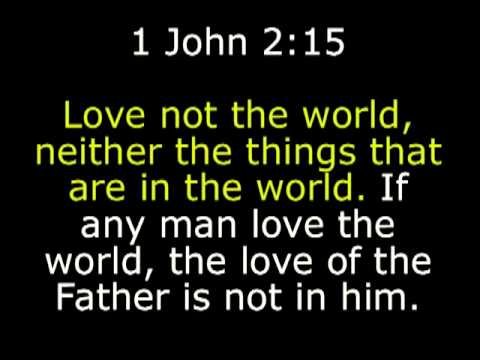 The Bible says in 1 John 2:15,16
Love not the world, neither the things that are in the world. If any man love the world, the love of the Father is not in him. For all that is in the world, the lust of the flesh, and the lust of the eyes, and the pride of life, is not of the Father, but is of the world.
Independent Fundamentalist Baptists (IFB) are taught to be anti-cultural — to hate the world. For all their talk about salvation by grace, IFB preachers preach a works gospel. If church members don't obey the Bible – specifically the pastor's interpretation and application of the Bible – they are considered rebellious, out of the will of God, backslidden or WORLDLY.
A bought-by-the-blood, sanctified, sold-out, filled-with-the-Holy-Ghost, King-James-Bible-carrying Independent Baptist shuns the world. Instead, he embraces an alternative world, also known as the church family. Being a good member of the church family requires conformity to the pastor's (I mean God's) dictates. If the pastor hates something, you better hate it. After all, the Bible tells Christians that they should love what God loves and hate what God hates. Funny how people mistake the pastor for God.
What follows is a list of things I told church members they should hate. This list evolved over time, hitting its peak in the early 1990s and it slowly shrank after that. I find this list quite embarrassing, but it is what it is.
Roman Catholics
Charismatics
Pentecostals
Arminians
Calvinists
Denominational Baptists
MTV
Television
HBO
Secular radio
Contemporary Christian music
Christian TV
Pagan holidays
Rock and Roll music
Country Music
Long hair on men
Short skirts on women
Pants on women
Shorts on women
Smoking
Alcohol
Hollywood
Atheism
Secularism
Humanism
Pluralism
Socialism
Communism
Liberals
Progressives
Democrats
Bill Clinton
Liberal Christian colleges
Female preachers
Effeminate male preachers
Effeminate men
Hen-pecked men
Haughty women
Psychiatry
Church members who disagree with the pastor
Premarital sex
Extramarital sex
Abortion
Christmas
Halloween
Easter Bunny
World Council of Churches
National Association of Evangelicals
Billy Graham
NIV, NASB, NKJV, RSV, ESV, NLT
The Living Bible
Dancing
Card Playing
The number one hate for the Independent Baptist? Self!
The Bible says IFB believers are to deny themselves, take up their crosses, and follow Jesus. Human beings, according to the Bible, are wicked, vile, evil, depraved sinners. We deserve having the wrath of God poured out on our heads. We deserve judgment and Hell.
Jesus, the eternal, sinless son of God, came to earth, died on the cross, and rose again from the dead three days later, so we could have our sins forgiven and go to Heaven when we die. Once God saves us, we are to spend the rest of our life groveling before a thrice-Holy God, praising him for delivering us from our wickedness and the world.
Every week, IFB believers go to their churches and listen to their pastors and teachers tell them more things they need to do, more works they need to perform, more laws they need to obey. Do this, do that. If you really, really love Jesus you will______________, their preacher says.
Loud sermons. Pulpit pounding. All for dramatic effect. It's as if God is trying to pound the preacher's words into their heads. Evidently the Holy Spirit works better if the preacher yells and is theatrical.
Is it any wonder that people raised in such an environment have low self-esteem? Many IFB preachers even preach AGAINST having self-esteem. Church members are taught to hate self so God can get all the glory. We wouldn't want humans taking credit for anything, right? Well, there's one thing church members can take credit for. Any good that happens — God gets all the credit. If bad things happen or someone screws up, it is all on IFB church members. God ain't taking any credit for the bad shit.
I have spent the last twelve years trying to find myself. The flesh and blood Bruce Gerencser who spent a lifetime in the Evangelical church is dead. My being, my self-worth, was swallowed up by God, the church, and the ministry. My life was defined by the call of God. Nothing else mattered.
I left the ministry and told God to take a hike. At the time of our divorce, God and I were not on speaking terms. God owes me some money, but he refuses to pay up. All I asked for was some of the treasure I had in laid up in Heaven. Since I am going to Hell when I die, I thought it would be nice to have the treasure now so I could get some good use out of it.
Bit by bit I am finding out who I really am. It is not always pretty, but it is honest and authentic. Some people don't like the new Bruce Gerencser. They want the old Bruce back. They still cling to the hope that my apostasy is just a phase, and that I will come back and be a better than ever pastor. What a testimony I could have, right? I could milk the "From Preacher to Atheist to Preacher" story for all its worth.
There is no going back. The Apostle Paul taught me to run the race that is before me, and that is what I am doing. The longer I run, the more distant Christianity appears behind me. I don't know what lies ahead, but I DO know what lies behind, and I have no desire to return to the leeks (onions) and bondage of Egypt.
Bruce Gerencser, 66, lives in rural Northwest Ohio with his wife of 45 years. He and his wife have six grown children and thirteen grandchildren. Bruce pastored Evangelical churches for twenty-five years in Ohio, Texas, and Michigan. Bruce left the ministry in 2005, and in 2008 he left Christianity. Bruce is now a humanist and an atheist.
Connect with me on social media:
Your comments are welcome and appreciated. All first-time comments are moderated. Please read the commenting rules before commenting.
You can email Bruce via the Contact Form.