Well-meaning people have all kinds of expectations and desires for me, revealing how they view my life and me as a person. Often, they view me as hurt, broken, damaged, angry, bitter, disillusioned, unhappy, pessimistic, or jaded. Instead of allowing me to define who and what I am, they use their own version of who and what I am and then come to certain conclusions about me. It's like me saying I am a cat and someone saying no you are a dog, and then all their subsequent judgments about me are based on their belief that I am a dog. No matter how loud I meow, they still think I am a dog.
These kinds of people think there is something wrong with me. Take my friend Bill. Here is what he said in a blog comment:
But in my not very humble opinion as a person who has known your thinking for more than 25 years (?), the topic of "god" is disturbing your mind to no good end.
Now, on one hand, Bill has known me for a long time. He lives thousands of miles away from me and we met face-to-face one time in the late 1990s. Years ago, I sponsored the CHARIS discussion list, and Bill was a regular participant. He has, on and off, read my writing for almost 25 years. He has followed my evolution from a Calvinistic pastor to an atheist. Surely, he should "know" me, right?
While I consider Bill a friend, I would never say that Bill "knows" me. In fact, the number of people who really know me can be counted on one hand. And even then, can someone ever really completely "know" me? During the course of our friendship, Bill has mentally developed his own version of Bruce Gerencser. While this Bruce bears some resemblance to the real Bruce, it is not the real Bruce and if Bill doesn't understand this, he will likely, as in his comment above, come to a wrong conclusion about me.
I think Dale summed up things quite well when he said to Bill:
What Bruce is doing is therapeutic for him and for many of us.
Dale precisely summed up why I write. I am not sitting here raging at God. I am not, on most days, hurt, broken, damaged, angry, bitter, disillusioned, unhappy, pessimistic, or jaded. Outside of the constant pain I live with, I am quite happy. I have a wonderful marriage and family, and I love interacting with my internet friends through this blog. Yes, I can go through bouts of deep depression, but people like Bill wrongly assume that my depression is driven by my questions about God and religion. It's not. My health problems are what drive my depression. Feel better=less depression. Lots of pain=more depression.
These days, the only time I think about God and religion is when I am writing. There are no unanswered questions for me when it comes to the Big Kahuna. I don't think there is a God, so this pretty well answers all the "God" questions for me. My interest in religion has more to do with sociology, philosophy, and politics than it does anything else.
I frequently get emails, blog comments, and comments on other blogs that start with, I hope you _____________________. These people have read something I have written and have made judgments about me. They think I am lacking in some way, and if I would just have what they are hoping I will have, then all would be well for me. They hope I find peace, deliverance, salvation, or faith. They are Internet psychiatrists who think they can discern who I really am and what my life consists of by reading a few blog posts.
I know that this is the nature of the Internet. People make snap judgments about a person based on scant information. (Just today, a Christian commenter told me I was a fascist. OMG! A fascist?) They think they "know" me after they have read 1,500 words, and they are then ready to pass judgment on what I am lacking.  Everyone who writes in the public space faces this problem, but it doesn't mean we have to like it.
This is me saying, I don't like it. I am not a problem in need of solving. I am not a broken toy that needs fixing. I don't need what my critics are hoping for me. I am quite happy with who and what I am. It is atheism that has allowed me the freedom to be who I am. I realize this presents a real problem for Evangelicals because they believe that a person cannot be happy, satisfied, or at peace without Jesus. But, here I am.
One commenter stated:
Dear Bruce, I hope you are delivered from your delusions of a happy, satisfied, peaceful life. You are living in denial of how things REALLY are for you.
All I can say to this is that I am enjoying every delusional moment of this life, and I suspect many of my fellow atheists are doing the same.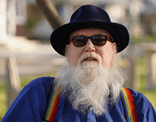 Bruce Gerencser, 65, lives in rural Northwest Ohio with his wife of 44 years. He and his wife have six grown children and thirteen grandchildren. Bruce pastored Evangelical churches for twenty-five years in Ohio, Texas, and Michigan. Bruce left the ministry in 2005, and in 2008 he left Christianity. Bruce is now a humanist and an atheist.
Connect with me on social media:
You can email Bruce via the Contact Form.
Your comments are welcome and appreciated. All first-time comments are moderated. Please read the commenting rules before commenting.