Ken Ham, the CEO of Answers in Genesis, the Creation Museum, and Ark Encounter, believes that at the beginning of the world 6,024 years ago, incest was approved by God.
…Perhaps no woman mentioned in Scripture has caused more confusion among Christians. Despite the fact that we have regularly addressed this issue in numerous books, articles, and presentations, the issue of Cain's wife is still one of the most common questions we receive. Who was she, and why have so many believers struggled to give a biblical answer to this inquiry?

The simple answer is that Cain married his sister or another close relation, like a niece. This answer may sound revolting for those of us who grew up in societies that have attached a stigma to such an idea, but if we start from Scripture, the answer is clear.

1 Corinthians 15 tells us that Adam was the first man. Genesis 3:20 states that Eve was the mother of all the living.(NASB), and Genesis 5:4 reveals that Adam and Eve had sons and daughters (besides Cain, Abel, and Seth).

There were no other people on earth as some have claimed. God did not create other people groups from which Cain chose a wife, as we are all made of one blood (Acts 17:26). If He had made others, these people would not have been able to be saved from their sins, since only descendants of Adam can be saved—that's why it was so important for Jesus to be Adam's descendant.

Doesn't the Bible forbid marriage between close relations? It does, but the laws against marrying family members were initially given as part of the Mosaic covenant, approximately 2,500 years after God created Adam and Eve. Due in part to genetic mistakes [God made a mistake?], these laws were necessary to help protect offspring from mutations shared by both parents.

But that's incest! In today's world, this would be incest. But originally there would have been no problem with it. Looking back through history, the closer we get to Adam and Eve, the fewer genetic mistakes people would have, so it would have been safer for close relatives to marry and have children.

Christians who have a problem with this answer need to remember that Noah's grandchildren must have married brothers, sisters, or first cousins—there were no other people (1 Peter 3:20, Genesis 7:7). Abraham married his half-sister (Genesis 20:2). Isaac married Rebekah, the daughter of his cousin Bethuel (Genesis 24:15), and Jacob married his cousins Leah and Rachel. Clearly, the Bible does not forbid the marriage of close relatives until the time of Moses…
Ham's argument is necessary if one reads the Bible literally. In Ham's world, the earth is 6,024 years old, and evolution is Satan's lie. However, in the aforementioned post, Ham reveals that he is not really as much of a literalist as he claims to be.
Ham says Cain married his sister or niece. Where does the Bible say this? Where does the Bible say Cain married anyone? Perhaps people didn't get married in Cain's day. Perhaps Cain actually had sexual relations with his mother. Why doesn't Ham mention this as a possibility? Ham repeats the same story when trying to explain where the children of Noah's grandchildren came from.
According to Ham, a law against incest was not necessary until 2,500 years after God created Adam and Eve. The reason? "Genetic mistakes, these laws were necessary to help protect offspring from mutations shared by both parents." Again, where does the inspired, inerrant, infallible Bible say this? Shouldn't Ham follow the mantra: where the Bible speaks we speak, and where the Bible is silent we are silent?
How is a particular human behavior not sinful for 2,500 years, and then, all of a sudden, it becomes sinful? How can an immoral act ever be moral? Does this mean God changed his mind? Does this mean God permitted immorality so he could accomplish a greater good? I thought Jesus (God) was the same yesterday, today, and forever? Doesn't Ham's explanation lay waste to this "Biblical truth?"
Sooooo many questions . . .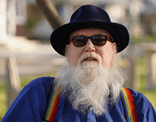 Bruce Gerencser, 65, lives in rural Northwest Ohio with his wife of 44 years. He and his wife have six grown children and thirteen grandchildren. Bruce pastored Evangelical churches for twenty-five years in Ohio, Texas, and Michigan. Bruce left the ministry in 2005, and in 2008 he left Christianity. Bruce is now a humanist and an atheist.
Connect with me on social media:
You can email Bruce via the Contact Form.
Your comments are welcome and appreciated. All first-time comments are moderated. Please read the commenting rules before commenting.