In the early 1960s, my parents moved from Bryan, Ohio, to San Diego, California, searching for the pot of gold at the end of the proverbial rainbow. I moved along with them, as did my siblings — as if we had any choice. Of course, we never had any choice as we moved from Bryan to Ney to San Diego to Bryan to Harrod to Farmer to Deshler to Findlay to Tucson. And that's all before my parents divorced when I was fifteen. I would then move four more times by the time I left for college in 1976. Numerous moves, numerous schools, numerous houses . . .
After searching in vain for the pot of gold, my parents packed up their meager belongings and moved to a farmhouse on County Road F just north of Bryan. We lived there for a year or so. We never lived anywhere for very long. Someone asked me if we moved all the time because my dad was in the military. I replied, "no, he just never paid the bills."
I have had a lot of pain and trauma in my life — both physical and psychological. But mixed in with these experiences are funny stories. Every place we moved to and every house we lived in has stories to tell. County Road F is no different. Three stories come to mind.
Mom enrolled me for second grade at Pulaski Elementary School. The morning the bus arrived to pick me up for my first day of school, I became sick and couldn't go to school. This went on for several days before Mom took me to see Dr. Jackson at the Bryan Medical Center (now Parkview Physicians Group). Dr. Jackson quickly diagnosed what was wrong with me, wrote a prescription to take, and sent me on my way. And sure enough, by the next day, I was as good as new, ready to ride the bus to school. Years later, Mom told me that Dr. Jackson had prescribed sugar pills, a sure cure for first day of school blues.
In the spring, I was playing outside with my brother and sister. We spent most of our waking hours outdoors. Mom subscribed to the "out of sight, out of mind" school of child-rearing. As we played in the ditch near the road, I found a nest of garter snakes outside the drain tile. Fascinating, right? I went and got my red Radio Flyer wagon (actually, the wagon belonged to my siblings too, but as they will tell you, as the oldest child, I "owned" everything), gathered up the snakes, and put them in the wagon. I then pulled the wagon to the back door and called for Mom to come and see what I had in the wagon. I learned on that day that Mom was afraid of snakes — I mean really, really, really afraid. She shrieked and quickly retreated to the safety of the house. And what did her ornery little redheaded son do? He dumped the snakes in the yard. Mom "feared" those snakes for months, even though they are harmless.
While living on County Road F, we attended Eastland Baptist Chapel in Bryan — a Southern Baptist church plant. Mom always made sure we dressed up for church — no slumming it for the Gerencser children. One Sunday night, my brother and I, dressed in our Sunday best white pants, went down to the nearby creek to "play" before church. After arriving at the creek, we noticed a "beaver" swimming in the shallow water. This is the same creek where I saw a "water moccasin." Thanks to books from the Bryan Public Library, I would later learn that the water moccasin was actually a black water snake, and the beaver was a groundhog (woodchuck).
My brother and I, wearing white pants, shirts, ties, and shoes, plunged into the water to catch the juvenile groundhog. I carried the groundhog back to the house, put him on the front porch, and put a board over the steps so he couldn't run away. And then MOM saw us! I am sure we got an ass whipping, though all I remember is the "beaver." I caught a beaver, just like those rugged frontier men I read about. Our escapade caused us to miss church, one of the few times the Gerencsers weren't present and accounted for at whatever church we were attending at the time.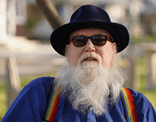 Bruce Gerencser, 65, lives in rural Northwest Ohio with his wife of 44 years. He and his wife have six grown children and thirteen grandchildren. Bruce pastored Evangelical churches for twenty-five years in Ohio, Texas, and Michigan. Bruce left the ministry in 2005, and in 2008 he left Christianity. Bruce is now a humanist and an atheist.
Connect with me on social media:
You can email Bruce via the Contact Form.
Your comments are welcome and appreciated. All first-time comments are moderated. Please read the commenting rules before commenting.