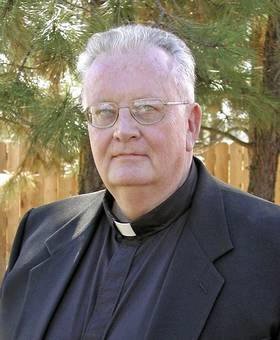 The Black Collar Crime Series relies on public news stories and publicly available information for its content. If any incorrect information is found, please contact Bruce Gerencser. Nothing in this post should be construed as an accusation of guilt. Those accused of crimes are innocent until proven guilty.
Last month, I posted a story about Catholic Priest W. Thomas Faucher and his arrest on child pornography charges. Faucher is back in court today, thanks to newly found porn on his computer (he had tried to delete it). The judge raised Faucher's bond to $1 million, saying that the community was not safe as long as Faucher roamed free.
A retired Boise priest was taken back into custody Tuesday morning after a judge quadrupled his bond, declaring that the brutally violent child pornography newly discovered on the suspect's computer had convinced him the community was not safe as long as Father W. Thomas Faucher remained free.

Prosecutors leveled nine new charges against Faucher during the hearing – seven new counts of possession of child pornography, one new count of distribution of child pornography and one new count of LSD possession – bringing his total charges to more than 20.

Prosecutor Kassandra Slaven said the additional charges correspond to additional graphic files, images and videos found on the 72-year-old's computer – some of which Faucher had attempted to delete, she said.

Those images and videos are "so concerning that the state feels that a $250,000 bond just simply does reflect the danger and risk the defendant poses to the community," Slaven told the judge.

….

Forensic investigators have so far recovered more than 2,000 child pornography files from Faucher's devices, the prosecutor said, including pictures and videos depicting the "extremely brutal rape and torture of children."

"Quite frankly, your Honor, the content is some of the worst that the Internet Crimes Against Children Task Force has seen," Slaven said. "This involves very young children – many, many infant children."

Online, Faucher fed his "sadistic and deviant" desires by chatting with people with similar interests, Slaven said, discussing fantasies that were alarming in their specificity: even outlining the gender, age and other details about children he would like to abuse.

"There are countless, countless, countless graphic chat conversations on his computer where he is very specific about how his sexual interests are evolving; he discusses in great detail the desires he has to sexually abuse and even kill children," Slaven said.

….

Faucher's attorney, Mark Manweiler, vigorously opposed the motion to increase bond.

Manweiler argued that the new charges were "quantitative" – more pornographic files discovered – but not a significant change in alleged conduct, meaning that Faucher is not any more likely to skip court.

"He's 72 years old: Conviction of even a small number of these charges could likely result in a functional life sentence," he said. "Whether he is charged with 500 counts or he's charged with five, it makes no qualitative difference to his motivation or ability to appear at all his court appearances."

The defense attorney also argued that Faucher has no prior criminal history, has complied with all GPS monitoring and other court conditions, and is not charged with any actual physical sexual contact with any children.

Although two people who say they were molested by the priest decades ago came forward after his arrest, Faucher has not been charged in those cases.

….
Update:
Channel 7 reported in October 2020:
A former priest who served at St. Mary's Catholic Church in Boise for decades before being arrested in a violent child pornography case that shook his parishioners and detectives alike is dead.

Father W. Thomas Faucher was 75. He was less than two years into a 25-year fixed prison sentence at the Idaho State Correctional Institution.

….

Faucher had already retired from his position as priest when police raided his diocese-owned home in northwest Boise in February of 2018, seizing thousands of violent and sexual images and videos, some of which showed victims as young as infants and toddlers being raped and tortured.

Prosecutors said later that the evidence collected in the case was among the most disturbing that members of the Idaho Internet Crimes Against Children task force had ever encountered.

Detectives also recovered extensive online chat logs in which Faucher wrote about his desire to rape and murder a child, mused about sexually assaulting an altar boy at his church, and discussed traveling to South America to abduct and abuse a small boy before killing that child.

Faucher later told a judge he did not remember writing those messages, or sending an email containing photos of two children being sexually assaulted by adult men. He pleaded guilty to two counts of distribution of child pornography, two counts of possession of child pornography and possession of LSD in September 2018, saying he wanted to "take responsibility" for what he had done.

Then-mayor Dave Bieter was among those to ask the judge for leniency at Faucher's sentencing, writing in a letter that the priest had provided counsel and solace after the death of Bieter's parents. The mayor later told KTVB that although he was "deeply disturbed and angry" about what Faucher had done, showing compassion and forgiveness are central tenets of his faith.

Although his defense attorney asked for probation, the sentence of 25 years without parole handed down by the judge all but guaranteed the retired priest would die behind bars.

Faucher was defrocked – officially removed from the position as clergy by the Vatican – after his conviction, and Idaho Court of Appeals upheld his 25-year sentence earlier this year.