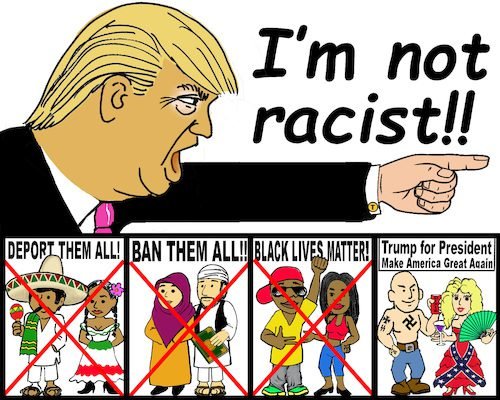 John MacFarlane is the pastor of First Baptist Church, an Independent Fundamentalist Baptist (IFB) congregation in nearby Bryan, Ohio — the place of my birth. I attended First Baptist Church in the 1960s and 1970s. I was attending First Baptist when I left in August 1976 to study for the ministry at Midwestern Baptist College in Pontiac, Michigan.
MacFarlane writes a public daily devotional on First Baptist's website. I have featured his prose on this site several times. Last July, MacFarlane posted a devotional titled "Racism." As you shall see, MacFarlane thinks race and ethnicity are one the same:
I am writing today's devotional on June 10 while sitting in a Hampton Inn & Suites hotel room in Louisville, KY

…..

The culture of Kentucky is definitely different than the culture of Ohio. I didn't say wrong and I didn't say worse. I said different and there's absolutely nothing wrong with that. But I want to share with you a very politically incorrect observation. Bear with me as I set this up.

In the little dining area of the hotel, the television has the morning news running to provide those enjoying their breakfast with some indigestion. News is never good, it seems. The news today featured: the millions of ransom dollars paid by a company to someone who had taken their computer systems hostage; issues on the border and a Vice-President who has yet to act as the border czar; Presidential missteps and mistakes; millions of COVID vaccines rapidly reaching their expiration dates; race riots, BLM, protests, white privilege, and apologizing for our race. That's where my observations come in.How much of this is made up, contrived by those who aren't content unless they are fighting?!?

How much of this is stirred up by people whose nickname should be Maytag – always agitating?

Oh, please don't misunderstand. I believe racism is out there. There are places where it is practiced in some despicable ways. But deal with it there. Don't bring it where I'm at and introduce it like another strain of the Wuhan plague. I have yet to be in a place where I've felt that tension and I don't want to be in that place. Get rid of it THERE…deal with it THERE…and certainly don't bring it around me!

Let me introduce you to Betty, Earl, Millie, and Carl. Every one of them had a much darker tan than I have! In fact, this was true throughout the facility. The Hampton Inn & Suites of Louisville, KY was an ethnic melting pot. So what?They were the kindest people.

….

The Asian housekeepers were courteous and polite, smiling and accommodating if you asked a question.

There were mutual niceties and respect. I didn't feel treated or looked at differently because of the color of my skin and I certainly didn't treat or look at them differently because of the color of their skin. Isn't that the way it is supposed to be?

….

I never once felt uncomfortable or threatened. I saw blacks treating whites respectfully, openly talking with each other. I saw whites treating blacks the same way. Never did I see anything that made me think that I needed to hide in fear. Doors were opened for one another. Common courtesies and manners were demonstrated between ethnicities

…..

We cannot deny our history and pretend that there are not some very shameful events from the past. But I'm not living there. If the past continues to shade our present – if we allow it to do that – we will never move on and achieve the equity that is allegedly sought. Yes, atrocities were done. However, the people that deserve the strongest apology and acts of restitution have been in graves for many years.

Is it possible that some people aren't happy unless they are stirring a pot, creating a fight, and spreading animosity and hatred? Once again, please hear what I'm saying. I know racism exists. But creating a national narrative that teaches racism is everywhere and that if you're white, you're automatically a racist is nothing more than a vicious, vulgar lie and I personally resent and am angered by the accusation.

Genesis 1:27 tells us, "So God created man in his own image, in the image of God created he him; male and female created he them." From this original couple sprang every ethnicity there is. There are not multiple races. We are all of one race and that race is humanity. Ethnicities are just the spices of life that the Lord has added to keep us from becoming dull and boring.

Celebrate the ethnicities. Respect them. Refuse to place one above another. Make the playing field level. That's the way God does it.

….

The cure to the violence, hatred, and fighting in the world is NOT to give any ethnicity advantage over another. We definitely don't need sensitivity training. It's for EVERY ethnicity to be brought before the cross of Jesus and together, we humbly kneel in gratitude for the blood that covers our sins and the power of the resurrection that makes us alive.If it's a fight people want, take them to the cross where the greatest fight ever was fought and won – by a JEW, nonetheless! Praise the Lord!
You can read my pointed response here.
You would think that MacFarlane would recant his previous post and make amends for his overtly racist language. Alas, he is an IFB preacher, so no honest reflection is forthcoming.
Today, MacFarlane doubled down on his (deliberate) misunderstanding of race and ethnicity:
Where do I begin with Biblical application?!? Let's start by addressing the obvious – racism. I know. We are sick to death of hearing about this because of the media hype and the cancel culture. But we have to acknowledge and admit that racism does exist. There is a rapidly growing Antisemitic spirit in America. Jews in large cities like NYC are targeted for violence. There is racism against blacks. And there is a reverse-racism against whites.

….

Let's add to this by talking about miscegenation. The vast majority of you reading this are the product of miscegenation. I am a product of miscegenation. From what I understand, my grandmother was a full-blooded German. She married a Scotsman who was part Irish. They had my dad. He married a woman who was part Irish, British Anglo-Saxon, and hillbilly! That combination had me.

What is my "cultural identity?" What is my heritage. I really don't have one. I'm Heinz 57. I'm a mutt. I'm a mixed breed. And my culture/heritage is mine. It's new. Better yet, I'm saved! That's an entirely different culture/heritage that doesn't fit with any that are in this world.

As I read Scripture, one heritage and cultural identity was to be protected and that was the Jew. Amazingly, it has been preserved through the centuries so that during the Tribulation, 12,000 from each tribe will still have their heritage intact and will make up the 144,000.
As I noted in my previous post about MacFarlane's views of race and ethnicity, the good pastor doesn't believe racism exists in rural Northwest Ohio (please see Does Racism Exist in Rural Northwest Ohio?). Oh racism exists "somewhere," just not here in white/Republican/Evangelical Northwest Ohio. Today, MacFarlane mentions for the first time "reverse racism" against whites. I thought, yet again, OMG, John, did you really say this out loud?" MacFarlane is an avid Trump supporter — the man who has done more to advance the intellectual bankrupt idea of "reverse racism" than David Duke.
MacFarlane defines "miscegenation" as people of different ethnicities marrying each other. I am beginning to wonder if MacFarlane has access to a dictionary. Had he bothered to look up the word miscegenation, he would have learned:

Wikipedia defines "miscegenation" this way:
Miscegenation is the interbreeding of people who are considered to be members of different races.The word is derived from a combination of the Latin terms miscere (to mix) and genus (race) from the Hellenic "γένος". The word first appeared in "Miscegenation: The Theory of the Blending of the Races, Applied to the American White Man and Negro," a pretended anti-Abolitionist pamphlet David Goodman Croly and others published anonymously in advance of the 1864 U.S. presidential election. The term came to be associated with laws that banned interracial marriage and sex, which were known as anti-miscegenation laws.
Interbreeding of different races John, not whites marrying whites. Surely MacFarlane knows this, so I assume his fundamental misunderstanding of the difference between race and ethnicity (and I understand "race" is a complex issue) is driven by his right-wing theological and political beliefs; that and the fact that he has spent most of his life living in white-as-a-KKK-sheet rural northwest Ohio.
Unfortunately, I will likely be the only local person to call into question MacFarlane's harmful misunderstanding of race and miscegenation — along with many other political and social issues.
Bruce Gerencser, 66, lives in rural Northwest Ohio with his wife of 45 years. He and his wife have six grown children and thirteen grandchildren. Bruce pastored Evangelical churches for twenty-five years in Ohio, Texas, and Michigan. Bruce left the ministry in 2005, and in 2008 he left Christianity. Bruce is now a humanist and an atheist.
Connect with me on social media:
Your comments are welcome and appreciated. All first-time comments are moderated. Please read the commenting rules before commenting.
You can email Bruce via the Contact Form.