In 1971, my dad moved us yet again to a new town and a new school district. This would be the fourth move in less than three years: Lima, Farmer, Deshler, and now Findlay. Dad rented a WWII-era cracker jack box on the west side of Findlay. I started my eighth-grade school year at Central Junior High School, joined a new church, Trinity Baptist Church, and set out to make new friends. I quickly became friends with neighborhood boys such as Dickey Miller, Mark May, and Billy Kuhlman, along with befriending Trinity's assistant pastor's son, Ronnie Johnson.
I spent the fall and winter of 1971 and the spring and summer of 1972 doing what boys of my generation did: riding bikes, playing backyard sports, and dreaming of girls. Our adventures often took us to a pond on the west side of I-75, dug when the interstate was built. The pond was later filled in so the land could be used for commercial expansion.
During the winter, we would go to the frozen pond and ice skate or play hockey. In the summer, we dropped our lines in the pond, catching numerous bluegills. One day, Ronnie and I caught a five-gallon bucket of fish. I took some of the fish home, gutted and descaled them, and had Mom cook them for dinner. Some summer days, we would swim in the pond. Little did we know that there was a deadly monster lurking in its waters.
After one of our dips in the water, we became sick. I mean really, really sick. One of my friends ended up in the hospital, while several other boys and I developed large blisters on our bodies. Come to find out, there were barrels of chemicals floating in the pond, and it is likely we had been exposed to their contents. No city, state, or EPA investigation followed. It was the 1970s — long before the United States took chemical pollution and exposure seriously.
My friends and I recovered, but we never dipped our toes again in the pond. I have often wondered what chemical, exactly, I was exposed to, and whether it could have played a part in the health problems I have today.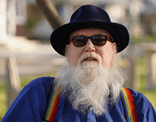 Bruce Gerencser, 65, lives in rural Northwest Ohio with his wife of 44 years. He and his wife have six grown children and thirteen grandchildren. Bruce pastored Evangelical churches for twenty-five years in Ohio, Texas, and Michigan. Bruce left the ministry in 2005, and in 2008 he left Christianity. Bruce is now a humanist and an atheist.
Connect with me on social media:
You can email Bruce via the Contact Form.
Your comments are welcome and appreciated. All first-time comments are moderated. Please read the commenting rules before commenting.