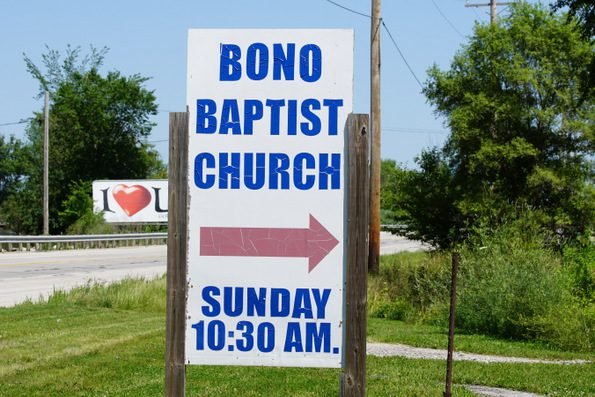 Evangelicals would have you believe that the Bible is an inexhaustible book filled with the very words of God (as interpreted by them). Someone can read the Bible for fifty years and still not mine its depths. It's the only book ever written that can never be fully understood, or so Evangelicals tell us. This is why no two Evangelicals can agree on exactly what the Bible says. As a Christian, I engaged in numerous discussions about a particular Bible text only to have my opponent say, well Brother, we'll just have to agree to disagree. Each of us had a version of truth, each of us had proof that our interpretation was correct. If the Bible is what Evangelicals claim it is, shouldn't truth be concise, clear, and easy to understand? Why all the disagreement and heated debate among Christians over what the Bible teaches? Doesn't the Bible say that God is NOT the author of confusion? Yet, everywhere I look I see confusion.
One of the reasons for the confusion is the Evangelical (and Baptist) doctrine of the priesthood of the believer. Unlike the Israelites of the Old Testament, Evangelicals don't need Moses or a priest to go before God on their behalf. They can directly access God without going through a middleman. The same goes for the Bible. Since God himself, the Holy Spirit, lives inside every Christian, they have no need of a human to teach them what the Bible says. God is their teacher, and who better to teach Christians what the Bible says than its author, right? Here's what the Bible says in 1 Corinthians 2:12-16:
Now we have received, not the spirit of the world, but the spirit which is of God; that we might know the things that are freely given to us of God. Which things also we speak, not in the words which man's wisdom teacheth, but which the Holy Ghost teacheth; comparing spiritual things with spiritual. But the natural man receiveth not the things of the Spirit of God: for they are foolishness unto him: neither can he know them, because they are spiritually discerned. But he that is spiritual judgeth all things, yet he himself is judged of no man. For who hath known the mind of the Lord, that he may instruct him? But we have the mind of Christ.
According to this text, Christians have received the Spirit of God and are taught by him. The reason someone like me, a natural man, can't understand the Bible is because I don't have the Holy Spirit living inside of me. Only Christians can spiritually discern what is truth. In fact, Christians have the mind of Christ — Christ being God — so this means that Christians have the mind of God.  If this is so, why is there so much confusion about what to believe and what the Bible says about most anything?
Christian sects can't even agree on the basics: salvation, baptism, and communion. Each sect thinks its interpretation is the one ordained by God and clearly taught in the Bible. Two thousand years of councils, decrees, confessions, and doctrinal statements reveal that Christians are incapable of coming to any common agreement on anything. Even the nature of Jesus and God are in dispute. Broaden the discussion to ecclesiology, eschatology, and pneumatology, throw in the endless debates over hermeneutics and orthopraxy, and you end up with endless versions of the faith once delivered unto the saints.
The Bible says one Lord, one Faith, one Baptism, one God. It also says that God's chosen people are to be of one mind, dwell in unity, and love one another. Yet, everywhere I look, I see the opposite. Many Lords, many Faiths, many Baptisms, many Gods, many minds and disunity, dysfunction, disagreement, and internecine war. Christians object when people like me point these things out. How dare I judge Christianity! All I am doing is using the same standard to judge Christianity as Christians use to judge my life and that of everyone else who is not a Christian. What's good for the goose is good for the gander, yes?
In 2003, I pastored Victory Baptist Church in Clare, Michigan. Victory, a Southern Baptist church, closed its doors a few years after I resigned. While many of the members were decent people, the church had lots of dysfunction, thus qualifying it to be rescued by Bruce Gerencser. As I look back on the twenty-five years I spent in the ministry, I can now see that I was drawn to churches that I could either start from scratch or fix. Victory was a fixer-upper, a church I thought God and I could get back on track. Instead of fixing the church, it fixed me. Victory would be the last church I pastored.
Victory had a traditional Sunday school, one that used quarterlies. I hated quarterlies, but I decided that I didn't want the turmoil that would come from trying to change the Sunday school curriculum. One of the men in the church, Steve, taught the adult class. Every week, the adults would get together and take turns reading the lesson and the appropriate verses. Then they would discuss what the lesson/verses meant to them. That's right, each class member had his or her own opinion, and each opinion was given equal weight. It was like taking a test where there are no wrong answers.
One week, the lesson was on election. As a Calvinist, I had a good understanding of the various soteriological beliefs on election. It was quite interesting to hear the various 'what it means to me' interpretations of election. The Sunday school teacher, a man with no theological training outside of being able to read, said the word "election" in the Bible meant "we get to choose." I tried to gently explain to him that no sect taught such a belief, but his mind was settled; election, like in voting for a president, meant each of us making a choice of God and Jesus.
Take the photograph at the top of this post. This photo was taken at a specific place on a certain date and time. It only has one meaning, yet using the 'what it means to me' approach someone might conclude that BONO, of U2 fame, started a Baptist church or there is a church named after him. Surely, every belief, every opinion should be given the same weight and respect, right? Of course not. The photo is of the sign for the Bono Baptist Church in Martin, Ohio, an unincorporated village in Ottawa County. The sign is located on State Route 2, across the road from I 'Heart' U, God sign. I can vouch for the photo because I am the one who took it.
Multiply 'what it means to me' by the number of Christians in the world and you end up with millions of Christianities. Catholics love to point out that this is a Protestant problem, but they have their own version of 'what it means to me'. The pope, the vicar of Christ, God's representative on earth, is quite clear about using birth control being a sin. Yet, most Catholic women, at one time or another, use birth control. The same could be said of a number of set-in-stone Catholic teachings. Both the Protestants and the Catholics have a paint-by-number Christianity that allows Christians to ignore the color guide and use whatever color fits their fancy.
So, when a Christian sect, pastor, priest, blogger, Bible college professor, or church member says THUS SAITH THE LORD, the BIBLE says, or THIS is THE truth, I hope they will forgive me for laughing. At best, Christianity is a religion based on personal interpretation and opinion, with each person, to quote the Bible, "being fully persuaded in their his own mind." At worst, it is the faith of the uneducated who, thanks to tribal and cultural influence, mouth beliefs they have no intellectual ability or desire to defend.
I have come to the conclusion that every Christian sect and every interpretation of the Bible is correct. DING! DING! DING! Winner! Winner! Chicken Dinner! They all win! The Bible, along with 2,000 years of Christian church history, can be used to prove almost any belief. Calvinists and Arminians have been squaring off and fighting for centuries, each believing that their interpretation is correct and God is on their side. And even here, there are uncounted shades of Calvinism and Arminianism, with each shade resolutely saying theirs is the right color. From the most ardent Fundamentalist to the most liberal Christian, followers of Jesus use the Bible to prop up their beliefs. Yea! Go Team Jesus!
Bruce Gerencser, 66, lives in rural Northwest Ohio with his wife of 45 years. He and his wife have six grown children and thirteen grandchildren. Bruce pastored Evangelical churches for twenty-five years in Ohio, Texas, and Michigan. Bruce left the ministry in 2005, and in 2008 he left Christianity. Bruce is now a humanist and an atheist.
Connect with me on social media:
Your comments are welcome and appreciated. All first-time comments are moderated. Please read the commenting rules before commenting.
You can email Bruce via the Contact Form.