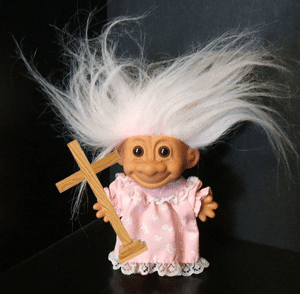 Repost from 2015-2016. Edited, updated, and corrected.
Warning! Full bore Bruce Almighty snark ahead!
Here is a Facebook message I received today:
Brother can i ask you why you are so angry…brother you are in my prayers and know that the Lord our God loves you with an everlasting love..
Here is my response:
First, you don't know me.

Second, I am not your brother.

Third, you can't possibly know if I am angry. You don't have some sort of special gift to sense emotions through a computer screen.

Fourth, I am not angry. I am sitting here contemplating the fact that my youngest daughter will be married tomorrow. I am performing the ceremony. I am happy, even though I am in excruciating physical pain and I have to respond to someone like you.

Fifth, I have no interest in your God. I have no need of your God and his mythical love. I am a satisfied, happy atheist.

Sixth, by all means pray. Since I think your God is a mythical being, your prayers cannot help or hurt. If it makes you feel better to pray, go ahead.

Seventh, is it your normal behavior to troll Facebook pages offering psychological assessments and un-requested prayer? If so, you might want to try a different approach. Over the past eight years, hundreds of people have tried the same approach and failed miserably. What makes you think that YOUR words will have any effect?

In the the name of reason, Bruce
Troll's response, with my snarky responses in [brackets]:
Well first of all congratulation on your daughter marriage, Second I just spence [sense] you were [angry]  and I am sorry [No you are not.] I was wrong. I do not troll face book [Yes you do.] I am not why your even come up [It must have been God.]..as for praying I alway will because that is what God has called me to do [Did God tell you to pray for Bruce Gerencser at 345 E Main St in Ney, Ohio on April 1, 2016 at 10:25 PM EST?] as for failing you I haven't failed you you have fail my God [How could I fail someone who doesn't exist?] …my words will have no effect but God word do effect people lives. [I know all of God's words. Let's play Bible trivia.] God bless you [How can he? I am a God-hating atheist who, with full knowledge of what he is doing, spits in the face of your God. According to the Bible I am God's enemy, a reprobate.]  and have a wonderful day tomorrow with your daughter and family…I have five daughters and three son and only one is married,it hard to see our children grow up and leave the nest..blessing friend.. [Thanks for the let me play nice ending to what was a really bad idea. Lesson learned? Don't email atheists, They bite.]

I have zero tolerance for Evangelicals who do these kinds of things. I am polite, but direct. Point made. End of discussion. What's for dinner? Maybe a roll in the hay later with my hot, angry, godless wife.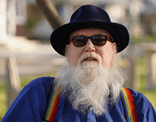 Bruce Gerencser, 65, lives in rural Northwest Ohio with his wife of 44 years. He and his wife have six grown children and thirteen grandchildren. Bruce pastored Evangelical churches for twenty-five years in Ohio, Texas, and Michigan. Bruce left the ministry in 2005, and in 2008 he left Christianity. Bruce is now a humanist and an atheist.
Connect with me on social media:
You can email Bruce via the Contact Form.
Your comments are welcome and appreciated. All first-time comments are moderated. Please read the commenting rules before commenting.