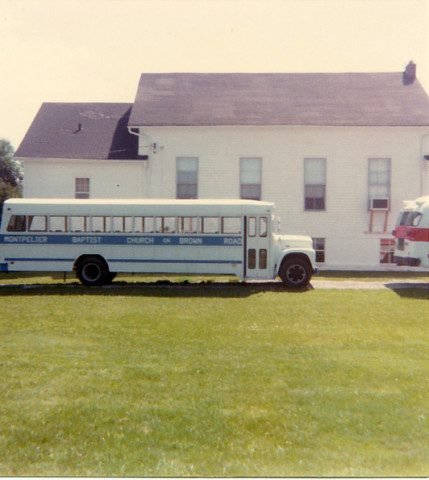 In February of 1979, Polly and I moved from Pontiac, Michigan to Bryan, Ohio. When I moved away in 1976 to study for the ministry at Midwestern Baptist College, I planned to never return to Bryan. However, marriage, an unexpected pregnancy, and job loss turned my "never" on its head.
Not long after we first moved to Bryan, Polly and I began attending my sister's church, Montpelier Baptist Church in Montpelier, a community ten minutes north of Bryan. Jay Stuckey, a graduate of Toledo Bible College, was the pastor, and after a few weeks, Jay asked if I would be interested in becoming the church's bus pastor (an unpaid position). I quickly told Jay yes!
The church had one bus route. It brought in a handful of children every week and little was being done to increase ridership numbers. Enter hot-shot, get–it-done, Bruce Gerencser. In less than a month, on Easter Sunday, the bus was jammed with eighty-eight riders.
A short time later, the church bought a second bus. I recruited bus workers to run the new route and before long this bus was also filled with riders.
The second bus we purchased is the blue bus shown in the picture above. A man in the church painted the bus, complete with a blue stripe on the side. I purchased stencils from a local office supply store so we could put the name of the church on the side of the bus. I asked for a volunteer to letter the bus, and a seventeen-year-old girl volunteered to do work.
On the appointed day, I drove the bus down to the home of the girl's parents, and then walked back to the church, two blocks away. Later in the day, I decided to check on how the work was going. At first, I didn't see the girl, but as I drove past the far side of the bus, I saw her standing on a ladder, busily painting the letters on the side of the bus. Imagine my shock and surprise to see that the girl was wearing a skimpy bikini! I quickly kept driving, pondering what I should do. I decided to do nothing. As a good Independent Fundamentalist Baptist (IFB), it bothered me that a fine, upstanding family in the church would allow their daughter to dress immodestly. That said, I concluded that this was Pastor Stuckey's "problem," not mine.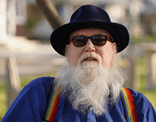 Bruce Gerencser, 65, lives in rural Northwest Ohio with his wife of 44 years. He and his wife have six grown children and thirteen grandchildren. Bruce pastored Evangelical churches for twenty-five years in Ohio, Texas, and Michigan. Bruce left the ministry in 2005, and in 2008 he left Christianity. Bruce is now a humanist and an atheist.
Connect with me on social media:
You can email Bruce via the Contact Form.
Your comments are welcome and appreciated. All first-time comments are moderated. Please read the commenting rules before commenting.