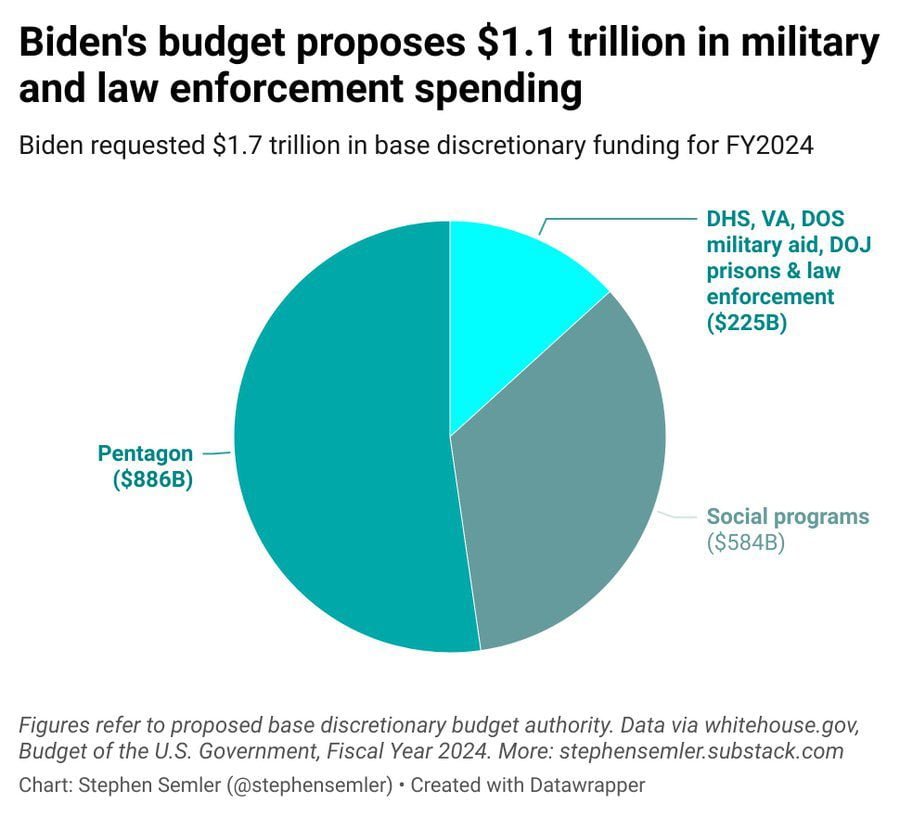 By Jake Johnson, a staff writer for Common Dreams. Used by Permission
Progressive lawmakers on Thursday voiced dismay that President Joe Biden is requesting a nearly $30 billion increase in U.S. military spending just months after the Pentagon failed its fifth consecutive audit, admitting it could not properly account for more than half of its trillions of dollars in assets.
Biden's budget framework for fiscal year 2024 calls for $886 billion in overall military spending—up from the current level of $858 billion—with $842 billion going to the Pentagon. More than half of the $1.7 trillion of discretionary spending in Biden's proposal is reserved for the military, which would get $170 billion for weapons procurement and $38 billion for nuke modernization.
Defense Newsreported that the president's budget would boost spending on "new drones, combat jets, hypersonic missiles, and submarines."
Rep. Pramila Jayapal (D-Wash.), chair of the Congressional Progressive Caucus, said in a statement late Thursday that the president's Pentagon blueprint requests "$26 billion more than Congress allocated in the previous budget—which itself was $63 billion more than the $773 billion the President requested for FY2023."
"This is a never-ending cycle of increased funds without accountability," said Jayapal. "There is simply no reason for taxpayers to continue to pay for outrageously high budgets rife with waste, fraud, and abuse. A recent CBO study confirmed that the Pentagon could cut $100 billion per year without compromising on national defense. This is long overdue. Progressives in Congress have been at the frontline of this fight for decades, and we will continue to push for sensible, targeted defense policy that prioritizes our national security over profit-hungry military contractors."
Given that roughly half of the Pentagon's annual budget has historically gone to military contractors such as Lockheed Martin and Raytheon, the National Priorities Project (NPP) noted Thursday that around 25% of Biden's total discretionary budget would likely wind up in the coffers of private companies.
"This military budget represents a shameful status quo that the country can no longer afford," said Lindsay Koshgarian, NPP's program director. "Families are struggling to afford basics like housing, food, and medicine, and our last pandemic-era protections are ending, all while Pentagon contractors pay their CEOs millions straight from the public treasury."
Led by Reps. Barbara Lee (D-Calif.) and Mark Pocan (D-Wis.), progressive lawmakers have been working for years to enact modest cuts to the Pentagon budget and redirect the savings toward healthcare, education, and other social investments.
But those efforts have repeatedly fallen short in the face of bipartisan opposition.
In 2022, Lee's proposal to cut $100 billion off the military budget's top line was defeated by an overwhelming vote of 78-350, with 141 House Democrats joining nearly every Republican in voting no. (NPP points out that $100 billion would be enough to send every U.S. household a $700 check or hire a million elementary school teachers.)
In a statement Thursday, Lee said she is "disappointed" that the president's new budget "continues the regressive trend of increasing our bloated, wasteful defense budget year after year with little oversight." Last month, Lee and Pocan reintroduced legislation that would reduce the U.S. military budget by $100 billion.
Top Republicans, meanwhile, signaled Thursday that they will try to pile more money on top of Biden's historically large military budget request as they simultaneously pursue cuts to Medicaid and food benefits.
Rep. Mike Rogers (R-Ala.), chair of the House Armed Services Committee, lamented that Biden's budget "proposes to increase non-defense spending at more than twice the rate of defense."
"The president's incredibly misplaced priorities send all the wrong messages to our adversaries," said Rogers. "On the House Armed Services Committee, we are focused on building an NDAA that provides our warfighters with the capability and lethality to deter and, if necessary, defeat the grave threats facing our nation."
Sen. Roger Wicker (R-Miss.) sent a similar message, calling Biden's military budget request "woefully inadequate" and a "serious indication of President Biden's failure to prioritize national security."
But analysts argue that ballooning military spending does little to bolster U.S. national security. As William Hartung of the Quincy Institute for Responsible Statecraft wrote Thursday, "We can make America and its allies safer for far less money if we adopt a more realistic, restrained strategy and drive a harder bargain with weapons contractors that too often engage in price gouging and cost overruns while delivering dysfunctional systems that aren't appropriate for addressing the biggest threats to our security."
"The Congressional Budget Office has crafted three illustrative options that could ensure our security while spending $1 trillion less over the next decade," Hartung noted. "A strategy that incorporates aspects of these plans and streamlines the Pentagon budget in other areas could be sustained at roughly $150 billion per year less than current levels."
Bruce Gerencser, 66, lives in rural Northwest Ohio with his wife of 45 years. He and his wife have six grown children and thirteen grandchildren. Bruce pastored Evangelical churches for twenty-five years in Ohio, Texas, and Michigan. Bruce left the ministry in 2005, and in 2008 he left Christianity. Bruce is now a humanist and an atheist.
Connect with me on social media:
Your comments are welcome and appreciated. All first-time comments are moderated. Please read the commenting rules before commenting.
You can email Bruce via the Contact Form.