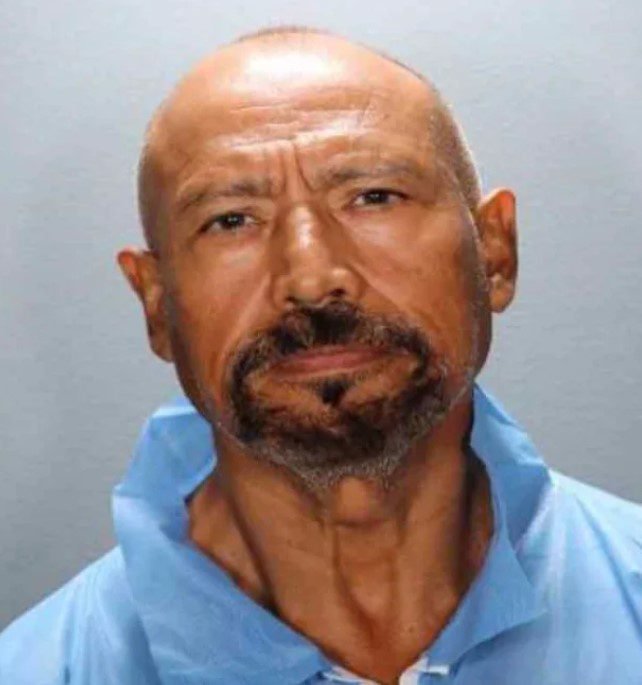 The Black Collar Crime Series relies on public news stories and publicly available information for its content. If any incorrect information is found, please contact Bruce Gerencser. Nothing in this post should be construed as an accusation of guilt. Those accused of crimes are innocent until proven guilty.
Jose Lopez, former volunteer at Pacific Hills Calvary Chapel and Compass Bible Church, both in Aliso Viejo, California, was sentenced to 186 years in prison for sexually abusing two young girls to whom he was related.
A retired Orange County pastor was sentenced Friday to 186 years to life in prison for sexually abusing two young girls with whom he is related.

Jose Andres Lopez, 70, of Mission Viejo, was convicted March 22 of 18 felony sexual assault charges dating as far back as 1991 through 2020. Lopez is a retired Orange County pastor, but jurors did not hear that fact during the trial because it was not deemed relevant to the allegations.

Lopez told Orange County Superior Court Judge Gary Paer that he should get a new trial because the victims did not tell the truth about him.

"Everything that was said was all hearsay as God is my witness," Lopez said.

Paer pointed out to Lopez that the victims were "thoroughly question by both sides" in the trial "and the jury believed them."

The judge added that their testimony was not hearsay, but evidence.

"Just because she says something under oath doesn't mean it's the truth," Lopez said.

"You're entitled to that opinion," Paer said. "You don't have to agree with (the convictions) and I understand there will be an appeal on this case."

Deputy District Attorney Tara Meath said, "There's multiple layers of evidence in this case" beyond the testimony of the victims.

After being convicted of "years of sexual abuse," it was "outrageous" for Lopez to make those arguments, Meath said.

Paer said Lopez "violated a huge position of trust" in the case. His attacks showed "planning and sophistication," Paer said, pointing to the defendant locking the door when he would assault one of the girls.

"He was the wolf in sheep's clothing," Paer said, pointing to Lopez's relationship with the victims and his position as a religious leader.

"He work the mask of a (relative), he wore the mask of a pastor," Paer said. "But behind the mask he was someone very dangerous."

Lopez "forfeited your freedom" with the attacks, Paer said.

The judge ordered Lopez to register as a sex offender for the rest of his life.

On Aug. 21, 2020, one of the victims was finishing up school work remotely during the coronavirus pandemic at the defendant's home when he called her up to his room, she testified.

"I went upstairs and then he pulled down my shorts I was wearing that day," she testified. "That's when he started (sexually assaulting her)."

Lopez had lubricant and condoms next to his bed, she testified.

"He locked the door like he always would," she testified. "He would usually put a towel under it, but I don't think he did that day."

The victim was 13 at the time, but the abuse started when she was 3, Meath said.

The victim's brother, who is about a year younger, was also in the house and when he was finishing his remote classes, the teacher asked to speak to the defendant to let him know they had worked out some technical issues in connecting virtually, Meath said. The siblings would regularly stay overnights with Lopez on Fridays through Saturdays and major holidays, Meath said.

The brother "ran up the stairs, but the door was locked, so he knocked," Meath said.

"My teacher wants to talk to you," the boy said.

The defendant said, "Slide the phone under the door," Meath said.

The boy said he heard his sister in the room say something to the effect, "Are you done? Is it in?" Meath said.

Then the boy heard "noise he describes as a rhythm that sounded like having sex," Meath said. "He felt very uncomfortable."

Later, the victim called her brother upstairs to her room and she was crying as she told him what was happening, Meath said. The next day, the brother told his mother and the tearful victim confirmed it, the prosecutor said.

When investigators spoke with the girl, she said, "He started touching me since I was 3 years old," according to Meath.

The girl said the alleged abuse "progressed in stages," Meath said.

"This basically took place every time he had an opportunity," Meath said. "It occurred every Friday."

When deputies began executing a search warrant, the victim told them where they could find a sex toy in his room and the color of the towel it was wrapped in, Meath said.

"It was exactly where she said it was," Meath said.

During the investigation, deputies "stumbled on a police report" out of Massachusetts from a 12-year-old who said the defendant had molested her for years, Meath said.

Lopez is also related to that victim, who moved out of state with her mother when she was 7, Meath said. She would return to spend summers with Lopez for years, and she said the abuse began when she was 5, Meath said. The accuser is about 35 or 36 years old now, she said.

Lopez volunteered as a pastor at Pacific Hills Calvary Chapel in Aliso Viejo between 2003 and 2005, according to sheriff's officials. He also volunteered at Compass Bible Church in Aliso Viejo between 2012 and 2019, according to sheriff's officials.
Compass Church released the following statement:
The Orange County Sheriff's Department has announced that a member of our church was arrested on suspicion of the abuse of a child who "was known" to him. The press release from the Sheriff's Department states he has "volunteered at Compass Bible Church" for the past eight years, and later in the release it states he has had "continued access and contact with children." It should be clarified that this man was not volunteering with kids in children's ministries at our church, nor was he given access to or had any contact with the children in our kid's ministry.

This man has never served as a pastor at our church nor has he been on our staff. He served as a volunteer on a team of men that kept order in the parking lot. Whatever "access and contact" the Sheriff's Department had in view, it was not at our church.

Our senior pastor met with the pastors and our kid's ministry leaders today to investigate and confirm that this person has had no contact or involvement with our children. We have also had no complaints and nothing has raised suspicion while he has been on our campus or involved with any of our congregants.

We hold the protection of our children in the highest regard. We work to professionally investigate the backgrounds of any who would volunteer to work with our children. And of course, we are ready and willing to fully cooperate with any investigation from our local authorities.
Bruce Gerencser, 66, lives in rural Northwest Ohio with his wife of 45 years. He and his wife have six grown children and thirteen grandchildren. Bruce pastored Evangelical churches for twenty-five years in Ohio, Texas, and Michigan. Bruce left the ministry in 2005, and in 2008 he left Christianity. Bruce is now a humanist and an atheist.
Connect with me on social media:
Your comments are welcome and appreciated. All first-time comments are moderated. Please read the commenting rules before commenting.
You can email Bruce via the Contact Form.