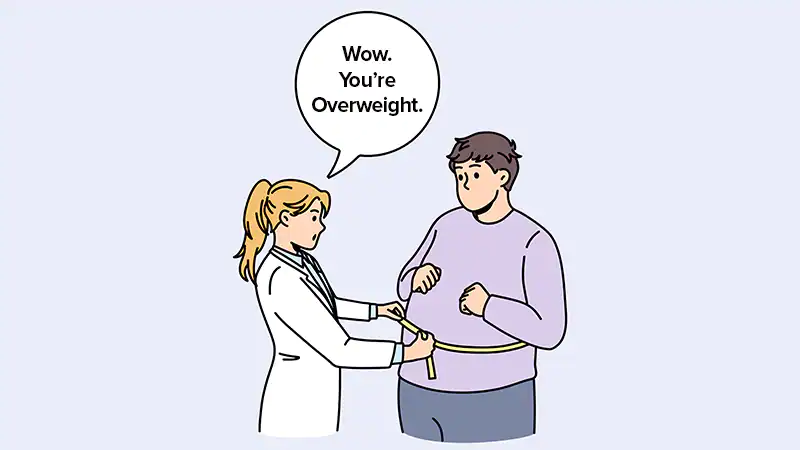 Medical doctors are very much a part of my life. I see my primary care doctor four times a year, a dermatologist twice a year, a cardiologist once a year, and other specialists, as needed. Today, I saw an orthopedic doctor for pain in my left hip and a carpel tunnel-like problem in my left hand; a problem I had surgically fixed in 2010. While I was lying on the cold table for an X-ray of my hip, the festering cyst on my upper back — which I had removed a few months ago, but has returned — burst, leaving a wet, bloody, puss stain on my tee shirt. "Wonderful, right?" I have an appointment with a dermatologist tomorrow to figure out what, exactly, to do about the cyst. (I have an ongoing problem with cysts here and there on my body. I have spent thousands of dollars getting them drained and incised. More often than not, the cysts make repeat appearances.)
The orthopedic doctor walked into the room, and after we exchanged pleasantries, I told him why I was there today. The doctor, whom I have seen before, had no recollection of my medical history, including the fact that I have widespread osteoarthritis, and was diagnosed two years ago with:
Disc herniation (T7,T8)
Disc herniation (T6,T7)
Central spinal canal stenosis (T9/T10, T10/T11)
Foraminal stenosis (T5,T6)
Disc degeneration/spondylosis (T1/T2 through T10/T11)
Facet Arthropathy throughout the spine, particularly at T2/T3, T3/T4, T5/T6, and T7/T8 through the T12/L1 levels.
Hypertrophic arthropathy at T9/T10
The orthopedic doctor was unsure what the problem was with my hand. Scar tissue from my previous surgery? A new problem? He ordered a new EMG — a nerve conduction test. As far as my hip was concerned, he decided my pain was caused by the aforementioned back problems. Solution? Live with it.
And then came the lecture . . . "have you thought about losing weight?" I told him I had lost one hundred pounds over the past three years . He asked, "How?" I replied, "Gastroparesis." I added, "Nausea, lack of appetite, and vomiting, will do that to you." I quickly determined that he knew little to nothing about gastroparesis. This, of course, is not surprising since bones and joints are his specialty. His cluelessness didn't stop him from suggesting I see a different gastroenterologist to get a "second opinion." Second opinion, for what?
Gastroparesis is an incurable stomach disease. The treatments are limited: medication to manage symptoms, feeding tubes, and experimental procedures. I hate when doctors think they always need to be the expert in the room. I have no doubt that I know a hell of a lot more about gastroparesis than my orthopedic doctor did. I have read the relevant literature, and know gastroparesis is a miserable disease; that no miracle is forthcoming. I take medication, vomit, forego eating, and I had an experimental procedure done under anesthesia last year (to no effect).
Ignoring everything I said, my orthopedic doctor suggested I contact the practice's weight loss clinic for a consult. He said, "You know, if you lose more weight, it will lessen the pain in your back." By this point, I wanted to scream. "Are you not listening to me? "Or do all you see is the fat guy?"
Had my orthopedic doctor asked, he would have learned that I started having back problems at age twenty. I was first diagnosed with narrow disc space in my lower back when I weighed 225 pounds and still played competitive sports. My spine is literally falling apart. Losing weight won't fix structural problems. I have had back problems at various weight points throughout my life. Lose, gain, it matters not, the pain remains. I am a living study that shows that the idea that losing weight will fix whatever ails you is untrue. As I mentioned, I have lost one hundred pounds. The only thing losing twenty-five percent of my body mass did was improve my glucose levels and provide me a new wardrobe. That's it. My debility and pain remain the same. But, hey, I love my new Charles Tyrwhitt shirts.
I am comfortable in my own skin. Lecturing me about my weight is not helpful, nor will losing weight magically cure my fibromyalgia, osteoarthritis, or gastroparesis. While there certainly could be benefits from losing more weight, I doubt dropping another twenty-five to forty pounds will lessen my pain.
What I most wanted my doctor to do today is see "me;" to listen to me; to consider the totality of my health. Since that was beyond his "expertise," he is no longer my doctor. In fact, I am done with doctoring. When I leave their offices worse off than when I came in, I wonder "why bother?"
Bruce Gerencser, 66, lives in rural Northwest Ohio with his wife of 45 years. He and his wife have six grown children and thirteen grandchildren. Bruce pastored Evangelical churches for twenty-five years in Ohio, Texas, and Michigan. Bruce left the ministry in 2005, and in 2008 he left Christianity. Bruce is now a humanist and an atheist.
Connect with me on social media:
Your comments are welcome and appreciated. All first-time comments are moderated. Please read the commenting rules before commenting.
You can email Bruce via the Contact Form.