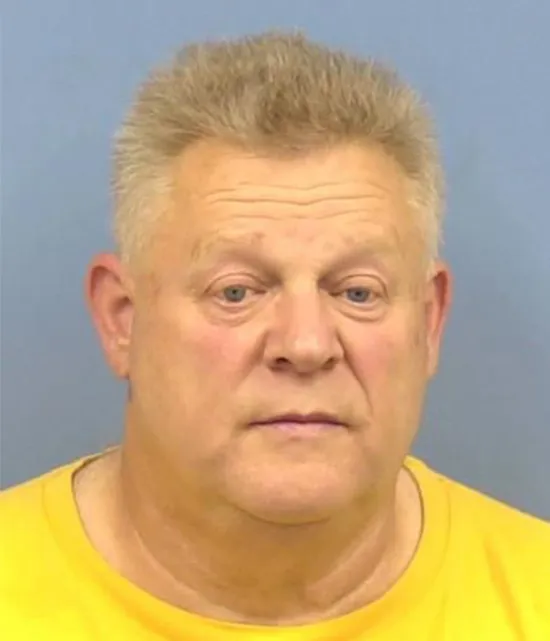 The Black Collar Crime Series relies on public news stories and publicly available information for its content. If any incorrect information is found, please contact Bruce Gerencser. Nothing in this post should be construed as an accusation of guilt. Those accused of crimes are innocent until proven guilty.
Gary Arivett, pastor of Shiloh Apostolic Church in Henning, Illinois, stands accused of sexually molesting minor family members.
One woman is reflecting on a painful past. Now she hopes justice will be served for the Henning Pastor she says sexually abused her for years.

Last week Gary Arivett was arrested and is facing three counts of aggravated criminal sexual abuse of a family member under the age of 18. He has since been released after posting a $100,000 dollar bail.

The survivor says Arivett has been a pastor at Shiloh Apostolic Church in Henning for nearly 30 years. For her privacy, she does not want to be named, but says she and her sisters were abused for years.

"I would like him to not have access to children anymore in any capacity," said the survivor.

She says the abuse first started for her at age 11, her younger sister was 6 years old.

"I just tried to move forward with my life and that point we hadn't heard of anybody else having issues and so I kinda was hoping that deep down maybe he got over his sickness and maybe it was just us children, maybe it was us," said the survivor.

But when she heard Arivett was arrested she wanted to stand in solidarity with the other survivors.

"There's no telling how many are out there, and there is no telling how many little children in the church right now that don't know what he is doing is wrong," said the survivor.

That's why Erin Morris started digging into this case.

"I was protected here as a child by all of the people that I grew up with and I want to continue to do that," said Morris.

Morris says she heard the news about Arivett on social media and wanted to know more about the situation.

"So I made a small Facebook post and people started reaching out to me then with their stories," said Morris.

….

"The fact that he is a pastor in a leadership position with access to as many young children with very trusting parents who aren't aware of the monster they are allowing near there children, it needed to be public, it needs to get out there, they need to know," said the survivor.

We did reach out to Arivett for a comment. Over the phone he said:

"First of all, the charges are unfounded. I was not forced out of the pastors position, I left on my own."
Former Shiloh Apostolic Church of Henning pastor Gary Arivett has been given a pre-trial date of September 18th, at 11 AM in Courtroom 4A of the Vermilion County Courthouse. During his appearance on Monday (Aug 14th), Arivett waived his right to the full reading of the indictment filed against him on August 4th, and a not-guilty plea was entered on his behalf.

Arivett faces multiple counts of Aggravated Criminal Sexual Abuse with a family member, after serving for nearly three decades as pastor at the Shiloh Apostolic Church in Henning, located northwest of Route 136 and Henning Road
Bruce Gerencser, 66, lives in rural Northwest Ohio with his wife of 45 years. He and his wife have six grown children and thirteen grandchildren. Bruce pastored Evangelical churches for twenty-five years in Ohio, Texas, and Michigan. Bruce left the ministry in 2005, and in 2008 he left Christianity. Bruce is now a humanist and an atheist.
Connect with me on social media:
Your comments are welcome and appreciated. All first-time comments are moderated. Please read the commenting rules before commenting.
You can email Bruce via the Contact Form.