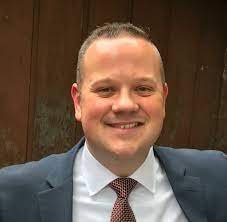 The Black Collar Crime Series relies on public news stories and publicly available information for its content. If any incorrect information is found, please contact Bruce Gerencser. Nothing in this post should be construed as an accusation of guilt. Those accused of crimes are innocent until proven guilty.
Corey Herthel, pastor of Green Bay Seventh-Day Adventist Church in Green Bay, Wisconsin, was accused of attempted production of child pornography and transfer of obscene material to a minor.
A Green Bay pastor, Cory J. Herthel, has been arrested and charged with multiple online crimes allegedly aimed at a child in Venezuela, according to an article by WeAreGreenBay.com. The charges were brought by the U.S. Attorney's Office for the Eastern District of Wisconsin and include attempted production of child pornography and transfer of obscene material to a minor. The complaint alleges that the 40-year-old pastor had first encountered the child during his missionary work in Venezuela, subsequently maintaining contact through online channels.

Herthel is alleged to have solicited inappropriate videos from the minor in exchange for monetary payments, further incriminating himself by reportedly sending the child explicit images of himself. The sustained contact and transaction of obscene materials form the basis of the charges, exposing the child to grave psychological and emotional harm.

….

Investigation into this case is being jointly conducted by the FBI offices in Green Bay and Milwaukee, working in collaboration with the Green Bay police department. These combined efforts aim to thoroughly assess the extent of Herthel's actions and secure all necessary evidence to strengthen the prosecution's case.

If convicted, Herthel faces significant legal consequences. The charge of attempted production of child pornography carries a mandatory minimum sentence of 15 years, extendable up to 30 years in federal prison. The charge related to the transfer of obscene materials could add another ten years to his prison sentence. In addition to the potential jail time, a conviction on either charge would necessitate that Herthel register as a sex offender, marking him permanently in the public record.
Today, Herthel pleaded guilty and awaits sentencing.
A former Green Bay pastor will spend at least 15 years in prison after engaging in an inappropriate online sexual relationship with a minor in Venezuela.

Cory J. Herthel, 40, pled guilty to attempted sexual exploitation of a minor on Thursday.

According to a plea agreement, the church where Herthel worked as a pastor contacted the FBI in May regarding information it had obtained about a potential inappropriate sexual relationship between Herthel and a Venezuelan minor.

An investigation revealed that Herthel had sent the child videos of himself masturbating, and the child sent similar photos and videos at Herthel's request.

Herthel said he met the child begging on the streets during a mission trip to Ecuador. After the child and the child's mother returned to their native Venezuela, Herthel kept in touch with the child.

When confronted with the explicit images and videos, Herthel admitted to asking the minor to send him the content, as well as to sending monetary payments to the child using various online applications.

Herthel will receive his federal prison sentence of at least 15 years on Dec. 4. He will also be required to register as a sex offender.
Bruce Gerencser, 66, lives in rural Northwest Ohio with his wife of 45 years. He and his wife have six grown children and thirteen grandchildren. Bruce pastored Evangelical churches for twenty-five years in Ohio, Texas, and Michigan. Bruce left the ministry in 2005, and in 2008 he left Christianity. Bruce is now a humanist and an atheist.
Connect with me on social media:
Your comments are welcome and appreciated. All first-time comments are moderated. Please read the commenting rules before commenting.
You can email Bruce via the Contact Form.