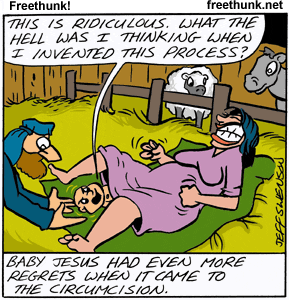 Repost from 2015. Edited, updated, and corrected.
Here's one thing that atheists and agnostics need to understand. For a person becoming an Evangelical Christian – the choice to do so has never been JUST about the evidence. We mistakenly think that if we just show Evangelicals evidence that their God is a myth, the Bible is a manmade book, and the central claims of Christianity are false, they will abandon their religion and embrace atheism or agnosticism. How's that working for us?
The truth is, Christianity, as a belief system, is all about faith. Hebrews 11:1-3 says:
Now faith is the substance of things hoped for, the evidence of things not seen. For by it the elders obtained a good report. Through faith we understand that the worlds were framed by the word of God, so that things which are seen were not made of things which do appear.
How does a person become an Evangelical Christian? Ephesians 2:8,9 says:
For by grace are ye saved through faith; and that not of yourselves: it is the gift of God: Not of works, lest any man should boast.
Evangelicals, by faith, decide to believe certain things. By faith, they believe the Bible is the inspired, inerrant, and infallible Word of God. By faith, they believe the Bible is truth, and whatever it says comes straight from the mouth of God. By faith, they believe that the central teachings of Christianity are true regardless of evidence to the contrary.
The Bible teaches that Jesus Christ was born of a virgin — that he was birthed by a teen girl named Mary who was impregnated by the Holy Spirit. It is common knowledge that virgins can't have babies. Unless a woman is impregnated by a man's sperm, there can be no baby. Evangelicals know this, but they disregard this fact, choosing instead to believe, by faith, the story in the Bible about the virgin birth of Jesus Christ.
It is also common knowledge that when people die, they stay dead. I know of no evidence that suggests that a person lying dead in the grave for three days has any hope or possibility of coming back to life. When you're dead, you stay dead. Evangelicals know this, but choose, instead, to disregard this fact, putting their faith in the claims the Bible makes for the resurrection of Jesus Christ from the dead. Much like it was for Jesus, Evangelicals believes that God will someday resurrect their bodies from the grave and make them new. What evidence do they have for this claim? None.
The virgin birth of Jesus Christ and his resurrection from the dead are two essential doctrines of Evangelical Christianity. There is absolutely no evidence for these two events outside of the Bible. Blind, irrational faith is required to believe these two essential Evangelical doctrines. The same could be said for the Bible stories about Jesus walking on water, walking through walls, turning water into wine, and walking through a crowd of people without being detected. Reason demands we reject such stories, but by faith, Evangelicals believe them to be true.
Evangelicals do a great disservice to their religion by attempting to argue for Christianity on an evidentiary basis. This is an argument that Evangelicals cannot win, and they only hurt their own cause when they attempt to argue faith claims in an evidence arena. Outside of the Bible, there is no evidence for the claims that virgins can have babies or dead people can get out of the grave and live again. These are stubborn facts that cannot be refuted.
Does this mean that Evangelicals are stupid or ignorant? Of course not. I recognize that Christianity has never been just about the evidence. Christianity purports to answer what we call the big questions of life. Where did we come from? What is the purpose of life? Is there life after death? The Christian Bible answers these questions and more. For atheists and agnostics, the answers to these questions seem empty and of little value, but we need to remember not everyone is like us.
Who are we to stand in the way of what helps someone get through the night? It matters not whether we think their beliefs are a flight of fancy — and many of us do. All that matters is whether their Christian beliefs meet the needs they have in their lives. We often forget that many people come to the Christian faith in a time of crisis. Let's face it: atheism doesn't do a very good job of comforting people when they are hurting, sick, or dying. Often, all we have to offer is love and compassion wrapped in the reality that life is shitty and hard and everyone dies in the end. Brutal, I know, but it is the truth.
As long of Evangelicals keep their beliefs to themselves and make no attempts to evangelize others or turn the United States into a theocracy, I suspect most atheists and agnostics are content to let Evangelicals believe what they will. Unfortunately, many Evangelicals refuse to keep their religion private, and, as will be on full display November 3, do everything in their power to ensconce Jesus as the King of the United States (and world). As long as Evangelicals have ill-will towards non-Evangelicals and demand preferential treatment, atheists, agnostics, secularists, and others who value the separation of church and state, must resolutely oppose and condemn Evangelicalism. That said, we should ask ourselves whether our time is well spent trying to evangelize Evangelicals and turn them into atheists.
Ask yourself, when is the last time you have won over an Evangelical by argumentation and evidence? Doesn't happen very much, does it? Christianity is much more complex than that. It's not the end of the world if Christians die thinking they will go to Heaven. At the end of the day, who cares? For whatever reason, Evangelicals need faith to make it through life, and they need to think that there is something better awaiting them after they die. I don't fault them for believing these things, even if I think their beliefs are untrue.
As atheists, we cannot believe the things that Christians believe. Why? We don't have faith. All we have is a Bible that Evangelicals tell us is truth, but we find no persuasive evidence for its truth claims. We know that faith would fix the lack of evidence problem for us, but we are not willing to relegate matters of life and death to such a subjective idea as faith. We wish we could, but we can't.
Bruce Gerencser, 63, lives in rural Northwest Ohio with his wife of 42 years. He and his wife have six grown children and thirteen awesome grandchildren. Bruce pastored Evangelical churches for twenty-five years in Ohio, Texas, and Michigan. Bruce left the ministry in 2005, and in 2008 he left Christianity. Bruce is now a humanist and an atheist. For more information about Bruce, please read the About page.
Are you on Social Media?
Follow Bruce on Facebook and Twitter.
Thank you for reading this post. Please share your thoughts in the comment section. If you are a first-time commenter, please read the commenting policy before wowing readers with your words. All first-time comments are moderated. If you would like to contact Bruce directly, please use the contact form to do so. Donations are always appreciated. Donations on a monthly basis can be made through Patreon. One-time donations can be made through PayPal.