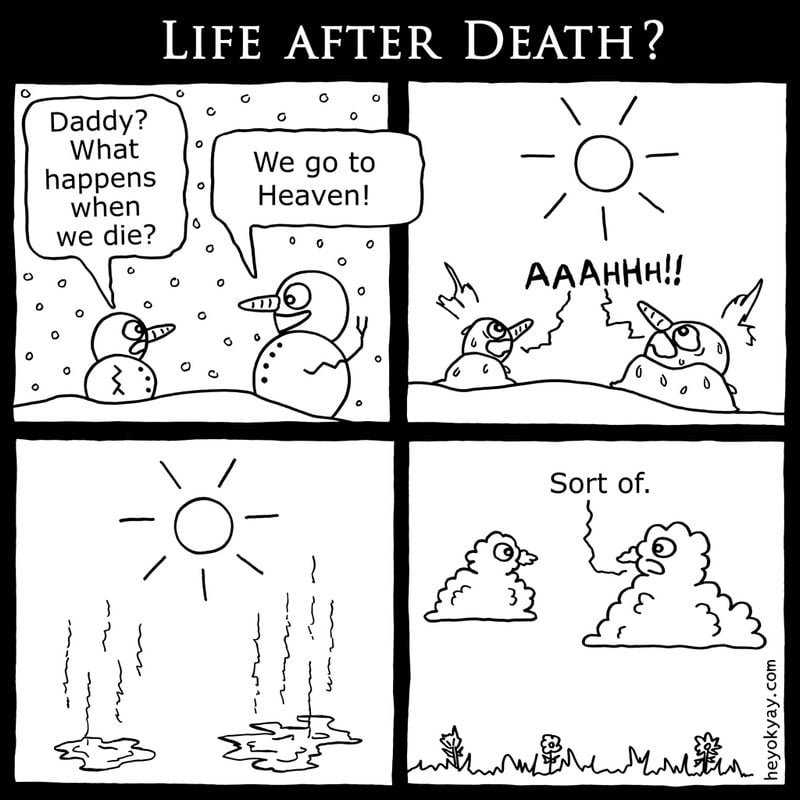 Evangelical Christians often ask me, what happens when we die?  Here's my answer.
The power of religion rests in the hope it gives people concerning life after death. Remove this from religion, and churches would be shuttered overnight. Hope, along with fear, is the glue that holds most religions together. What would religion be without the fear of Hell and the hope of Heaven?
The problem though is that there is no evidence for the existence of Heaven, Hell, or life beyond the grave.  All we have to go on are the various religious texts that sects, churches, and clerics use to "prove" that there is a Hell and Heaven. No one has ever gone to Heaven or Hell and returned to tell us about it — and that includes the Christian liars who say they went to Heaven or Hell and came back with a message from God. The same goes for any life after death, whether it be reincarnation or Christian resurrection. There is no evidence for life after death. Any belief to the contrary requires faith.
As a skeptic, I rarely appeal to faith. I try to judge matters according to what I can see and know. What does reason tell me about life after death? What do my observations tell me about reality? What do my experiences tell me about the prospects of eternal life beyond my last breath?
When we die, we are dead. That's it. End of story.  When my heart stops pumping, my lungs stop breathing, and my brain stops functioning, I am dead. Every one of us will come to this end. No one escapes death — not even Jesus. I know of no one who has come back from the dead. I know of no one who is not right where they were planted or scattered after they died. As with God, there is no empirical evidence for Hell, Heaven, or life after death. Since there is no evidence, I must conclude that these things do not exist.
Now, this does not mean I don't wish it could be otherwise. Heaven, eternal life, a pain-free body, being reunited with my father and mother; all these things appeal to me. But then, so does having magical Harry Potter-like powers. Both are fantasies that have no foundation in fact.
Some day, sooner rather than later, I am going to die. It is unlikely that I will be alive 10 years from now. I hope I am, but my body and its slow, gradual, painful decline tells me that the ugly specter of death is lurking in the shadows, and someday it will come to claim me. Believe me, I want to live. I have no death wish as many Christians do. Take me Jesus, I am ready to go, many a Christian says. Not I. I have no desire to leave on the next boat or any other boat, for that matter. I hope the long black train that's a-comin' gets derailed in Hell, Michigan.  I want to live as long as I can. I want to be married for 50 years, see my grandchildren get married, and hold my great-grandchildren. I want to see the Bengals win a Super Bowl, the Reds win another World Series, and a host of other things on my bucket list — and yes, I have one.
You see, we skeptics, atheists, and humanists value life because this is all we have. We know, based on what the evidence tells us, that there is no Hell, Heaven, or life after death. This is it, and because it is, we want to wring as much as we can out of life. We are not content to off-load life to a mythical Sweet-By-and-By. Every day matters because every day lived is one less day we are above ground.
I have lived about 23,546 days/565,104 hours/33,906,204 minutes/2,034,374,400 seconds. What is most important to me is a well-lived life. Have I lived life to its fullest? Have I made a difference? Am I a better person today than I was yesterday? Do the people that matter to me know that I love them? This is enough for me. What more can anyone ask?
Sadly, many Evangelicals view life as something to be endured so that they can get a divine payoff after death. I know this description sounds crude, but it is the essence of Christian belief concerning life after death. Endure! Suffer! Be Patient! As countless Christian songs say, someday it will be worth it all. Someday you will cross the finish line and receive the prize that awaits you, the Apostle Paul says.
I don't fault Evangelicals for believing in Hell, Heaven, and the afterlife. The Christian Bible certainly says these things are real. The Bible clearly says who will be going to Hell and Heaven. However, as a skeptic, I see no evidence that these beliefs are true. I do not have the requisite faith necessary to suspend reason on these matters. I am unwilling to waste my life in the pursuit of that which, as best I can tell, does not exist.
Bruce Gerencser, 66, lives in rural Northwest Ohio with his wife of 45 years. He and his wife have six grown children and thirteen grandchildren. Bruce pastored Evangelical churches for twenty-five years in Ohio, Texas, and Michigan. Bruce left the ministry in 2005, and in 2008 he left Christianity. Bruce is now a humanist and an atheist.
Connect with me on social media:
Your comments are welcome and appreciated. All first-time comments are moderated. Please read the commenting rules before commenting.
You can email Bruce via the Contact Form.