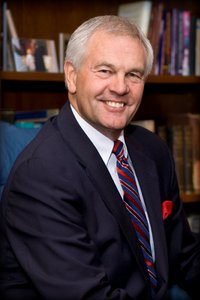 From 1976-1979, I attended Midwestern Baptist College, Pontiac, Michigan, to prepare myself for the ministry. Students were required to attend chapel services every day. Over the course of the three years I spent at Midwestern, I heard many of the big name Independent Fundamentalist Baptist (IFB) preachers preach during chapel. If you were a preacher boy like I was, you wanted to hear these mightily used of God preachers. One such preacher was Ralph Wingate Jr.
Wingate, the son of a preacher, was a graduate of Midwestern.  In 1973, Wingate went to Newington,Connecticut to plant a new church, Emmanuel Baptist Church. (from 1970-1973, Wingate pastored First Baptist Church, Dwight, Illinois) The church was wildly successfuland this made Wingate a favorite son of the chancellor of Midwestern, Tom Malone.
In August of 1983, Wingate assumed the pastorate of Calvary Baptist Church in Normal, Illinois. Due to health problems, Wingate retired in December 2013. He pastored Calvary for 30 years.
Wingate, after stumbling upon my blog, used me as a warning, a cautionary tale, in one of his sermons. What follows is an audio clip of the part of the sermon that mentioned me.
Enjoy!