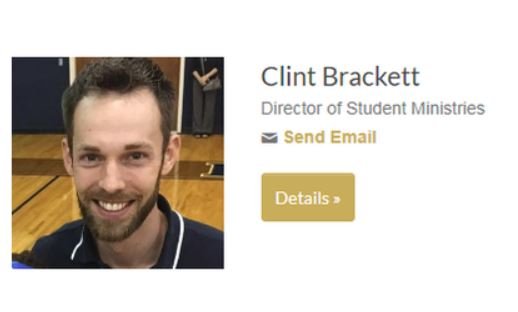 The Black Collar Crime Series relies on public news stories and publicly available information for its content. If any incorrect information is found, please contact Bruce Gerencser. Nothing in this post should be construed as an accusation of guilt. Those accused of crimes are innocent until proven guilty.
In October 2017, Clinton Brackett, Director of Student Ministries at First United Methodist Church in Lindale, Texas, was accused of sexual assault. Prior to his employment at First United Methodist, Brackett spent five years working for First Baptist Church in Ballinger, Texas.
The Tyler Morning Telegraph reported at the time:
The Director of Student Ministries at First United Methodist Church in Lindale has been arrested for sexual assault.

Clinton Brackett, 32, of Lindale was arrested Thursday on a warrant out of Runnels County and taken to the Smith County Jail.

The arrest was the result of information obtained from a Texas Highway Patrol trooper's traffic stop in Runnels County, according to a statement from the Texas Department of Public Safety.

….

First United Methodist Senior Pastor Rick Ivey released a statement saying Clinton Brackett, an employee at the church was arrested Thursday for charges of sexual assault that happened in Runnels County.

Ivey said the incident did not happen at FUMC Lindale or in the Lindale community.

"Clint Bracket's employment with our church has been terminated," Ivey said.

Brackett's social media page indicates he was previously employed as the First Baptist Church in Ballinger. In a social medial post on Dec. 6, 2015, Brackett wrote that he accepted the position of Student Minister at the First United Methodist Church in Lindale and would be leaving the church in Ballinger after four and half years as a minister and member of the First Baptist Church family.

Brackett was held on a $100,000 bond which he posted on Thursday, according to Smith County Judicial records.
Yesterday, Brackett pleaded guilty to child sexual assault and was sentenced to eight years in prison.