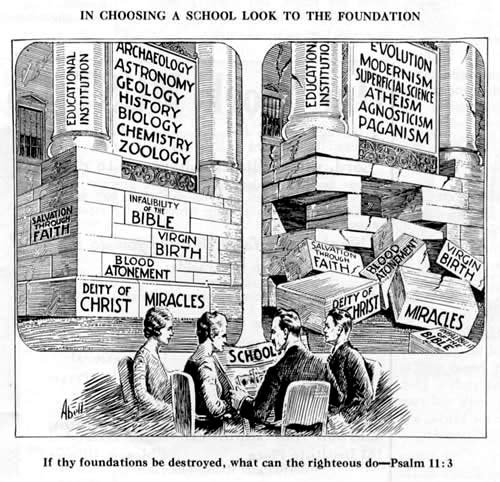 "It happened gradually, and then it happened suddenly, as Hemingway would put it," Pete Hegseth explained.                                                  
Hegseth is a best selling author, and co-host of Fox and Friends Weekend. His co-author, David Goodwin is president of the Association of Classical Christian Schools. They write that educational reformer John Dewey advocated progressive teaching in the 1920's. And in 1935, after they fled Nazis Germany, Marxists from the Frankfurt School of Social Research introduced their views to students at New York's Columbia University.
"These were all atheists. These were all socialists, or almost all of them were and their goal was social change, and they knew the schoolroom was the place they could do it. And it started with the removal of God," Hegseth said.
David Goodwin believes the biggest change sidelining Christian education occurred when the U.S. Supreme Court, under Chief Justice Earl Warren, removed God from the classroom.
"They gradually took prayer out of school, they then took the Bible out of school, and they then forbid really any teaching of Christian instruction in school, " explained Goodwin. "But that was the kind of the capstone of a long effort. It wasn't the beginning, it was really the end."
Also, Goodwin and Hegseth contend that progressives intentionally replaced classical Christian education with American nationalism.
"We look at our Pledge of Allegiance – at least we do as conservatives and patriots and say, 'Hey, that's a great thing under God.' Well, the original pledge was written in the late 19th century by a socialist who ultimately wrote it without under God, because the pledge was meant to shift kids away comfortably from God at the center of the class, from the cross, at the center to the flag at the center of the classroom, which was an easier sell to parents at the time," Hegseth explained. "And now, of course, fast forward to today, and they're happy to get rid of the flag."
So, do Hegseth and Goodwin believe that America's elites possess a well-devised spiritual strategy that transcends politics?
"You see, we fight in terms of politics now and may win incremental battles here or there. What the left understood is they had to go to the heart of what made us who we are. What do we value? What's our vision of the good life? What do we consider our virtues?" Hegseth explained. "And when they targeted that, they targeted at the foundation of who we really are, really the current underneath the top waters of the stream of cultures, the top waters, the current is paideia underneath, and they targeted that." 
— Gary Lane, CBN News, 'It Started with the Removal of God': How Atheist-Socialists Have Fought America from Within, July 5, 2022
Bruce Gerencser, 66, lives in rural Northwest Ohio with his wife of 45 years. He and his wife have six grown children and thirteen grandchildren. Bruce pastored Evangelical churches for twenty-five years in Ohio, Texas, and Michigan. Bruce left the ministry in 2005, and in 2008 he left Christianity. Bruce is now a humanist and an atheist.
Connect with me on social media:
Your comments are welcome and appreciated. All first-time comments are moderated. Please read the commenting rules before commenting.
You can email Bruce via the Contact Form.