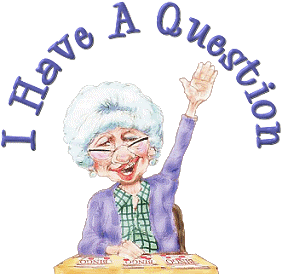 I put out the call to readers, asking them for questions they would like me to answer. If you have a question, please leave it here or email me. All questions will be answered in the order in which they are received.
Anonymous asks:
How would you respond to someone who rejects the advice on your About page?
Let me be honest with you, I found this question to be strange. Not sure what to make of it.
On the About page, I offer the following advice:
If you had one piece of advice to give me, what would it be?

You have one life. There is no heaven or hell. There is no afterlife. You have one life, it's yours, and what you do with it is what matters most. Love and forgive those who matter to you and ignore those who add nothing to your life. Life is too short to spend time trying to make nice with those who will never make nice with you. Determine who are the people in your life that matter and give your time and devotion to them. Live each and every day to its fullest. You never know when death might come calling. Don't waste time trying to be a jack of all trades, master of none. Find one or two things you like to do and do them well. Too many people spend way too much time doing things they will never be good at.

Here's the conclusion of the matter. It's your life and you best get to living it. Someday, sooner than you think, it will be over. Don't let your dying days be ones of regret over what might have been.
What would I say to someone who rejects this advice, Anonymous asks. The short answer is "okay, be well, my friend." I give this advice freely, and whether someone accepts it or finds value in what I have written is up to them. If they don't, no skin off my back. I am not some sort of deity declaring his law. I am just a feeble, frail, fucked-up man who has learned a few things in his sixty-two years of life. The aforementioned statement reflects my experiences and the lessons I have learned as I motor through my oh-so-short existence.
I try each day to live by these words. I am certain that come the end of the day, I have, to some degree or the other, failed. All I know to do is try again.
About Bruce Gerencser
Bruce Gerencser, 62, lives in rural Northwest Ohio with his wife of 41 years. He and his wife have six grown children and twelve grandchildren. Bruce pastored Evangelical churches for twenty-five years in Ohio, Texas, and Michigan. Bruce left the ministry in 2005, and in 2008 he left Christianity. Bruce is now a humanist and an atheist. For more information about Bruce, please read the About page.
Are you on Social Media? Follow Bruce on Facebook and Twitter.
Thank you for reading this post. Please share your thoughts in the comment section. If you are a first-time commenter, please read the commenting policy before wowing readers with your words. All first-time comments are moderated. If you would like to contact Bruce directly, please use the contact form to do so.
Donations are always appreciated. Donations on a monthly basis can be made through Patreon. One-time donations can be made through PayPal.