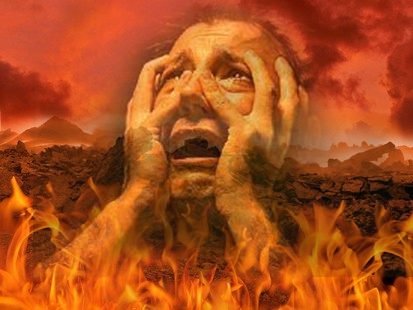 I am often asked if I still fear going to Hell when I die. I suspect every Evangelical-Christian-turned-atheist, has had, at one time or the other, thoughts about what happens if they are wrong. If Evangelicals are right about God, Jesus, sin, salvation, and life after death, those of us who have — with full knowledge of what the Bible says — walked or run away from Christianity will surely face the eternal flames of Hell. This is where Pascal's Wager often comes into play. Since none of us can be absolutely certain that Christianity's teaching are false, shouldn't we hedge our bets and accept Jesus as Lord and Savior? Of course, the same could be said for EVERY religion. If we really wanted to cover all the bases, shouldn't we embrace every deity? All any of us can do is make rational decisions about religious belief. I have weighed Christianity, Jesus, God, and the Bible in the balances and found them wanting. Could I be wrong? Sure. But, I am 99.99% certain that I am not. And when it comes to the Evangelical version of the Christian God, I am 99.99999% certain that their God is a myth.
When Evangelicals deconvert, they often minimize the deep psychological marks left behind by their religious past. Intellectually, the notion of an eternal jail in the bowels of the earth is absurd. So is the notion of God fitting non-Christians with an eternal body that will survive endless torture in the flames of Hell (actually the Lake of Fire). And even more absurd is the belief that people who never heard of Jesus will be cast into Hell for what they SHOULD have known. Some Calvinists even think that it is possible that there will be infants in Hell. Since God played a divine sorting game before the world began — you are elect, you are not — there could be infants who are non-elect, and who are therefore condemned to go to Hell.
Rejecting the intellectual absurdities of Evangelicalism frees our minds from bondage, but deep within the recesses of our brain lie thoughts seared into our minds from years of religious indoctrination. Most Evangelicals are cradle Christians, having been born and raised in and around Evangelicalism and its way of thinking their entire lives. Teachings about God, salvation, and Hell make deep impressions on children. This is why many Evangelical churches have programs geared towards "reaching" children for Jesus. Born into sin, these lying, cheating, vile little vipers need Jesus, Evangelicals believe, so they do all they can to win people to Jesus when they are young. Fearing that their children might die before getting saved, Evangelical parents and the churches they attend often psychologically pressure children into asking Jesus into their hearts. It is not uncommon to hear of Evangelical children making professions of faith at ages as young as four or five. Both my wife and I got saved the first time at age five. Evangelicals believe if they don't reach people when they are young, that it is increasingly likely that these people will NOT accept Jesus as their Savior. Get them when they are young and we will have them forever, the thinking goes.
Former Evangelicals then, must deal with deeply seated beliefs about Hell. Intellectually rejecting these beliefs is one thing; flushing them out of our minds is another. I left Christianity in 2008. I vividly remember nights when I would wake up terrorized with thoughts about being wrong and going to hell. (Christians told me that this was the Holy Spirit trying to get my attention.) These thoughts so bothered me that I sought out the counsel of people who were farther along the path of deconversion than I. I even talked to my counselor about  my fears of being wrong and spending eternity in hell paying for the wrong decision. Everyone told me that my thoughts were quite normal — an Evangelical hangover of sorts. It is naïve for people to think that they can spend decades (or a lifetime as I did) in Evangelicalism and then one day walk away without there being any psychological baggage. Some people can leave Evangelicalism with a single carry-on bag. Others leave with numerous suitcases. Once we are on the other side of faith, it takes time to unpack these suitcases. It is not uncommon for unbelievers to have contradictory beliefs. I know I did. It takes time to sort through these beliefs, discarding those that no longer fit our evolving worldview. Evangelicals raised in evangelistic churches are taught that becoming a Christian is an instantaneous decision. This decision is called being born again — the instantaneous moment in time when people go from lost sinners to saved saints. Deconversion is rarely that simple. While I can remember the moment when I said to myself, I am no longer a Christian, getting to that point was a long — often contradictory — process. And so it is now. I have not arrived. I am still on a journey of sorts. While I know where I have been, I don't know where I am headed. Christianity taught me that life is all about the destination. Atheism and humanism teaches me that life here and now IS the destination and what is most important is the journey.
Thoughts about hell, for Evangelicals-turned atheists, are vestiges from their religious past. When fear of eternal damnation and punishment arise, attack them with reason. Why am I having these thoughts? Where did these thoughts come from?  Doing this strips these fears of their magical power. Keep doing this, and in time you will learn to laugh at such thoughts when they arise. And just remember as you day by day, month by month and year by year move away from your religious past, these kind of thoughts will eventually fade into the fabric of your past. Come the last Sunday in November, it will be eight years since I darkened the doors of a church. It has been years since I have had a fearful thought about hell. Writing about my past and Evangelicalism has helped to ameliorate my fears. I encourage those who have left Christianity to write about their experiences. Publicly, privately, on a blog, in a journal, regardless of the method — write. There's something cathartic about putting feelings on paper (or on a computer screen).
I correspond with a number of people who use me as a sounding board. They know that I will never betray their confidences, so they have the freedom to share their raw feelings with me. If you need someone to "listen" to you, please write.
For those of you who long ago left Evangelicalism, how did you deal with thoughts of judgment and hell? Please share your thoughts and substitutions in the comment section.