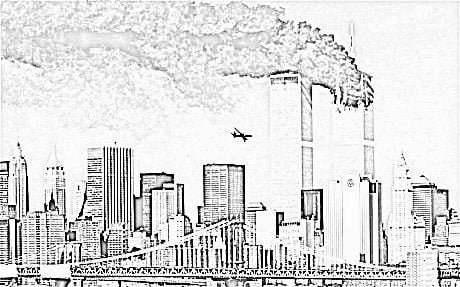 Suppose a mother has a toddler who wants to play in the street.  She know her son could be hit by a car if he does, but she wants to teach him a lesson, so she allow him to play in the street.  Pretty soon a car comes down the street, hits her son, and he dies. Is she to blame for his death? After all, he is the one who wanted to play in the street. She just allowed/permitted him to do so. Yes, she could have stopped him, but she thought it important that he learn a lesson, so she let him have his way.
Does anyone think this mother is a good mother? Does anyone think, if this woman has any more children, that they should be removed from the home? Some Evangelicals think their God is just like this mother. According to fundamentalist Anne Graham Lotz, the daughter of Billy Graham, because the United States turned its back on God, God is allowing terrorists to attack the U.S. Here's what Lotz had to say on Jan Markell's Understanding The Times radio program. (you can listen to broadcast here):
In the days of Noah, they were eating, drinking, getting married. There is nothing wrong with any of that. All of those are normal everyday activities. But in Noah's day they did it all apart from God," There was no acknowledgment of God. God was irrelevant to them. … I think that is where we are today."

"I look at some of the things that we get preoccupied with, whether it's an entertainer or whose baby they are having, or on the red carpet, or footballs being deflated by a quarterback. We zero in on those things and talk about them and we have no idea that we are on the edge of the whole world collapsing around us.That is the strongest similarity of the days of Noah and our day."

"Today, we are consumed by superficial things. Some of the areas of the world they are not. If you go to Syria or Iraq, those Christians over there, I will guarantee you, are very focused. In America, we are just neglecting God and ignoring Him. I just saw a piece about the rise of atheism, people walking away from the church. In fact, the Christian church is declining, according to Pew Research."

"That is why God sends us wake-up calls. That's why he allows the terrorists to strike or a tornado to rip through our city, because for whatever reason, we don't seem to give Him our attention until we are desperate. If we don't give Him our attention, then He is going to allow things to happen to make us more and more desperate until we do cry out."…

…"We share the gospel because people whom we lead to Christ right now, it's almost like we save them twice," she said. "We save them from an earthly hell that is coming during the tribulation period, which I think we are very close to, and we save them from eternal hell, which is when you step into eternity. The second death is the worst of all when you are separated from God forever."
9-11? Shooting in Charleston? Terrorist attack in Chattanooga?  Tornadoes? Earthquakes? Tsunamis? All warnings from God. In Lotz's Bible-saturated mind, since 2008 when the great usurper, Barack Obama, took office, there has been an unprecedented rise in sin and disobedience. Since we live in the Last Days®, it should come as no surprise that God is allowing all these things to happen. He is trying to get our attention. Time is short, repent and turn to Lotz's God for salvation. Like the mother above, God is simply allowing these things to take place to teach us a lesson. And like the mother who is rightly held accountable for her son being killed, God also must be held accountable for what he allows.
Evangelicals, especially of the Calvinistic variety, think it is their duty to defend God's honor. They rightly understand that saying God CAUSED these events makes God look bad, so they try to defend the Big Man's honor by saying he passively allowed these things to happen; he didn't cause them. Wait a minute. Isn't God the first cause of EVERYTHING? With causality comes responsibility and culpability.  Either God is in control of everything or he is not. If he's not, then it is safe to conclude that this God is no God at all.
I could have taken another approach with this post. Lotz wrote that "In America, we are just neglecting God and ignoring Him." I could have wrote about the petulant, infantile God who maims and murders innocents so Americans will pay attention to him. This God, the Evangelical God, he's just a bad dude all the way around. Perhaps it is time to lock him up and throw away the key.