I was a street preacher in the 1980s and 1990s. Yes, one of those guys standing on a street corner, Bible raised high, preaching to anyone and everyone who passed by my corner. I often preached on the street several times a week. I preached at Ohio State University, on the Short North in Columbus, and at numerous local festivals, including the Holy Trinity Catholic Church Garden Party in Somerset, Ohio, the Perry County Fair, and the Moonshine Festival in New Straitsville. I preached on the streets of Ohio communities such as Bryan, Crooksville, New Lexington, Zanesville, Lancaster, and Newark. I also preached on street corners in Washington, DC, near the Mall. Sometimes I preached by myself, but most of the time congregants and Christian school children went with me. Their duty was to hold Bible verse signs and hand out gospel tracts. Every week, the students of Somerset Baptist Academy would load into a dilapidated green fifteen-passenger van and go with the man they called Preacher to reach sinners for Jesus. Their appearance on street corners during school hours (once a week) was disconcerting to one school superintendent. He telephoned me and let me know that the kids should be in school, not on street corners hustling for souls. I asked him if the students in his district had extra-curricular activities during school hours. Of course they did! So that put an end to his objection. A short time later, I stopped taking the younger school children with me out of concern that it looked bad. The older students still went along with me, as did several of the teachers.
Don Hardman, an Independent Fundamentalist Baptist (IFB) evangelist from Fishersville, Virginia, came to Somerset Baptist Church annually to hold what is called a protracted meeting. The meeting would start on a Sunday and last for fifteen days (18 services in all). The Hardman meetings were the highlight of the year. The congregation loved the Hardmans, as did Polly and I. Our youngest daughter, Laura, is named after Don's wife. (Please read The Preacher: The Life and Times of Donald A. Hardman, A Book Review and Laura's Light by Laura Hardman, A Book Review.)
Don was a street preacher extraordinaire. I would go with him when he preached on the streets. I didn't preach at first due to shyness and not wanting to give an inferior performance in front of my friend and mentor. Eventually, the Holy Ghost got a hold of me and I knew I had to start preaching, so I did. Now, the Holy Ghost, of course, didn't really get a hold of me in any shape, fashion, or form. I did, however, feel a burden for reaching unsaved people and ministering to the homeless. I "felt" a calling to reach the dregs of society for Christ, not only through my preaching, but also through feeding and clothing them. I suspect that my experiences with poverty growing up played a big part in the empathy I had for homeless people.
Some of my readers might want to know what good was accomplished through street preaching. As far as souls being saved, it was a big bust. This didn't concern me. I saw myself as more of a John the Baptist, a voice crying in the wilderness. In 1739, John Wesley, a street preacher himself, wrote in his journal:
I look upon all the world as my parish; thus far I mean, that in whatever part of it I am, I judge it meet, right, and my bounden duty to declare unto all that are willing to hear, the glad tidings of salvation.
Much like Wesley, I viewed the world as my parish, and preaching on the streets was just my way of being a faithful witness to people who would likely never darken the doors of Somerset Baptist Church. I also believed, that by preaching on the streets, I would shame and embarrass preachers who contented themselves with being Sunday preachers, hirelings who cared little for the lost around them. I learned, however, that most preachers were either afraid to preach on the streets or didn't care one bit for the spiritual condition of those outside the doors of their churches. Some preachers would compliment me for my zeal, but then say that they weren't "called" to be street preachers. I reminded them that Jesus, Paul, John the Baptist, and the disciples were all street preachers. This fact did not sway them. I suspect the real issue was that street preaching would interfere with their golf game or their attendance at fellowships and conferences. Laziness, indolence, and indifference are quite common among pastors. Of course, now that I look back on the twenty-five years I spent in the ministry, I wish I had spent more time leisurely attending to my own wants and needs and those of my family instead of street preaching. These days, when I see a street preacher I make sure I share the good news with him — that there is no God, so let's get a beer.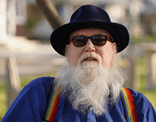 Bruce Gerencser, 65, lives in rural Northwest Ohio with his wife of 44 years. He and his wife have six grown children and thirteen grandchildren. Bruce pastored Evangelical churches for twenty-five years in Ohio, Texas, and Michigan. Bruce left the ministry in 2005, and in 2008 he left Christianity. Bruce is now a humanist and an atheist.
Connect with me on social media:
You can email Bruce via the Contact Form.
Your comments are welcome and appreciated. All first-time comments are moderated. Please read the commenting rules before commenting.