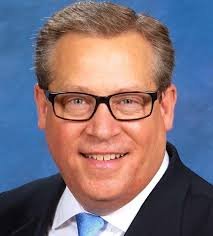 Rick Patrick is the pastor of First Baptist Church of Sylacauga, Alabama and the executive director of Connect316, a ministry devoted to combating the increasing influence of Calvinism on Southern Baptist churches and seminaries. Of late, the Southern Baptist Convention has been embroiled in controversy over comments made about women and domestic abuse by Paige Patterson, the troglodyte president of Southwestern Baptist Theological Seminary.
In 2000, Patterson gave an interview in which he counseled women who were being abused by their spouses to "pray" for their husbands and remain married to them. Patterson, a diehard Fundamentalist complementarian, illustrated his point with a story about how he had given that advice to a woman who had been repeatedly assaulted by her husband. Here's what he had to say:
Returning some days later with two black eyes, the woman said, "I hope you're happy."

I said, 'Yes, ma'am, I am happy. What she didn't know when we sat in church that morning, was that her husband had come in and was standing in back, first time he ever came.
In 2014, Patterson related in a sermon how God created women "beautifully and artistically." He shared with those in attendance a conversation he had with woman and her son. Tom Gjelten a reporter for NPR, writes:
Patterson has also come under fire for a sermon he gave in 2014 about how God created women "beautifully and artistically." He related a conversation he had with a woman while her son and a friend were standing alongside. As they talked, a teenage girl whom Patterson described as "very attractive" walked by, and one of the boys said, "Man, is she built."

The woman immediately scolded him, but Patterson said he interjected in the boy's defense.

"I said, 'Ma'am, leave him alone,' " Patterson recounted. " 'He's just being biblical. That is exactly what the Bible says.' "
Yesterday, Washington Post reporter Sarah Pulliam Bailey, wrote about a woman who was "encouraged" by Patterson not to report an alleged rape:
She [the victim] said she had been dating the man she alleges raped her and had allowed him into her apartment the night she said he assaulted her. The two were kissing when he forced himself on her, she said. She said she reported it the next morning to the administrator who handled student discipline. That administrator then reported the incident to Patterson, she said, and she was required to meet with Patterson and three or four male seminarians she said were proteges of Patterson's. She said she doesn't remember the specific words Patterson used but that he wanted to know every detail of the rape.

Patterson and other administrators did not report the incident to the police, and she claims that Patterson encouraged her not to, as well, she said. The Post confirmed that a report was never filed with the Wake Forest Police Department.

The woman said she was put on probation for two years, but she doesn't know why, saying it was perhaps because she was with another man alone in her apartment, which was against seminary policy.

"They shamed the crap out of me, asking me question after question," said the woman, who attended the seminary until 2005 before dropping out for reasons she said were unrelated to the alleged incident. "He didn't necessarily say it was my fault, but [the sense from him was] I let him into my home."

The woman said she recalls Patterson telling her to forgive the man who allegedly raped her. The former roommate said the woman described the alleged assault to him shortly after it happened and later complained to him about her treatment by Patterson and seminary officials.

He was not present for her conversations with seminary officials.

"She wants people to know that this happened to her," said the former roommate, who now works as an emergency room technician in Raleigh, N.C. "She wants people to know how Patterson is and how he thinks about women and abuse. For him to still be in power eats at her soul."

The woman shared a letter written to her by Southeastern's dean of students at the time. In the letter, dated April 9, 2003, Allan Moseley told the woman that she would be put on probation after the incident, with suspension or expulsion as possible next steps if there were subsequent behavior the school deemed inappropriate. "It is evident that your memories of moral lapses with [the alleged assailant's name] cause you sadness and humiliation," Moseley said in the letter.

….
Today, "outraged" Southwestern Baptist board members voted to remove Patterson as president of the seminary. He will still have some sort of title or position with the seminary. It takes more than a little misogyny for someone as prominent as Patterson to face banishment.
Some Southern Baptist pastors believe Patterson has been treated unfairly, and that his public lynching is the byproduct of the egalitarian, feminist-driven #metoo movement. Rick Patrick is one such man. In a post made in a private forum, Patrick posted this: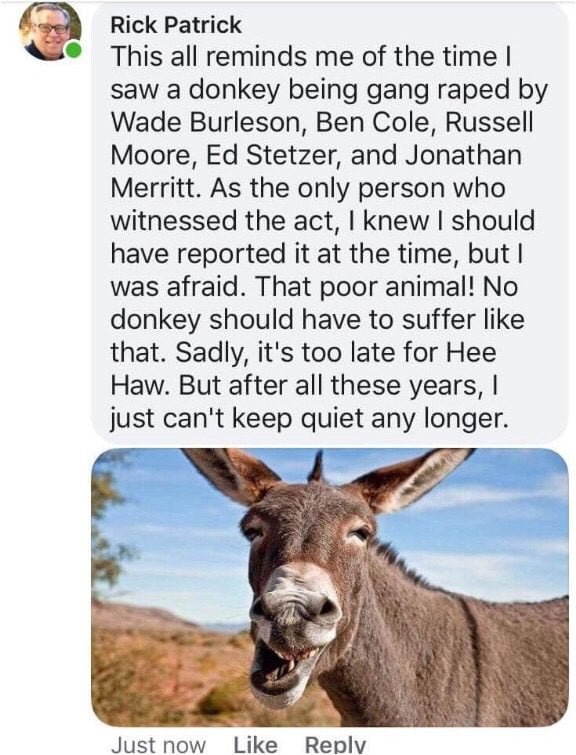 Text:
This all reminds me of the time I saw a donkey being gang raped by Wade Burleson, Ben Cole, Russell Moore, Ed Stetzer, and Jonathan Merritt [five notable pastors in the Southern Baptist Convention]. As the only person who witnessed the act, I knew I should have reported it at the time, but I was afraid. That poor animal! No donkey should have to suffer like that. Sadly, it's too late for Hee Haw. But after all these years, I cannot keep quiet any longer.
A short while later, Patrick removed his post and made an "apology" for its content:
Text:
Earlier today in a closed Facebook group, I made a poor attempt at satire and the crazy climate of our #MeToo world where accusations from years ago are dredged up and used as weapons to attack people. I attempted to use hyperbole and exaggeration to show that anyone can make even the most heinous charge against someone else, and the person charged will always be presumed guilty until proven innocent.

The post only remained up for about two minutes when I took it down realizing it was a poor and inappropriate attempt at humor, but by that time, certain people had already taken a screenshot and it had gone viral. I apologize to the people whose names I mentioned and for the reference to the donkey. It was wrong and inappropriate. I will not post anything like it again. I especially apologize to anyone who felt I was minimizing the reality of the genuine pain many victims have experienced. Even preachers make mistakes, and I made one today. I am truly sorry. Please forgive me.
Patrick, like many pastors, believes that accusations, allegations, and rumors of sexual abuse should be handled as law enforcement, prosecutors, and courts handle criminal acts. No one should say anything until an "investigation" is conducted. Of course, thanks to the Internet and social media, that's not how things work today.
First, many victims of sexual abuse have gone to the authorities, only to find out that their allegations are either not taken seriously or they can't be prosecuted due to statute of limitations. Some victims turn to their church or denomination for help, believing that surely followers of Jesus want justice for sexual abuse victims, and, in the case where the perpetrator is a pastor, youth leader, deacon, or some other church leader, victims think that churches and sects will stand with them and oust the abusers from positions of authority. What victims learn, instead, is that many churches and sects are more interested in protecting their "name" and covering their asses than they are making sure that sexual abusers never have an opportunity to prey on people again.
Is it any wonder, then, that sexual abuse victims turn to the court of public opinion for a hearing of their allegations? Patrick is oh, so worried about due process that he fails to understand what it costs women and men when they make public accusations against clergymen and other church leaders. Once they have gone public, concerted efforts are often made to discredit them and stop them from soiling the good name of Pastor ________ and his church. No person in her right mind, knowing what will happen to her, airs allegations of sexual abuse without them being true.
From time to time false allegations are made, but most of the time the stories told by abuse victims are substantially true. In the last eighteen months, I have published almost five hundred posts in the Black Collar Crime series. These posts detail the crimes committed by so-called men of God. While some of the stories report criminal behavior by Catholic clerics, my primary focus is on crimes perpetrated by Evangelical pastors, evangelists, missionaries, Sunday school teachers, ministry workers, and other church leaders. Once brought to trial, these Jesus-loving criminals are almost always found guilty or they plead out. Where, oh where are all the falsely accused and falsely prosecuted stories, Pastor Patrick? Yes, they exist, but worries about a plethora of false allegations are unfounded.
The real worry is over getting social workers, law enforcement, and prosecutors to take seriously allegations of sexual abuse. The tide is turning, so to speak, but there is much that must yet be done when it comes holding sexual abusers accountable, even if, due to statute of limitations, they can't be prosecuted. By publishing stories on these cases, I try to provide a readily accessible public record that can be easily accessed by churches, daycares, camps, schools, colleges — anywhere predators seek out new victims — before employing someone. Granted, as the recent story about Pastor Rick Orten shows, some churches believe the blood of Jesus washes away all the sins of the past, making it okay to hire rapists, child abusers, and pedophiles, but I'd like to think that most pastors and churches are against having such people in their midst. Christians are free to believe that God forgives sin and the blood of Jesus washes away iniquity, but if they care about their children and teenagers, they must never let wolves inside the doors of their churches, where they will have easy access to young, vulnerable congregants.
Both Patterson and Patrick have profusely apologized for their statements. Patrick later released another apology that said:
The issue I was addressing was the notion that a person appears to be, in the court of public opinion, guilty until proven innocent, in many cases. No, I do not think that #metoo people are crazy. I confess the timing of a specific charge today made me question the charge. But please let me say, and say very clearly, that I am deeply sorry for the hurt that victims of abuse have experienced. I myself was the victim of physical and verbal abuse as a child. I am indeed sensitive to their pain. I was intending to speak only to the presumption of guilt issue with my inappropriate use of humor. I am truly, truly sorry. I will learn from this, and it will not happen again. Please forgive me.
Should Patterson and Patrick be "forgiven" for what they said?  Evangelicals will, of course, accept their pleas for forgiveness. Once the proverbial pound of flesh has been extracted and numerous mea culpas issued, many Evangelicals will declare the matter settled, saying, Patterson and Patrick repented. Jesus forgave them, and we should too. Time to move on! There are souls to save, abortion clinics to picket, and same-sex marriage laws to overturn. This is what Evangelicals do, forgive, forget, and move on!
What people forget is that Paige Patterson and Rick Patrick are skilled public speakers. Neither man is a young preacher just starting out. They have both preached thousands of sermons and stood before countless crowds sharing their opinions and interpretations of this or that Bible verse or moral issue. Men such as Patterson, Patrick, and Bruce Gerencser — back in my preaching days — say what they mean. Their words are carefully chosen. In Patrick's case, he KNEW his words would cause controversy, yet he said them anyway. Why? Because he wanted to the notoriety controversy would bring. He wanted to make sure everyone knew what he believed. He said what he intended say. His apology means nothing.
When preachers and politicians are forced to make public apologies for something they have said, I generally ignore their apologies. People tend to say what they really believe the first time, and their apologies are more about damage control than they are a sign of changed opinions. Does anyone really believe that these two aged Fundamentalist preachers have changed their views of women, marriage, and sexual assault? Of course not. The things said by Patterson and Patrick are reminders of the pervasive misogynistic, anti-women, anti-feminism beliefs found in the Southern Baptist Convention and other Evangelical sects. The problem is the religion, and Patterson and Patrick are its poster children. While these men will, for a time, face public outrage, they will weather the storm and continue on in the ministry, preaching the gospel and spreading the good news of complementarianism. Because, that's what good Christians do.
About Bruce Gerencser
Bruce Gerencser, 61, lives in rural Northwest Ohio with his wife of 40 years. He and his wife have six grown children and twelve grandchildren. Bruce pastored Evangelical churches for twenty-five years in Ohio, Texas, and Michigan. Bruce left the ministry in 2005, and in 2008 he left Christianity. Bruce is now a humanist and an atheist. For more information about Bruce, please read the About page.
Bruce is a local photography business owner, operating Defiance County Photo out of his home. If you live in Northwest Ohio and would like to hire Bruce, please email him.
Thank you for reading this post. Please share your thoughts in the comment section. If you are a first-time commenter, please read the commenting policy before wowing readers with your words. All first-time comments are moderated. If you would like to contact Bruce directly, please use the contact form to do so.
Donations are always appreciated. Donations on a monthly basis can be made through Patreon. One-time donations can be made through PayPal.