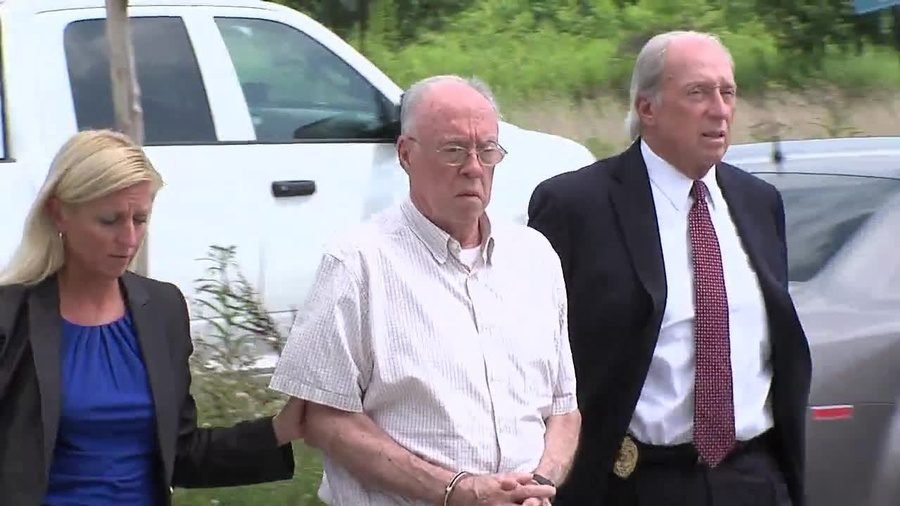 John Sweeney, a Roman Catholic priest, stands accused of forcing a ten-year-old boy to give him a blow job.
A now-retired Roman Catholic priest is accused of forcing a 10-year-old Pennsylvania boy to perform oral sex on him after counseling the 4th-grader about misbehaving on a school bus.

The state attorney general's office said Monday that the Rev. John Thomas Sweeney committed felony involuntary deviate sexual intercourse against the boy at St. Margaret Mary Elementary School in Lower Burrell.

Prosecutors say the alleged assault occurred during the 1991-92 school year, and that the boy was given milk and cookies afterward.

The Greensburg Diocese says the 74-year-old Sweeney was removed as pastor of Holy Family Parish in West Newton in 2016 after church officials learned of the allegation.

Court and diocese officials were unable to identify a defense lawyer for Sweeney. Sweeney made no comment to reporters when he turned himself in.

Sweeney continued in ministry as a priest for approximately 16 years after abusing the victim and was in contact with children on a regular basis.

….
The alleged assault happened in a conference room next to Sweeney's office after the fourth-grader was sent to Sweeney for discipline because he had been disruptive on a school bus, Pennsylvania Attorney General Josh Shapiro said.

"After Sweeney finished sexually assaulting the 10-year-old boy, Sweeney's parish secretary brought the boy milk and cookies," Shapiro said.

The alleged victim now serves in the U.S. Coast Guard. Shapiro commended him for coming forward with his allegation.

"This courageous young man found his voice, and brought that voice before the grand jury. Now our job is to follow through," Shapiro said.

Citing the ongoing investigation, the diocese declined to comment on Sweeney's arrest.

In addition to Lower Burrell, Sweeney's parish assignments between 1970 and 2008 included Holy Family in Latrobe, Blessed Sacrament Cathedral in Greensburg, Saint Hedwig in Smock, Saint Mary in Freeport, Saint James in Apollo and Holy Family in West Newton.

His arrest is part of "a broader investigation into sexual abuse by priests," said Shapiro, who asked the public for more help to identify alleged abusers and their victims.