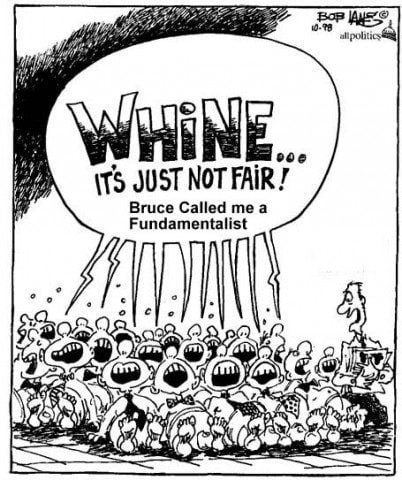 Repost from 2015. Edited, rewritten, and corrected.
Many people think that Evangelicalism and Fundamentalism are two different species of conservative Christianity. However, I plan to show in this post that Evangelicals are inherently Fundamentalist, and that the only issue is to what degree they are Fundamentalist.
Some of the confusion comes from the fact that there are Evangelicals, such as the Independent Fundamentalist (IFB) church movement, who proudly wear the Fundamentalist label. Thus, an Evangelical — say, someone who is a pastor in the Evangelical Free Church of America – rightly says, I am NOT like those crazy Fundamentalist Baptists. They see the extremism of the IFB church movement, condemn it, and by doing so think that they are not Fundamentalist.
The word Fundamentalist was originally used to describe a group of sects, churches, and pastors who took a stand against perceived theological liberalism in the denominations of which they were a part. From 1910 to 1915, the Bible Institute of Los Angeles (BIOLA), published 90 essays that were published in a 12-volume set of books titled, The Fundamentals: A Testimony to the Truth. (You can see a complete listing of the essays on Wikipedia.) These essays provided the theological foundation for the modern Fundamentalist movement.
The words "fundamentalist" and "fundamentalism" can also be used in a generic sense. While almost always used when describing the beliefs of religious sects, fundamentalist beliefs can also be found in politics, science, economics, and even atheism. The focus of this post is Christian Fundamentalism, particularly Protestant Fundamentalism.
There are two components to the Fundamentalism found in Evangelicalism:
Theological Fundamentalism
Social Fundamentalism
Theological Fundamentalism
All Evangelicals are theological Fundamentalists. What do Evangelicals believe?
The Bible is the inspired, inerrant, infallible Word of the triune God.
Salvation is through the merit and work of Jesus Christ.
Jesus is the eternal, virgin-born, sinless, miracle-working Son of God who came to earth 2,000 years ago to die on the cross for the sins of humankind.
Jesus resurrected from the dead three days after being crucified. He later ascended back to Heaven and now sits at the right hand of God the Father.
Jesus is the Way, the Truth, and the Life, and salvation is gained only by putting one's faith in Jesus Christ.
All non-Christian religions are false and many Christian sects have heretical beliefs.
There is a literal Heaven, a Hell, and Devil.
Saved people go to Heaven when they die and non-saved people go to Hell when they die.
Someday, Jesus Christ will return to earth to judge the living and the dead. The heavens and earth will be destroyed and God will make a new heaven and a new earth.
Evangelicals may quibble with one another over the finer points of this or that doctrine, but EVERY Evangelical believes what I have listed above. And it is these beliefs that make them theological Fundamentalists.
While it is true that liberal and progressive theology are making inroads within Evangelicalism, this does not mean that Evangelicalism is becoming less Fundamentalist. Liberal/progressive Evangelicals are outliers, and, in time, due to the inflexibility of Evangelical theology, they will either leave Evangelicalism and join liberal/Progressive Christian sects or they will become a bastard child subset within Evangelicalism.
The Southern Baptist Convention (SBC) is an Evangelical denomination, and thanks to the resurgence of Calvinism and right-wing politics within the denomination, the SBC is becoming more and more Fundamentalist. While the SBC does have a liberal/progressive wing, the majority of Southern Baptist churches are Evangelical. Rarely do denominations become more conservative once they start down the path of liberalism, but the SBC, over the course of the last few decades, has reversed the liberal slide and is decidedly more conservative today than it was 20 years ago. Many of the founders of the IFB church movement were Southern Baptists who left the SBC in the 1950s-1970s. Little did they know that the SBC would one day return to its Evangelical roots.
Many people would argue that Al Mohler is very different from the late Fred Phelps, yet theologically they have much in common. And this is my point. At the heart of Evangelicalism is theological Fundamentalism. People wrongly assume that church A is different from church B because of differences between their soteriology, pneumatology, ecclesiology, preaching style, eschatology, music, etc. However, when we look closer, we find that both churches, for the most part, have the same doctrinal beliefs. This is why ALL Evangelicals are theological Fundamentalists.
Social Fundamentalism
Social Fundamentalism focuses on the conduct, lifestyle, and social engagement of the Christian. An Evangelical looks at the rules, standards, and negativity of an IFB church that proudly claims its Fundamentalist moniker and says, SEE I am NOT a Fundamentalist. I don't believe in legalism. I believe in grace, and I leave it to God to change how a person lives.
This sounds good, doesn't it? However, when you start to poke around a bit, you will find that almost every Evangelical is a social Fundamentalist — the only difference between Evangelicals being the degree of Fundamentalism. This can be quickly demonstrated by asking those who think they are non-Fundamentalist Evangelical a few questions. Questions like:
Can a practicing homosexual be a Christian?
Can a homosexual man be a deacon or pastor in your church?
Can a same-sex couple work in the nursery together?
Do think it is okay for unmarried heterosexuals to engage in sexual activity?
Can a cohabiting heterosexual couple be a member of your church?
Do you think it is morally right for a woman to wear a skimpy outfit to church?
Is it ever right to have an abortion?
Do you think smoking marijuana is okay?
Do you think it okay for your pastor to smoke cigars and drink alcohol at the local bar?
Is it okay for someone, in the privacy of their home, to become inebriated?
By asking these questions, and a number of similar ones, you will quickly discover that the non-Fundamentalist Evangelical is a social Fundamentalist after all. While these Evangelicals may jeer and laugh at the crazy, extreme rules and standards of the IFB church movement, they too have their own set of non-negotiable social standards. They, like their IFB brethren, are social Fundamentalists. (please see An Independent Baptist Hate List.)
I am sure some Evangelicals will argue that their social Fundamentalism, like their theological Fundamentalism, comes straight from the B-i-b-l-e. Of course they do. ALL Evangelicals think their beliefs come straight from the Bible. The IFB pastor has a proof-text for everything he preaches against, as does the I am NOT a Fundamentalist Evangelical pastor. Both believe the Bible is truth, an inspired, inerrant, supernatural text. The only difference between them is their interpretation of the Bible.
Here in the United States, we have the perfect Fundamentalist storm of religious Fundamentalism and political Fundamentalism. The US is rapidly becoming an embarrassment as Fundamentalists demand their brand of Christianity be given special treatment, creationism be taught in the public schools, the Federal government be harnessed for the good of Christianity, and their interpretation of the Bible enacted as law. These Evangelicals are not harmless, and if not challenged at every turn, they will become the Evangelical version of the Taliban. One need only watch what Evangelical Trump cabinet officials are doing to see that this is true. I recognize that some Evangelicals are against political and social activism, but they are few in number. History is clear: when any religious group gains the power of the state, freedoms are lost and people die.
While I can applaud any move leftward within Evangelicalism, the only sure way to end the destructive influence of Evangelical Christianity is to starve it politically, socially, and economically. I am not so naïve as to believe that Evangelicalism will ever go completely away, but it can be weakened to such a degree that it no longer has any influence.
There are many Evangelical church members who are kind, decent, loving people. Many of them are generational Evangelicals, attending the same church their parents and grandparents did. I hope, by publicizing the narrow, often hateful, theological and social pronouncements of Evangelical leaders, and the continued inability of these leaders to keep their flies zipped up and their hands off the money, that Evangelical congregants will get their noses out of the hymnbook, turn their eyes from the overhead, and pay attention to what is really going on within Evangelicalism. I hope they will stand up, exit stage right (or left), and take their checkbooks with them.  When this happens, we will begin to hear Evangelicalism struggling for breath as it lapses into cardiac arrest.
On a completely different front, liberal/ progressive Christian scholars, writers, and bloggers, along with former Evangelical Christians such as myself, need to step up their frontal assault on the misplaced authority Evangelicals give to the Bible. We need more writers like Dr. Bart Ehrman, people who are willing to write on a popular level about the errancy and fallibility of the Bible. I firmly think that when Evangelicals can be disabused of their literalism and belief that the Bible is an inerrant, infallible text, they will be more likely to realize that Evangelicalism is a house of cards.
Remember, if it walks, acts, and talks like a Fundamentalist, it is a Fundamentalist. Evangelicals can protest all they want that I am unfairly tarring them with the Fundamentalist brush, but as I have shown in this post, their theological and social beliefs clearly show they are Fundamentalist. If they don't like the label, I suggest they change their beliefs and distance themselves from Evangelicalism. They need not become atheists/agnostics if they leave Evangelicalism. Even though I was not able to do so, many former Evangelicals find great value and peace in liberal/progressive Christianity. Others find the same in non-Christian religions or universalism. If it is God you want, there are plenty of places to find him/her/it.
Bruce Gerencser, 66, lives in rural Northwest Ohio with his wife of 45 years. He and his wife have six grown children and thirteen grandchildren. Bruce pastored Evangelical churches for twenty-five years in Ohio, Texas, and Michigan. Bruce left the ministry in 2005, and in 2008 he left Christianity. Bruce is now a humanist and an atheist.
Connect with me on social media:
Your comments are welcome and appreciated. All first-time comments are moderated. Please read the commenting rules before commenting.
You can email Bruce via the Contact Form.