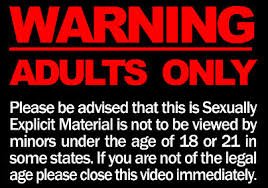 Evangelicals pride themselves on being people of THE Book. The first church I worked in had a roadside sign that advertised the church's location and service times. At the bottom of the sign was a commonly used Baptist cliché: The Blood, The Book, and The Blessed Hope. Despite their pronouncements about being Bible-believers, Evangelicals aren't really people of THE Book. Like all Christians, Evangelicals pick and choose which verses they believe or consider important.
For example, how many Evangelicals have ever heard a sermon on Exodus 23? This passage of scripture details the sexual proclivities of two sisters, Oholah and Oholibah. It is quite explicit, and would today be considered pornographic literature. Verses 18-21 state:
KJV
So she discovered her whoredoms, and discovered her nakedness: then my mind was alienated from her, like as my mind was alienated from her sister. Yet she multiplied her whoredoms, in calling to remembrance the days of her youth, wherein she had played the harlot in the land of Egypt. For she doted upon their paramours, whose flesh is as the flesh of asses, and whose issue is like the issue of horses. Thus thou calledst to remembrance the lewdness of thy youth, in bruising thy teats by the Egyptians for the paps of thy youth.
CEV
She let everyone see her naked body and didn't care if they knew she was a prostitute. That's why I turned my back on her, just as I had done with her older sister. Oholibah didn't stop there, but became even more immoral and acted as she had back in Egypt. She eagerly wanted to go to bed with Egyptian men, who were famous for their sexual powers. And she longed for the days when she was a young prostitute, when men enjoyed having sex with her.
ESV
When she carried on her whoring so openly and flaunted her nakedness, I turned in disgust from her, as I had turned in disgust from her sister. Yet she increased her whoring, remembering the days of her youth, when she played the whore in the land of Egypt and lusted after her lovers there, whose members were like those of donkeys, and whose issue was like that of horses. Thus you longed for the lewdness of your youth, when the Egyptians handled your bosom and pressed your young breasts."
The Message
I turned my back on her just as I had on her sister. But that didn't slow her down. She went at her whoring harder than ever. She remembered when she was young, just starting out as a whore in Egypt. That whetted her appetite for more virile, vulgar, and violent lovers—stallions obsessive in their lust. She longed for the sexual prowess of her youth back in Egypt, where her firm young breasts were caressed and fondled.
GNT
She exposed herself publicly and let everyone know she was a whore. I was as disgusted with her as I had been with her sister. She became more of a prostitute than ever, acting the way she did as a young woman, when she was a prostitute in Egypt. She was filled with lust for oversexed men who had all the lustfulness of donkeys or stallions. Oholibah, you wanted to repeat the immorality you were guilty of as a young woman in Egypt, where men played with your breasts and you lost your virginity.
Simply put, Oholibah liked having sex with men who were hung like donkeys, men whose ejaculated semen amount was that of horses. Imagine how entertaining church would be if pastors spent time preaching on Oholah, Oholibah, and their lovers. 
One modern Bible translation team, knowing that this passage is pornographic, decided to edit out the explicit sexuality.
Living Bible
 And I despised her, just as I despised her sister, because she flaunted herself before them and gave herself to their lust. But that didn't bother her. She turned to even greater prostitution, sinning with the lustful men she remembered from her youth when she was a prostitute in Egypt. And thus you celebrated those former days when as a young girl you gave your virginity to those from Egypt.
I am sure an Evangelical will point out that Ezekiel 23 is actually about Israel's unfaithfulness to Jehovah. Ezekiel 23:1-4 states:
The word of the Lord came to me: "Son of man, there were two women, the daughters of one mother. They played the whore in Egypt; they played the whore in their youth; there their breasts were pressed and their virgin bosoms handled. Oholah was the name of the elder and Oholibah the name of her sister. They became mine, and they bore sons and daughters. As for their names, Oholah is Samaria, and Oholibah is Jerusalem.
So then, to use an oft quoted Evangelical cliché, Ezekiel 23 is an earthly story with a heavenly meaning. Or better put, a pornographic story with a heavenly meaning.  Why use porn to tell a spiritual story? Surely, God, the author of Ezekiel 23, knew that children would some day be reading this passage of scripture. Why didn't Jesus say to his Father, Dad, think of the children!  I am beginning to wonder if Jesus' father was addicted to porn. He is, after all, the universe's biggest voyeur.