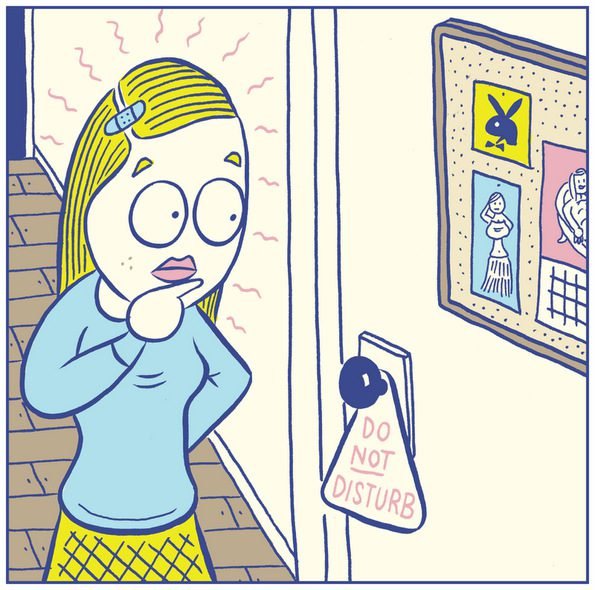 Snark and adult humor ahead.
According to Michael Pearl, a defender of the Quiverfull movement and of ritual child abuse, anyone who wants to work quietly and privately in his office or study is a porno freak. Here's what Pearl had to say in the June/July 2015 No Greater Joy magazine:
Never trust your children, and don't trust your spouse if any activity seems suspicious. My wife and my staff have complete access to my computer. The main server is beyond my reach. It maintains complete records of all my activity. I am never locked in a room by myself to "do my work without being disturbed." I don't own a cell phone, but if I did my wife and my staff would be on the account and be able to review all of my activities. If any adult is less open than I describe, they are porno freaks and need to repent. Don't doubt it. "Provide things that are honest in the sight of all men." (Romans 12:17)
No, Michael, those of us who prefer to work quietly and privately are not porno freaks. I had six children and the only way I could productively read and study was to have a private office where I could work undisturbed. I did not spend my time surfing porn sites and masturbating. It's called discipline and self-control, traits sadly lacking in the Evangelical church. Did I ever look at porn as a pastor? Sure, but having dial-up service severely ruined the thrill. I had to wait until my post-pastor days when I got broadband service to indulge my inner porno freak. I quickly found out that, for me, watching porn was boring. Seen one blow job, seen them all. Like drinking beer–been there, done that, yuk, no thanks. (Not that I think there is anything wrong with a man or woman viewing porn as much or as little as he or she wants.)
Michael Pearl is another example of a weak pathetic Evangelical man who fears he will fall to the temptations of a porn-filled internet if left to himself. Pearl fears that, if left alone behind closed doors, he will surf on over to quiverfullbabes.com and give in to his inner porno freak. Viewing women with dresses above their ankles and daring to show their feminine shape, Pearl fears losing control and masturbating until he is as blind as Bartimaeus.
Pearl writes about all the safeguards he has in place to keep him honest, yet anyone with decent computer skills can easily hack and overcome these safeguards. Wouldn't the safest approach be to not have a computer or the internet? The Bible says, neither give place to the devil and abstain from all appearance of evil. Surely, even booting up a computer is giving place to the evil one, right? And on this point we see the hypocrisy of Michael Pearl. He really should get rid of his computer and avoid anything that has to do with the internet. "If any Christian is unwilling to do as I prescribe, then  he is a secret porno freak," thus saith Bruce Almighty. The reason Pearl has a computer and internet access is because it is the only way he can spread his Quiverfull STD to the masses. It is the only way he and Debi can rake in money from people who buy into their pernicious teachings.
Come on Michael…be a real Christian, get rid of your computer and cancel your dial-up service.
121615