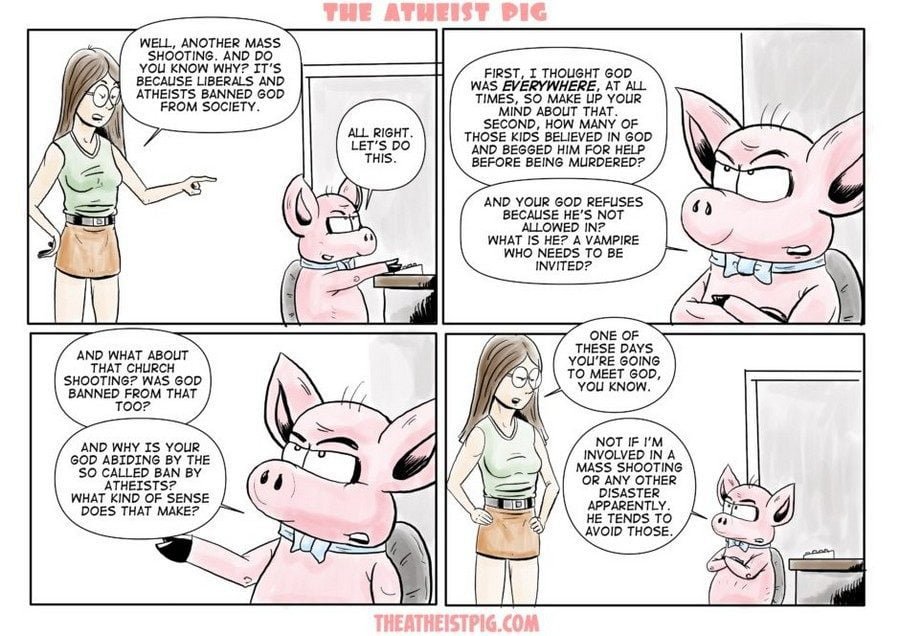 Evangelicals often claim that the reason for school shootings is that the Christian God has been banned from public schools. According to Evangelicals, all sorts of maladies afflict our society due to the fact that prayer, Bible reading, and the Ten Commandments have been litigated out of public schools. If only people would see the importance of the Christian God (and only the Christian God) in educating children and return him to his rightful place, why all sorts of societal ills would disappear overnight. The same argument is made for banning abortion, homosexuality, same-sex marriage and any of the other hot-button issues Evangelicals deem a threat to their God and way of life.
This argument, of course, is patently false. God isn't banned from public schools. I attend several local high school girls' basketball games each week in the winter month. Many of these games have prayer times by led by players before and after the games. Such student-led prayers are legal. I don't care for the prayers, and I refuse to stand silently in the stands until the prayers are done. Not my God, so I am not going to give my approval to such bawdy displays of religiosity. That said, students are free to pray, read the Bible, and have a Ten Commandments book cover. Teachers are free to do the same during their breaks or other times when they are not teaching their students. What schools and teachers are not permitted to do is advance or evangelize for sectarian religious beliefs.
Most local schools have Christian student groups, including groups associated with the Fellowship of Christian Athletes (an Evangelical ministry whose goal is to "present to coaches and athletes, and all whom they influence, the challenge and adventure of receiving Jesus Christ as Savior and Lord, serving Him in their relationships and in the fellowship of the church"). Youth for Christ has an active presence in many schools. Local churches are free to rent/use school facilities. Over the years, new church plants have used local school buildings as their meeting places. Local school boards are dominated by Christians, and I suspect most teachers profess some form of Christian faith. It seems, then, that the Christian God is alive and well in public schools.
What upsets Evangelicals is that they can no longer demand preferential treatment for their religious cult. If Satanist, atheist, or secular students want to start student-led clubs, they are free to go so. If Satanists on school sports teams want to offer a prayer up to Beelzebub before the start of the game, they are free to do so. Evangelicals want exclusivity and it irritates the heaven out of them that other sects and groups are given equal status.
What kind of God allows children to be murdered, all because his adult followers aren't allowed to proselytize public school students? What a vindictive, petty God this is, akin to a man who burns down a house with his ex-wife and children in it, all because his ex wouldn't let him in the door. Such a God is not worthy of worship. Worse yet, are Evangelicals of a Calvinistic bent who believe school shootings are all part of some sort of perverse cosmic plan. According to Calvinists, these children were murdered because God willed it to be done. It is God who ultimately fires the bullet that kills us all.
Such a God is an abomination, one unworthy of worship, love, and devotion. This is one of the things that makes it clear such a God does not exist. A moral, loving God would neither be an instrument of murder, nor would it stand by while children (and teachers) are killed by deranged gunmen. What the school shootings tell us is that the Christian God is either a work of fiction or he is too busy to be bothered with the pain and suffering of his creation. If God has the powers Evangelicals say he does, he could have stopped Nikolas Cruz from killing seventeen and wounding four of his fellow students (including several school staff members). That God did nothing is a sure sign that he doesn't exist. Evangelicals love to tell us mere humans that we are sinners deserving judgment from their God and eternal punishment in the Lake of Fire. Yet, I suspect many of us sinners, if given the opportunity, would have done all we could to protect children from murder. Unlike God, we value life, especially that of those who are in the early years of this wonderful experience we call life. That it was humans, not God, who tried to protect children from slaughter is yet another reminder of the fact that God is, at best, an absentee father who has no interest in his children.
If the root cause of mass shootings is the Evangelical God being kicked out of our culture and schools, how then do Evangelicals explain the shooting at an Evangelical Baptist Church that claimed the lives of twenty-six God-fearing souls? How then do Evangelicals explain Dylan Roof's murder of nine Christians while they were praying at church? Surely, the people killed in these shootings were devoted followers of Jesus, yet God, as he does in EVERY case, stood by and did nothing. In fact, based on demographics, it is likely that many of the students murdered in the school shootings over the past three decades were believers in the Christian God. What possible reason could be given for the Christian God — he who holds the keys of life and death — wiping these people off the face of the earth?
Well, you know Bruce, God's ways are not our way.
No shit, Sherlock. And you wonder why atheism is growing?
God is not going to fix the school shooting problem. It's up to us, just as is everything else in life. Waiting for God to act is a fool's errand, one that leads to countless heartaches. We are the Gods in this morality play, and it is time we exercise our divine powers and put an end to gun violence. It's time to run the NRA and their Republican lackeys out of town. It's time we recognize that guns are instruments of death, and a country without 300 million of them would be a better place to live. While a total gun ban will never be implemented in the United States, we can ban weapons capable of causing horrific bloodshed in short amounts of time.
Or we can put prayer and Bible reading back in the public schools….