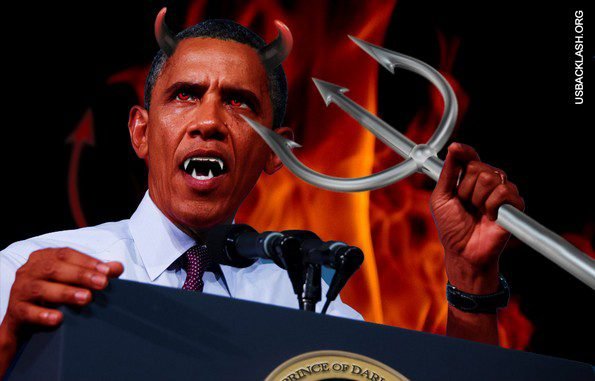 According to the hysteria wing of the Republican party, also known as Evangelical/Fundamentalist Christianity, President Obama is anti-Christian. Some go so far as to say that he is actually a Muslim, even though he has publicly identified as Christian numerous times.  President Obama spoke at the February 2015 National Prayer Breakfast. He stated:
And lest we get on our high horse and think this is unique to some other place, remember that during the Crusades and the Inquisition, people committed terrible deeds in the name of Christ, In our home country, slavery and Jim Crow all too often was justified in the name of Christ.

So it is not unique to one group or one religion. There is a tendency in us, a simple tendency that can pervert and distort our faith…

…I believe that the starting point of faith is some doubt — not being so full of yourself and so confident that you are right and that God speaks only to us, and doesn't speak to others. That God only cares about us and doesn't care about others. That somehow we alone are in possession of the truth.
At the recent White House Easter breakfast, the President stated:
On Easter I do reflect on the fact that, as a Christian, I am supposed to love. And I have to say that sometimes when I listen to less-than-loving expressions by Christians, I get concerned.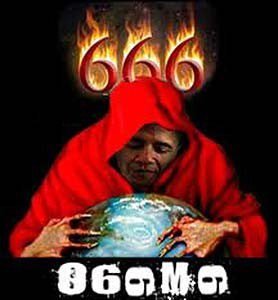 The rabid religious right thinks these statements prove that the President is anti-Christian.  As I read these statements, all I see is a man pointing out the obvious; that Christianity has a violent, bloody past and that many Christians don't know the first thing about love. What is also obvious is that no matter what the President says or does , the religious right is going to twist his words and use them to make political hay. No matter what he says or how he tries to explain himself, he will be, in the eyes of many on the religious right, the Kenyan born nigger socialist Muslim who hates America, hates Christianity, and is secretly plotting to establish an Islamic caliphate in the United States.
Here are some of the comments left by Christians on the aforementioned  One News Now articles:
You BHO are such a liar. You use every opportunity to twist the truth. Actually, you wouldn't know the truth if it slapped you in the face. Jesus said,"I am the way, the Truth, and the Life, no one comes to the Father BUT by me." Can I be adamant about what truth is? You bethcha buster. I repeat, you wouldn't know the truth if it slapped you in the face, and from Darryl said, I would say that it did slap you in the face, but you still went on reading your prepared, twisted script. You being at the National Prayer Breakfast is like the devil sitting at the last supper. IMHO

Obama's comments trying to paint Islam and Christianity as morally equivalent in their teachings are infuriating. I am outraged by his efforts to downplay the utter horror of what ISIS is doing right now in the world– beheading, torturing, crucifying, burying alive small children in scores, and selling those who live into sex slavery for the depraved appetites of sick, demon-possessed Muslim jihadists– by drawing attention to crimes committed in the name of Christ many centuries ago. Nothing that is happening in the world today in the name of Christ can begin to be compared for cruelty and brutality to what the demonic savages in Iraq are doing to children in the name of Allah. Mr. President– where is your outrage? They are burying children alive! Professing Christians who committed acts of violence in the name of Christ centuries ago to advance Christ's kingdom were violating Christ's teachings; Muslim jihadis who commit acts of violence in the name Allah to promote the Islamic caliphate are fulfilling Mohammed's teaching. Someone needs to tell our president that the "medieval" problem with Christianity was set right a long time ago; he needs to open his eyes and deal with atrocities happening today in the 21st century, and get off his high horse from which he would scold American Christians for criticizing Islam.

It seems Obama is determined to play down the religious aspect of the Islamic State by stating they are not unique. Bringing up subjects that many people do not have enough information about except for the rhetoric is dangerous, inflammatory and downright wrong. What does he hope to accomplish? Acceptance of his indifference and ineffectual strategy of what to do as our "leader"?

Wow! Are you serious Mr. President? Did you really just go back over 700 years to find an example of how Christianity is as bad as ISIS? Jim Crow? For real? A simple, brief look into Islam and the teachings of Jesus Christ will reveal to any honest seeker of truth that there are vast differences. Mohammed taught "I have the truth of God, convert or die." Jesus taught, "I am the way the truth and the life, and no man can come unto the Father but by me. " And to prov God's love for man Jesus laid down His life for us! Big difference Mr. President!

Our nation is being led by a very confused and deluded individual.

That man…..he really rubs me the wrong way because of his deceitfulness and attempting with all his might to destroy America and lift up Islam. Obama is NOT a Christian! He could go and live in a garage but that doesn't make him a car!

Jesus said a tree is known by its fruits. President Obama's fruits are quite evident. He is condescending in his remarks to Christians but always lauds Muslims and the Islamic faith and refuses to link Islam with Islamic terrorists. The President is a Christian in name only.

President Obama's inconsistency is as disturbing as his overt dishonesty and misrepresentation concerning many other things…. Obamacare, IRS targeting, "Climate Change", Keystone pipeline, Iran negotiations, arbitrary accusations of racism, etc. His behavior seems, at least, "disturbed", and unstable. There IS a pattern of anti-Christian rhetoric, as well as a larger pattern of vindictive behavior in reaction to all dissent, opposition, or criticism.

I be glad when black nword is gone.

If any of the eternal optimists out there think things are going to get better anytime soon, just remember this: On any given day, Obama's approval numbers always remain at the 45-50% level, and he was elected not once, but twice by your fellow "Americans". I'm no math genius, but that tells me that at least half the country is perfectly fine with the Anointed One's policies and his performance. And THAT simple fact, my friends, is why the country is doomed.

The country is not doomed if we hold to our 2nd amendment rights and arm ourselves. The Obama government is afraid of us because we are capable of armed resistance in a meaningful way. When we disarm or allow ourselves to be disarmed then the government will cease to be afraid of us and all hell will break loose. Keep buying the equivalent of the 18th century rifled musket, aka the modern high capacity magazine AR-15 or AR-10.

Obama is the walking epitome of an anti-Christian bigot posing as a "Christian". He hates God, His Chosen People, and the followers of Yeshua Messiah. He NEVER sides with Christians, ALWAYS sides with anti-Christ Islamic teachings, never sides with white folks, always sides with NON-white folks.

He has nothing between the ears , unless a barely disguised hatred against Christians . And the leftist politicians, has a pet hate for Christians . For example , gays and lesbians , persecute Christians , because of their religious values. Are of a very great evil .

The president has lied to us since day one. If he wasn't a Muslim, then why did he say that the cross had to be cover before he could make a speech at the cathedral? Why did the have Franklin Graham pulled from speaking at the Prayer Breakfast? Why is he giving aid to the Muslim Brotherhood?

Clearly this POTUS is a foreshadowing of the anti-Christ, not the anti-Christ himself you understand, but a shadow of things to come. If he was truly of Christ, indwelt by the Holy Spirit and full of understanding given by the Holy Spirit, he would not say the things he says or do the things he does. He is what the Godless deserve and just may be a tool of God's judgement of an increasingly and deliberately Godless America.

I cannot believe that any POTUS would take such opportunities to disparage Christianity at every chance he gets. His disdain for the Christian faith is incomprehensible. I have never seen, in my 70 years of living, a president who insists on undermining the very force that has been the backbone of our country's social and moral fabric since 1776. Please, Mr. Obama, get out of the White House and out of our lives.

Mr. Obama was raised as a Muslim. His father was a Muslim. According to the Qumran a Muslim who leaves the faith is to be killed. Since there have been no attempts on the President;s life I must assume he is still a Muslim. Perhaps that is why he does not care about Christians and likes to criticize Christianity.

Barrack Hussein is an anti-Christian bigot and a dispicable traitor to the country. Sadly this person is what the American people voted for…twice. I watched him deceive the nation as he spoke with John McCain at Saddleback Church and said marriage is between one man and one woman, then turned to become the first homosexual president. So is Hussein Obama the deceiver to blame or the depraved American society that lives with luxuries that the rest of the world could not even imagine. Do Americans love the darkness and depravity more than the light and goodness? I would have to answer yes. There is no turning back now, this is what America wants. Time for us to stand firm and be the light and lampstand while times and events continue to degrade, as prophesied.

It's strange that for someone who claims to be a Christian, Barack Obama is the most virulently anti-Christian leader this country has ever had.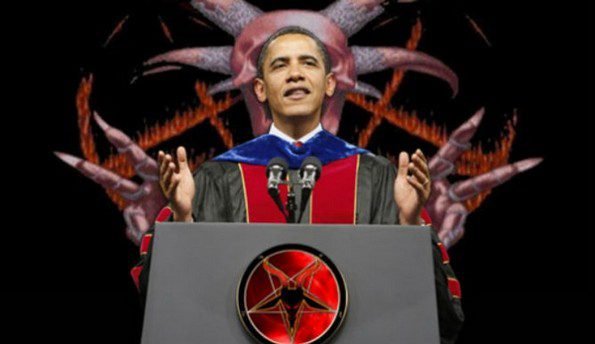 And there are a hundred more comments just like these. It is quite evident that many right-wing Christians hate the President. It is also quite evident that many of them are paranoid as hell and think they are being persecuted. I recently wrote about this in The Paranoia and Persecution Complex of the Religious Right.
Is President Obama really doing nothing to combat Muslim extremism? Of course not. We have boots on the ground in the Middle East, drones and bombers in the air, and are spending billions of dollars to combat terrorism.
Right wing Christians should spend some time learning the history of Christianity. Are the bloodletting years of Christianity ancient history? Consider how President George W Bush framed the two wars he started in the Middle East. He called them a crusade. President Bush saw these wars as not only a clash of civilizations, but a clash of religions.  President Bush's public comments were frequently littered with words meant to remind people of the superiority of Christianity and the United States. Perhaps President Obama doesn't buy the American myth, that we are a chosen people, an exceptional people. If so, this is progress.
The United States is arguably one of  most religious countries in the world. Is it any wonder the Muslim world views our war against "terrorism" as a religious war? ISIS, Boko Haram, and other such terrorist groups, should be hunted down and killed. While I am a pacifist, I am also a realist. ISIS is not going to stop until they have exerted their will on the entire Middle East. The President knows this and I think he is doing what he can to stop the slaughter of innocent civilians, regardless of their religious affiliation.
And let me be clear, the United States, through its decade and a half war on terrorism, has slaughtered hundreds of thousands of people, many of whom were innocent civilians. In fact, the United States is one of the most violent, bloody sovereign states in modern history. I will soon be fifty-eight years old and the United States has been at war for most of my life. We've not fought a just war in seventy years.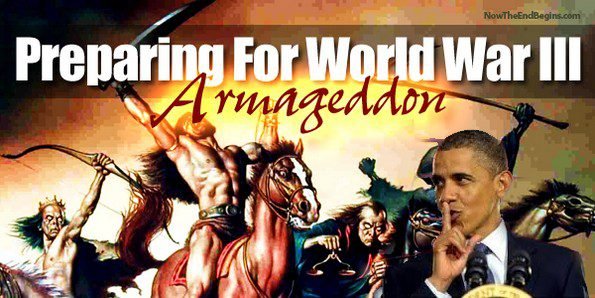 It's time we be honest about our past and stop thinking that the United States is in any way exceptional or favored by the gods. While we might have good intentions, it is evident that our imperialistic, colonialist tendencies still drive the government and public discourse. As President Obama works hard to broker a nuclear deal with Iran, right-wing Christians and Republicans go out of their way to scuttle the deal, even suggesting that we bomb Iran.  Somehow, they envision us bombing Iran and there not being any consequences for doing so. What I see is nuclear weapons being fired and the world being plunged into global conflict. Are those on the right so ignorant of history that they can not see the danger of their rhetoric? Will it take a nuclear bomb landing on Washington DC before they will wake up to the irresponsibility of their words and actions? By then, of course, they will have been vaporized.
As the above comments show, a large number of Christians are buying what Fox News, World Net Daily, and the various right-wing news organizations are selling. I fear that some of them will become so enraged that they really will exercise their so called second amendment rights. If the Supreme Court rules in favor of same-sex marriage, it is possible that some on the extreme right will go after gays, killing them, or take to the streets in violent protest. Why? Because many right-wing Christian really believe they are being persecuted. They really believe THEIR country has been stolen from them. Their passions are inflamed by war mongering pastors, TV preachers, and right-wing talk show hosts. Once inflamed, reason, responsibility, and tolerance go out the window.
Notes
Graphics found on Christian websites.
Anyone who uses the President's middle name in a comment, article, or news show is revealing that they are a racist bigot.