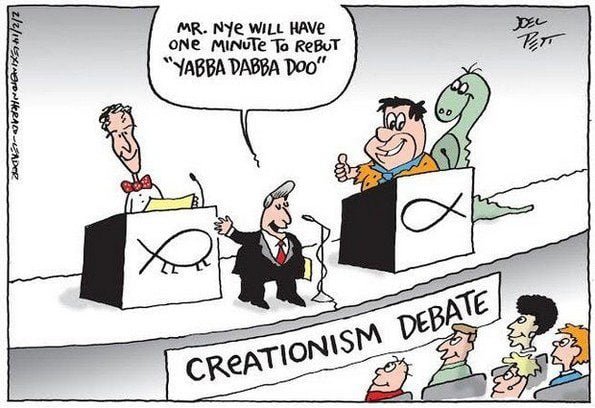 David Attenborough, a naturalist and BBC broadcaster, had this to say about creationists:
Every society in the world has found it necessary to produce a story to account for the fact that humanity is on earth. The Australian Aboriginals think that the first humans were regurgitated by a great rainbow serpent in the sky, the people in Thailand think the beginning of the world was a huge pool of milk and a snake was pulled by demons, and the milk coagulated and that formed human beings and there was a time, two and a half to three thousand years ago, when people on the east end of the Mediterranean thought woman was made from the rib of the first man.

If somebody says to me I believe every word of the Bible is true, you can't argue against that degree of irrationality…there is actually a way of looking at the natural world and seeing the evidence and it's all there. And what's more it's the same evidence whether it's in Australia or Northern Europe or wherever. It's all the same—it all produces the same answer and you can all see the evidence—if you reject that then there's nothing I can say.