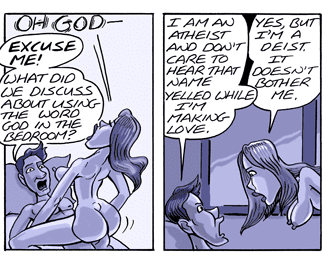 Written in 2010 Edited for clarity and grammar
I still get asked fairly often, Bruce, do you believe in God? Even though I self-identify as an atheist, some people doubt that I really, really, r-e-a-l-l-y believe that there is no God.
When it comes to the God question, I am agnostic. I can say with great confidence that I don't believe any of the current deities in the human panoply of Gods is God at all. Could some sort of deity show up on the scene in the future? Sure, it is possible. Is it probable? No.
So why then do I self-identify as an atheist and not an agnostic?
First, I got tired of having to explain what I meant by the word agnostic. Saying, I am an atheist is pretty straightforward and less likely to misinterpreted.
Second, I live from day to day with no thought of whether a deity exists. I don't do anything in my life that remotely says to someone else, Bruce believes in God (and I have met a lot of Christians who are just as atheistic as I am). Morally and ethically I do my best to live according to humanistic principles. (See The Humanist Manifesto III.)  My concern is with how I live in the here and now. I have no thoughts of Heaven (or hell), no thoughts of eternal life, and no thoughts at all about anything beyond the grave.
That said, when I look at the natural world I can certainly see how someone might adopt some form of deism. While I do not find deistic arguments intellectually satisfying, I do understand how someone might come to such a conclusion. Most of the deists I know are every bit as atheistic as I am. The difference between us is that they hope that there is some sort life beyond the grave.
Even if I grant the premise that it is possible/likely that a God of some sort created the universe, there is no plausible way for me to make the jump from this nonspecific, ambiguous God to the Christian God of the Bible. Believing that a God of some sort created everything is one thing, but believing that the Christian God of the Bible is that creator is a leap of faith I cannot take (and I wish Christians would admit that when they use the word God, it is not a generic God they are talking about).
At the end of the day, atheism and evolution offer the best explanations for what I observe in the natural world. Do they provide ALL the answers?  Of course not, but I no longer need certainty. I am quite content to live with ambiguity, and not knowing everything is a humble reminder that I am human. While I still thirst for knowledge and understanding, I know that my quest will never reach a place of certainty or infallibility.