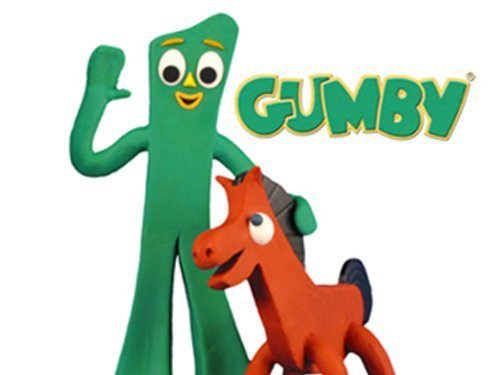 God is a lot like Gumby. He can be twisted and shaped into virtually any form a person wishes.
Take the God is Love crowd.
They stop by, read my writing, and are horrified to find that I think God is a God of judgment, wrath, hatred, and violence. Where did I e-v-e-r get such an idea? Perish the thought, Bruce. God is a God of love. God loves you and has a wonderful plan for your life. God would n-e-v-e-r do anything to hurt you, Bruce. He has your best interest in mind. Look at how much God loves you…he sent his son Jesus to die on the cross for your sins. Isn't that awesome?
No, it is not awesome. Blood atonement is quite violent and revolting, and I see no love in the act. What I see is a righteous, holy God who hates sin and those who do it. I see a God quite willing to destroy the human race because they don't keep his commands. I see a God who, for some perverse reason, sent himself to die on a cross, so his hatred of sin and those who do it could be assuaged.
You see, I have read the Bible. ALL OF IT. I take what the Bible says at face value. Yes, the Bible presents God as a God of love. However, the Bible also presents God as a righteous, holy, vengeful, hateful God who doesn't think twice about using violence to get his point across. God is the meanest son-of-a-bitch on the block. Cross him and you are dead, right Uzzah? (2 Samuel 6)
As I look at the world today, I see no evidence of this God of love. Look at his supposed followers. Do they evidence love to the world? Hardly. They fuss and fight amongst themselves. They split and divide over the silliest of things. Where is the love, Christians? If you can't get it right, how can you expect worldlings like myself to embrace the God is love notion?
I much prefer a world where God is Dead. I don't have to look for surreal, existential answers to the issues facing the human race. I don't have to manipulate a religious text to get a satisfactory explanation for what I see and read with my eyes. Humans are the problem, and humans are the solution; no God needed.
I don't need God to experience and know love. I have a wife, six children, three daughters-in-law, one son-in-law, thirteen grandchildren, one cat, and one dog. Through them I experience and know love. As a Christian would say of their peculiar version of God, they are ALL I need.
It is enough to live and die, knowing that I have been loved by others.
Bruce Gerencser, 63, lives in rural Northwest Ohio with his wife of 42 years. He and his wife have six grown children and thirteen awesome grandchildren. Bruce pastored Evangelical churches for twenty-five years in Ohio, Texas, and Michigan. Bruce left the ministry in 2005, and in 2008 he left Christianity. Bruce is now a humanist and an atheist. For more information about Bruce, please read the About page.
Are you on Social Media?
Follow Bruce on Facebook and Twitter.
Thank you for reading this post. Please share your thoughts in the comment section. If you are a first-time commenter, please read the commenting policy before wowing readers with your words. All first-time comments are moderated. If you would like to contact Bruce directly, please use the contact form to do so. Donations are always appreciated. Donations on a monthly basis can be made through Patreon. One-time donations can be made through PayPal.