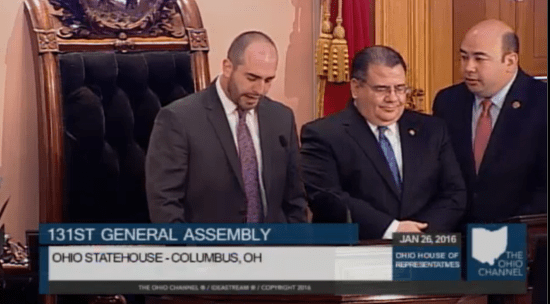 B.J. VanAman is the pastor of the Pickerington Baptist Temple in Pickerington, Ohio. He is a graduate of Crown College of the Bible, an unaccredited, King James Only,  Independent Fundamentalist Baptist (IFB) college in Powell, Tennessee. As is the custom in Christian Ohio, legislators can have religious dignitaries from their districts come and give an invocation. Last Tuesday, Tim Schaffer (R), representative from the 77th district (Lancaster) invited Pastor VanAman to open the session with prayer.
Van Aman proceeds to pray a five-minute "sermon" (a common ploy by Christian Fundamentalists), complete with King James English. At the five-minute mark House Speaker Cliff Rosenberger cuts VanAman off by saying AMEN and quickly beginning the Pledge of Allegiance. What follows is a video of the VanAman's introduction and prayer (first eight minutes).
The Columbus Dispatch had this to say about Van Aman's prayer:
….

Lawmakers are welcome to invite religious leaders from their district to deliver an opening prayer to the House, as Rep. Tim Schaffer, R-Lancaster, did on Tuesday. Most prayers don't go longer than 60 or 90 seconds, often delivering messages of inspiration and asking for wisdom and guidance.

House guidelines are largely based on a 1983 U.S. Supreme Court ruling requiring opening prayers to be nondenominational, nonsectarian and nonproselytizing.

The prayer on Tuesday mentioned "Though the blood of the Lord Jesus Christ," and went on to describe Jesus, whose "name is above every name," and at his name "every knee shall bow." It also described Jesus as the "author and finisher of our faith."

Rosenberger first peeked an eye open about three minutes in. At nearly four minutes, he opened his eyes and began looking around, clearly growing anxious about the length and trying to decide the right way to end it.

After just over five minutes, with no clear conclusion on the horizon, Rosenberger blurted out an "amen," thanked Van Aman for being here and then motioned toward the flag to start the Pledge of Allegiance.

"I am speaker, so whether it's floor action or the pastor giving the prayer, I feel I make the determination when we need to move it on," Rosenberger said.

He was not the only one who felt that way. After the Pledge of Allegiance, a hot mic picked up a female voice on the floor: "That was a sermon."

Rosenberger's action earned praise from Rep. Mike Curtin, D-Marble Cliff, who called it "entirely appropriate." Curtin covered the legislature for The Dispatch in the 1980s and did a story on the then-House chaplain, the Rev. Kenneth Grimes, a Catholic who was admired for his counsel and prayers that mixed inspiration and humor.

"He was very careful to acknowledge that the General Assembly is a diverse body," Curtin said. "The opening prayer should reflect that diversity. It should reflect the Constitutional acknowledgement of there not being a state religion."

That, Curtin said, means not infusing the name of Jesus Christ into many lines of the prayer.

"I don't think any members take objection to a Christian clergyman or woman making reference to Jesus Christ. But what we've had lately in this chamber for a period of years now is a heavy, almost Christian proselytizing as the opening prayer, which in my view is inappropriate," Curtin said.

The House has not had a designated chaplain for more than 20 years.

Members, Curtin said, need to school visiting clergy on the protocol. Rosenberger agreed that members may need to do a better job briefing their guests on expectations prior to the prayer.

Over-the-top sermonizing, Curtin said, "doesn't have a place in the public body."

….