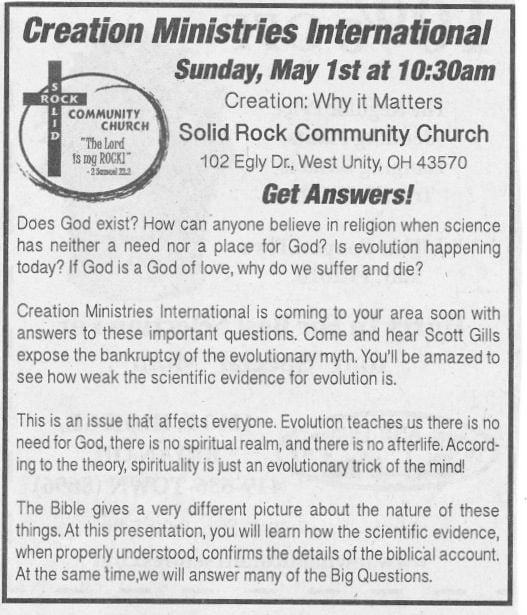 While there are certainly Evangelicals who are theistic evolutionists — a strange mix of theology and science — most Evangelicals are creationists. Despite a century and a half of scientific progress, most Evangelicals still believe that Genesis 1-3 accurately, literally, and absolutely describes how the universe came to be. While some Evangelicals are old earth creationists, subscribing to either the gap theory or the belief that God created an aged universe, most Evangelicals  believe that God created the universe in six 24 hour days, 6,021 years ago.  Here in rural Northwest Ohio, I suspect the majority of people believe in creationism.
On Sunday May 1st, Scott Gillis and  Creation Ministries International (CMI)  traveling carnival roadshow will be peddling ignorance at Solid Rock Community Church in West Unity, Ohio. According to a Bryan Times advertisement, Gillis will answer questions such as this:
Does God exist?
How can anyone believe in religion when science has neither a need nor a place for God?
Is evolution happening today?
If God is a God of love, why do we suffer and die?
According to the advertisement, Gillis will "expose the bankruptcy of the evolutionary myth."  He also plans to explain how "the scientific evidence, when properly understood, confirms the details of the biblical account."
In the end, as Ken Ham made clear in his debate with Bill Nye, for Evangelicals, the final answer to every question is THE BIBLE SAYS!
And Scott Gillis? Is he a scientist? Of course not. Gillis has a B.A. in Religious Studies from Oregon State University. According to CMI's website:
His (Gillis) education still left him with doubts regarding the inconsistencies between evolution, science, world history, and a straight-forward reading of the Bible.

Years later, a friend who was a paleontologist demonstrated to him how scientific evidence actually makes more sense when interpreted within the clear context of the Bible's account of history. This, along with Creation magazine, ignited a blaze in Scott to seek answers to the nagging doubts that plagued him. Once he realized that science and the Bible were not at odds with each other, he experienced a sustained joy, a renewed commitment to the Word of God, as well as a bold desire to share this life-changing message with others.

Scott now uses this conviction to impact our culture with easy-to-understand presentations that uphold the authority of God's Word and is one of CMI–US's most effective and popular speakers. Scott also desires to challenge others to equip themselves to be ready with answers (1 Peter 3:15) to impact their world.
Creationism has never been about science. It is a theological system of belief rooted in Biblical inerrancy and a literalistic interpretation of the Bible. According to creationists,  every question can be reduced to the printed words found in the Protestant Bible. God has spoken….end of discussion.
Notes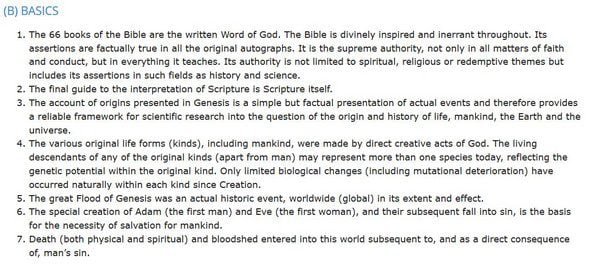 I thought this was a hoot.