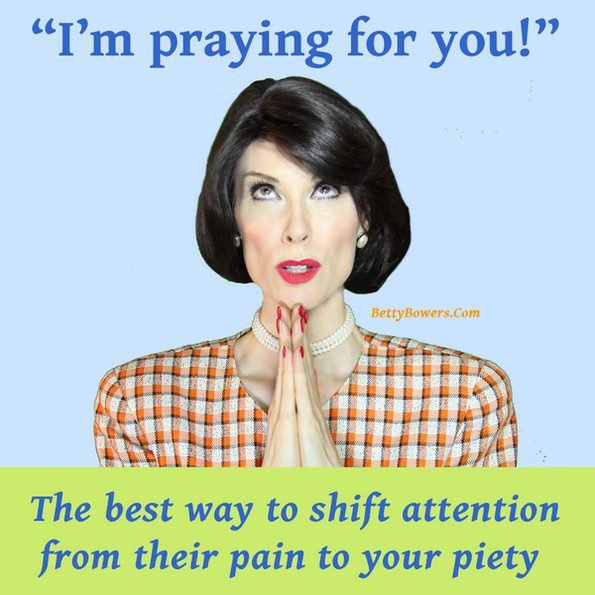 Every day on Facebook the following takes place:
Some Evangelical posts a status update that says: Please pray for me. I need ___________ or I am going through __________ or I have an unspoken request.
And like clockwork, the prayer comments quickly collect below the status update.
Praying.
Praying for you.
You are in my prayers.
Thinking of you and praying God will meet your need.
And on and one they go.
No one ever bothers to check the efficacy of the prayers. That's not the point. Saying I am praying is a way for Evangelicals to think they are doing SOMETHING while not actually doing anything.  Even worse, some Evangelicals are so busy doing "important" stuff on Facebook that they have no time to even type the word praying. These devoted followers of Jesus click LIKE, expecting that their meaningless action will somehow tilt heaven's prayer scale in the favor of the petitioner.
Look, I get it…saying "I'm praying for you" can often be a way of showing support for people going through trials and adversities. Knowing people are praying for you can be comforting, a sort of long distance hug. But far too often, real needs go unmet because people are busy praying instead of helping. The Bible says, whatsoever thy hand findeth to do, do it with all thy might. While this verse can be applied to masturbation — come on you were thinking it — I have always taken it to mean that if I have the power to help someone I should do so. I have sat through countless prayer meetings where well-intentioned Christians were praying over needs that they themselves could have met. I have always been of the opinion — even when I was a pastor — that Evangelicals spend way too much time praying and not enough time doing. Stop praying for the sick, hungry, and hurting and help them!
Sadly, many of the people who say "I will pray for you" don't even do that.