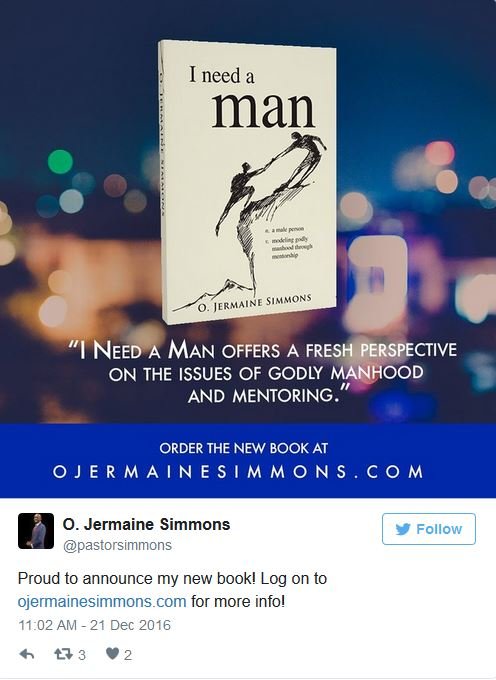 Pastor O. Jermaine Simmons stood before his congregation and asked for forgiveness. But he also tried to reconcile the man his parishioners had known for a decade with the adulterer being laughed at in church circles and the media.

Since he took over as pastor in 2005, more than 4,000 people had joined Jacob Chapel Baptist Church in Tallahassee. It had added 27 ministries, focusing efforts on the homeless in Florida's capital and ministering to youth.

And Simmons had just released his first book, "I Need a Man," a Bible-based paperback on modeling "Godly manhood."

Then Simmons's affair with another man's wife went public in dramatic fashion: On Jan. 17, the 36-year-old pastor — a married father — found himself cowering naked behind a fence, hiding from a gun-toting husband who'd stumbled on the affair, police say.

"What I want from God, I have already received — that's his forgiveness, " Simmons told his congregation five days later.

….

According to a Tallahassee police report, officers were called to the Sienna Square Apartments by a woman who said her husband had a gun — and was looking for her lover.

The naked man behind the fence was Simmons, who was also her pastor, she told officers.

She wasn't sure where her husband was.

But she knew he was angry — and armed.

The pastor had come over to the woman's house to "talk over starting a business, patents and trademarks, and providing less fortunate kids with clothes and shoes," she told officers, according to the police report.

Instead, they ended up in her daughter's bed, having sex, police said.

That same day, the woman's 6-year-old son had gotten sick at school. Administrators couldn't reach the woman, so they called her husband instead.

He picked up the sick child and headed home — where he found his wife cheating with their pastor, police said.

"The man yelled 'I'm gonna kill him' and went to their room and got a small handgun," according to the police report.

Simmons ran out of the apartment naked and hopped a privacy fence behind some shrubs, the report said.

But his car keys and his clothes were inside the house with the woman and her enraged husband.
O. Jermaine Simmons is the pastor of Jacob Chapel Baptist Church in Tallahassee, Florida.