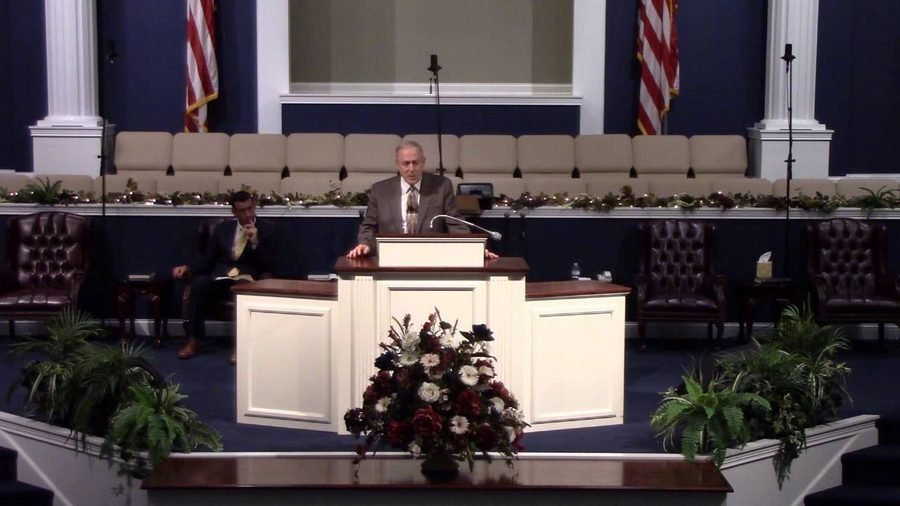 Please read previous posts on this scandal: Black Collar Crime: Woman Claims Evangelical Pastor Mike Holloway Knew She Had Been Sexually Abused and Did Nothing and Black Collar Crime: Evangelical Pastor Mike Holloway Denies He Knew Anything About Woman's Sex Abuse Claim.
Another victim has come forward in the ongoing Temple Baptist Church of Kokomo, Indiana sexual abuse scandal.
The Kokomo Perspective reports:
Another woman alleging she was molested by Donald Croddy stepped forward last week. She claims she was encouraged to stay at the Croddy household by Temple Baptist Church Pastor Mike Holloway post 1991.

Jamie, allowing the Perspective to publish her first name, spoke last week after she said she read the account of Dawn Price, who previously alleged she was molested by her father, Donald D. Croddy, at a young age. According to Jamie, now 36 years old and a Kokomo resident, reading Price's story brought back memories of her own alleged run in with Croddy.

"I saw Don Croddy's name," said Jamie. "Everything just kind of hit me. From 1992 to 1994 I was staying at his house on the weekends because the Holloways and (the Croddys) and my mom thought, because I wanted to be a member of the church, they just thought that would be a good way because I would need to be attending church Sunday morning, Sunday night, Wednesday afternoon, and any other time they requested me to be there … The Croddys were generous enough to do it. My mom was OK with it because they were a nice church family."

According to Jamie, while staying with the Croddys off and on for that two-year period, she was allowed to sleep in a small room on the main floor of the Croddy household. She described details about the room – such as its hardwood floor, off-white color, twin bed, and location within the house – in a manner that matched a separate description by Price. It's these details that Price said struck her, as the pair had not met prior to last week, while Jamie was making a report at the Kokomo Police Department.

….

Jamie said that while she was staying with the Croddys, Price's father made inappropriate advances on her. This, she said, included forced touching.

"He would forcibly hug me. He would like grab me, and hug me, and smoosh my chest into him," said Jamie. "He would then lower his hand onto my thigh and butt and not let me go."

Jamie also alleges Croddy would attempt to walk in on her as she changed at their house.

The situation, Jamie claimed, reached a head when she awoke one night with Price's father allegedly in the twin bed she slept in at the Croddy household on Judson Road.

"He came in there in the middle of the night," said Jamie. "I wore nightgowns, you know really long ones that had the buttons. I woke up with his hand in my shirt … and I screamed. He told his wife I just had a nightmare."

It's at that point, she said, she requested to meet with Holloway. At the time, she said she would have been between the ages of 12 and 14. According to Jamie, she said she told Holloway and his wife about what allegedly was  going on at the Croddy household.

"I felt uncomfortable. I talked to Mike Holloway and his wife because you were never allowed to talk with him alone [the Billy Graham rule]," said Jamie. "That was just the rule of church. You weren't supposed to be with boys alone. Matter of fact, you had to sit a Bible length away in a pew from a boy.

"I told them about some of these things because there were also times (Croddy) would open the door when he knew I was getting undressed. I was pretty much told I wasn't being a good enough Christian."

Afterward, Jamie said she never told anyone about her experiences, including her then-single mother. After riding the church's buses to services since 1985, beginning at the age of 5, Jamie said she stopped attending Temple Baptist Church.

….

When asked about Jamie's experience, the leadership of Temple Baptist Church denied the allegation. Because of Jamie's decision to withhold her last name, the Perspective could not provide a last name to the church because of the nature of her alleged ordeal.

"Without a last name, we cannot provide facts pertaining to a certain member of the church and what interactions this individual may or may not have had with Pastor Holloway," said Jim Willoughby, an associate pastor at Temple Baptist Church.

"However, the church can state with absolute certainty that Pastor Holloway never encouraged any children to stay at the Croddy home after accusations made by Price in 1991. Additionally, if any church member – child or adult – were to come to the church and claim inappropriate behavior against them, the claim would receive immediate and thorough review by church leadership, including Pastor Holloway. Temple Baptist Church does not and has never tolerated sexual abuse."

….
You can read the Devin Zimmerman's latest in depth article here.