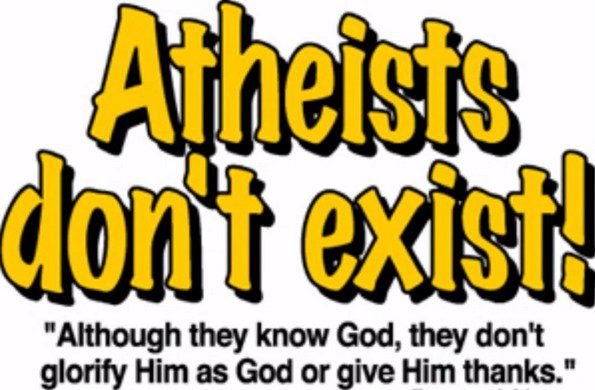 Americans express a considerable degree of intolerance toward atheists. More than half of Americans believe atheists should not be allowed to put up public displays that celebrate their beliefs (for example, a banner highlighting Americans' freedom from religion under the Bill of Rights). More than one-third believe atheists should be banned from becoming president, and similar numbers believe they should be denied the opportunity to teach in public schools or the right to hold a rally.
And therein lies the problem: The stigma attached to the atheist label may prevent Americans from claiming it or sharing their beliefs with others. In certain parts of the country, pressure to conform to prevailing religious practices and beliefs is strong. A reporter with The Telegraph writing from rural Virginia, for example, found that for many atheists, being closeted makes a lot of sense. "The stakes are high," said a Virginia Tech graduate who was raised Christian but is now an atheist. "Do I want to be supported by my friends and family, or am I going to risk being kicked out of clubs and organizations? It's tempting just to avoid the whole issue."
The fear of coming out shows up in polling too. A 2016 PRRI survey found that more than one-third of atheists reported hiding their religious identity or beliefs from friends and family members out of concerns that they would disapprove.
But if atheists are hiding their identity and beliefs from close friends and family members, how many might also refuse to divulge this information to a stranger? This is a potentially significant problem for pollsters trying to get an accurate read on the number of atheists in the U.S. It is well documented that survey respondents tend to overreport their participation in socially desirable behavior, such as voting or attending religious services. But at least when it comes to religious behavior, the problem is not that people who occasionally attend are claiming to be in the pews every week, but that those who never attend often refuse to say so. Americans who do not believe in God might be exhibiting a similar reticence and thus go uncounted.
Another challenge is that many questions about religious identity require respondents to select a single description from a list. This method, followed by most polling firms including PRRI (where I work as research director), does not allow Americans to identify simultaneously as Catholic and atheist. Or Jewish and atheist. But there are Catholics, Jews and Muslims who do not believe in God — their connection to religion is largely cultural or based on their ethnic background. When PRRI ran an experiment in 2014 that asked about atheist identity in a standalone question that did not ask about affiliation with any other religious group, we found that 7 percent of the American public claimed to be atheist.
Asking people about God in a multiple-choice format is self-evidently problematic. Conceptions of God vary substantially and are inherently subjective. Does a belief in mystical energy, for example, constitute a belief in God? When Gallup recently asked a yes-or-no question about belief in God, 89 percent of Americans reported that they do believe. But, in a separate poll, only slightly more than half (53 percent) of Americans said they have an anthropomorphic God in mind, while for other believers it's something far more abstract. Many survey questions also do not leave much room for expressions of doubt. When PRRI probed those feelings of uncertainty, we found that 27 percent of the public — including nearly 40 percent of young adults — said they sometimes have doubts about the existence of God.
Attitudes about atheists are quickly changing, driven by the same powerful force that transformed opinion on gay rights: More and more people know an atheist personally, just as the number of people who report having a gay friend or family member has more than doubled over the past 25 years or so. Despite the fears that some nonbelievers have about coming out, 60 percent of Americans report knowing an atheist. Ten years ago, less than half the public reported knowing an atheist. Today, young adults are actually more likely to know an atheist than an evangelical Christian. These personal connections play a crucial role in reducing negative feelings. A decline in stigma may also encourage more atheists to come out. This would allow us to provide a more accurate estimate of atheists in the U.S. — is it 3 percent, 10 percent, or 26 percent? — and could fundamentally change our understanding of the American religious landscape.
— Daniel Cox, FIveThirtyEight, Way More Americans May Be Atheists Than We Thought, May 18, 2017