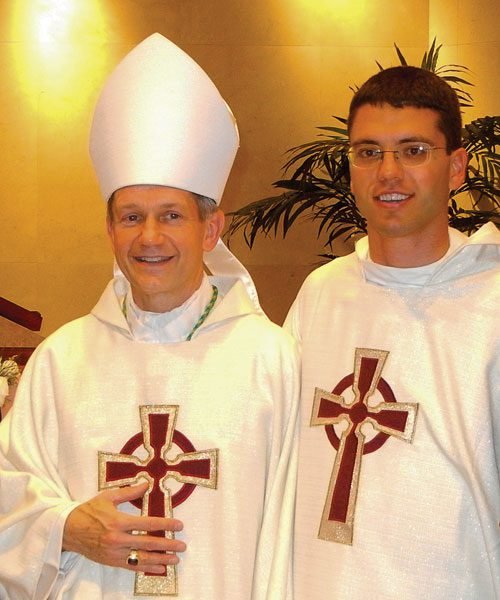 Scott Kallal, assistant pastor of Holy Spirit Catholic Church, Overland Park, Kansas and St. Patrick Catholic Church, Kansas City, Kansas, was charged Friday with "two counts of aggravated indecent liberties with a child."
Authorities say a Catholic priest charged in Wyandotte County with child sex crimes has been arrested in Maryland.

The Wyandotte County prosecutor's office announced Tuesday that the Rev. Scott Kallal was charged Friday with two counts of aggravated indecent liberties with a child. Online court records show the 35-year-old was arrested Monday in Rockville in Maryland's Montgomery County.

Prosecutor's office spokesman Jonathan Carter said he didn't know whether Kallal had an attorney. No details were provided about the allegations.

The Archdiocese of Kansas City in Kansas announced last week that Kallal was pulled from public ministry duties after two sources accused him of "boundary violations." The archdiocese said its preliminary investigation "revealed violations of some of the archdiocese's safe environment guidelines which all clerics, employees and volunteers are asked to observe when interacting with young people."

The archdiocese said Kallal's suspension was announced during Masses at Overland Park's Holy Spirit Church and St. Patrick Church in Kansas City, Kansas. He served at both.

An initial statement from the archdiocese said Kallal "denies any moral misconduct or malicious intent and has agreed to undergo evaluation and counseling." In a follow-up statement Tuesday, the archdiocese said that it would continue to "cooperate fully" with law enforcement, and that anyone with information about priests, deacons, employees or volunteers engaging in inappropriate conduct should report their concerns.
Fox-4 adds,  in a report that is quite sympathetic to the Catholic Church and its "rare" sexual abuse/misconduct/rape/sexual assault/pedophilia problems:
….

Parishioners at St. Pat's and Holy Spirit Catholic Church in Overland Park just learned of the allegations the weekend of July 15-16, when it was announced during mass that Fr. Kallal had been relieved of his duties.

While incidents like this are relatively rare, the church says it remains committed to ensuring no child becomes a victim.

The inside of a Catholic Church is often beautiful, and a place where many find comfort. But allegations and criminal charges against church leaders like Fr. Scott Kallal can tarnish its prestige.

"The church is in the business of saving souls and in spiritual life. They're experts in spirituality. But they've brought in experts now and worked together with them to ensure safety of children is a top priority," said Carrie Cooper, director of the Office of Child and Youth protection for the Kansas City, Mo. Archdiocese.

Cooper's job was created out of controversy. Nearly six years ago, the Kansas City, Mo. Archdiocese created the Office of Child and Youth Protection after Fr. Shawn Ratigan was sent to prison for child pornography. There is a similar office in KCK, with which Cooper's office often works.

Cooper says a lot of good changes have happened in recent years to prevent abuse, and to report it, which includes getting police involved right away.

"The civil authorities are the most important. It is their job to sort those things through and do those investigations. So that's definitely what we want to happen first," said Cooper.

There are also more intensive background checks for every school and church employee and volunteer. Those individuals also go through intense trainings on child and sexual abuse. That training is also given to kids in parishes and Catholic schools.

"They're offered training on what is a safe boundary, what is grooming, what is predatory behavior and what do I do to protect myself as a child," Cooper said.

If anyone breaks a boundary, kids are asked to tell a trusted adult. And if that adult broke the rules, they should keep telling trusted adults until it is taken seriously.

"The goal of all these efforts really is to make sure children are safe. That's absolutely the most important thing," Cooper said.

There's also an independent review board, composed of non-church members who look at every allegation made against someone within the church. The Kansas City, Mo. diocese also has an ombudsmen — a former prosecutor that looks closely at each case.

As for Fr. Kallal, he was said to be attending counseling before his arrest in Maryland. He will be brought back to Kansas within the next few weeks to answer to the charges here.

….