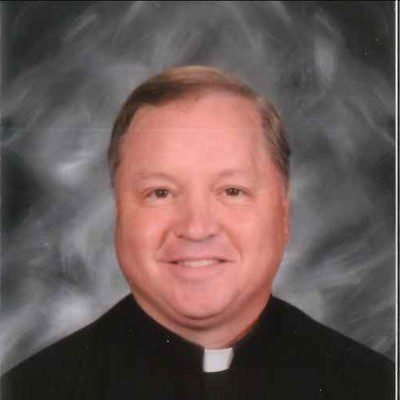 Barry Stechschulte, pastor of Holy Rosary Catholic Church in St. Marys, Ohio, let congregants know that combating global climate change is an attempt by communists to overthrow capitalism and evolution is all about sex, sex, sex without God getting in the way.
A Message from the Pastor
Another quote from the little booklet I have called "The Wonders of the Universe," is from Galileo, the famed scientist who theorized about a sun-centered solar system. It reads, "In questions of science, the authority of a thousand is not worth the humble reasoning of a single individual."
Science is not popular opinion. Just because a lot of people believe something to be true in any scientific field, even if it's a majority of scientists themselves, does not make something true. In Galileo's time, he was about the only man to think that the earth revolved around the Sun, and yet he was correct. Today, a seeming majority of scientists and the media believe in man-made climate change – that human beings are responsible for global warming. But that doesn't make it true.
So called global warming (more correctly called 'climate change') is a natural phenomenon. The Earth warms and cools over long periods of time. Scientists who say the Earth is warming and that sea-levels are rising and that our lives are in danger, were saying in the 1970's that it was cooling and that an ice age was coming. Today, they say it is the change in Earth's climate that is the problem, causing anything from increased storm activity to terrorism, and that man, through carbon emissions (driving a pickup truck, for example), is the cause.
First of all, not all the scientists believe this is the case. Probably only those who have grant money on the line are publishing papers which prop up this phony scenario for climate change. Buoyed by money from activists who want to take down capitalism in the West, modern science and the media are claiming some outrageous things about what the Earth will suffer if we continue on this path of fossil fuel use. Of course, nothing has happened and global temperatures have flat-lined in recent years.
This is agenda-driven science, much like the intolerant belief in evolution. In the case of evolution, it's all about sex, free from any constraint of divine authority. For climate change, it's redistribution of wealth on a global scale, with communist undertones. Hopefully, those few individuals, based on humble reasoning, will help authentic science to shine above the insanity that is climate change.
Father Barry
— Barry Stechschulte, Newsletter for Holy Rosary Catholic Church, St. Marys, Ohio, July 2,2017
HT: Plunderbund