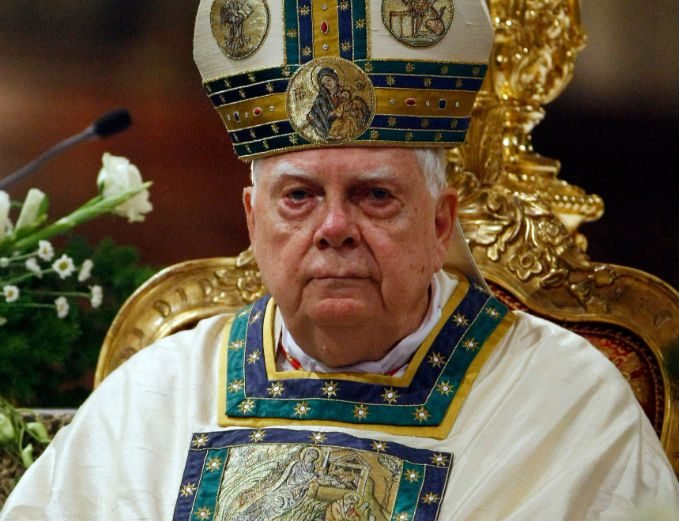 Cardinal Bernard Law died on Wednesday at the age of eighty-six. At the very moment Law breathed his last breath, I believe I heard countless Catholic sex abuse victims and their relatives say, with one voice, good riddance. May you rot in hell. Alas, as this story will show, Law not only escaped hell, it is likely he escaped purgatory too.
Law was Archbishop emeritus of Boston and an American cardinal of the Roman Catholic Church. Law is best known for having extensive knowledge of sex abuse perpetrated by priests and doing nothing about it. Worse yet, Law often moved sexual predators to new parishes where they continued to rape and assault children in the name of God. According to Wikipedia:
One priest alone was alleged to have raped or molested 130 children over decades, while Law and other local officials moved him among churches rather than going to the authorities.
Law resigned as Archbishop of Boston in 2002, only to be appointed two years later by pedophile-sympathetic Pope John Paul II to a cushy position as Archpriest of the Basilica di Santa Maria Maggiore in Rome.
At no time did Law admit that his behavior was sinful or criminal. In a statement made after his resignation, Law asked for prayer and forgiveness, acknowledging that he had shortcomings and made mistakes. Shortcomings and mistakes? How about owning destroying the lives of hundreds and hundreds of Catholic children and their families? How about telling the Pope you that can no longer in good conscience be a priest, and that you intend to spend the remaining days of your life atoning for your support of men who raped and molested their way through numerous Catholic parishes?
Pope Francis is generally considered a great guy, a man who understands the people and sincerely desires to help the poor and afflicted. Pope Francis damaged his good-guy reputation this week by allowing Law to have a funeral befitting a Cardinal in St. Peter's Basilica. Nothing was said about Law's abhorrent behavior and his complicity in decades of criminal sexual abuse. Instead, Law's many "good" deeds were memorialized, reminding anyone who was paying attention that Pope Francis and the Catholic Church still don't get it when it comes to sexual abuse. Even the choice of Italian Cardinal Angelo Sodano to conduct Law's funeral Mass reeks of stupefying indifference towards victims of sexual abuse. Sodano, according to John Allen, Jr, writing for The Crux:
Sodano . . . has a checkered history when it comes to the Church's abuse scandals. Among other things, Sodano was a principal patron of the late Mexican Father Marcial Maciel Degollado, founder of the Legion of Christ, whose own pattern of sexual abuse and misconduct was eventually acknowledged by his own order after a Vatican finding of guilt.
Emma Green of The Atlantic says it best when she writes:
Even in death, he [Law] was given a ceremonious exit: a funeral mass at St. Peter's Basilica, attended by a coterie of cardinals and complete with a blessing from Pope Francis. The Church has taken steps to move past its legacy of clergy sex abuse over the last decade, but it still betrays moments of ambivalence like this, caught between the moral imperative to eliminate abuse and its reticence about sacrificing decorum or showing disloyalty to powerful clerics.
Moments of ambivalence indeed — a poignant reminder that Pope Francis and the Church still, to this day, do not understand how the massive Catholic sex abuse scandal is viewed by the public, nor, it seems, do they understand how memorializing a pedophile enabler such as Law rips open the psychological scars of countless sex abuse victims.
Here's what Pope Francis should have done. Standing before the world, the Pope should have, one last time, exposed Law's behavior, asking his victims to forgive the Church for its crass indifference towards their plight; and, in a gesture of contrition, ordered Law's body to be buried among the heathen. In doing so, Pope Francis would be saying to pedophile priests and their enablers that sexual abuse is a mortal sin worthy of banishment on this side of the grave and hell on the other.
Jesus said in Mathew 18:5,6:
 And whoso shall receive one such little child in my name receiveth me. But whoso shall offend one of these little ones which believe in me, it were better for him that a millstone were hanged about his neck, and that he were drowned in the depth of the sea.
Instead of a millstone around his neck, Law received the praise and blessings of the Pope and his fellow Cardinals. In giving Law such magnanimous send-off, these "godly" men, once again, showed that when it comes to sexual abuse they simply don't get it.
About Bruce Gerencser
Bruce Gerencser, 60, lives in rural Northwest Ohio with his wife of 39 years. He and his wife have six grown children and eleven grandchildren. Bruce pastored Evangelical churches for twenty-five years in Ohio, Texas, and Michigan. Bruce left the ministry in 2005, and in 2008 he left Christianity. Bruce is now a humanist and an atheist. For more information about Bruce, please read the About page.
Bruce is a local photography business owner, operating Defiance County Photo out of his home. If you live in Northwest Ohio and would like to hire Bruce, please email him.
Thank you for reading this post. Please share your thoughts in the comment section. If you are a first-time commenter, please read the commenting policy before wowing readers with your words. All first-time comments are moderated. If you would like to contact Bruce directly, please use the contact form to do so.
Donations are always appreciated. Donations on a monthly basis can be made through Patreon. One-time donations can be made through PayPal.