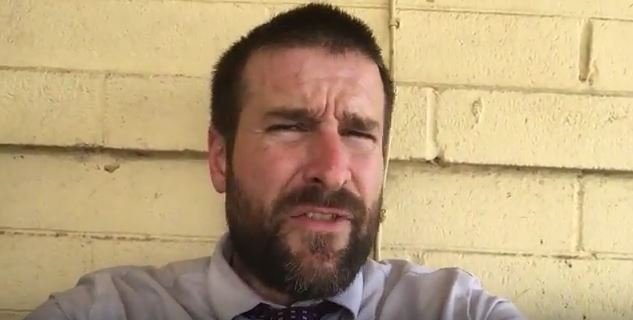 I was quite surprised to see the following article in my Google Alerts. Being of Hungarian descent myself, I was intrigued by the author's perspective on Steven Anderson and his wife Zsuzsanna. If you are not familiar with Steven Anderson, please read, Understanding Steven Anderson, Pastor Faithful Word Baptist Church, Tempe, Arizona.
Pastor Steven Anderson of Arizona's Faithful Word Baptist Church often claims to have a monopoly on "true," undiluted "Bible-believing" Christianity. In his mind, Christ's message is not of redemption and forgiveness, but of visceral rage and damnation for a wide range of people on his hate list.
….
In Mr. Anderson's mind, homosexuality and pedophilia are inextricably linked. In his skewed private interpretation of Scripture, he also fails to consider that Leviticus does not refer to committed, monogamous same sex relationships (this concept is not present in Scripture), but rather to sexual encounters associated with idolatry. (For a detailed discussion of this from a progressive Catholic perspective, see the piece in the Liberal Catholic Digest.) While his worst vitriol is reserved for homosexuals, Mr. Anderson publishes anti-Semitic and anti-Catholic material as well, and his view of women (they are to eschew college and remain in the house) also raises eyebrows. In 2016, during a sermon, Mr. Anderson did an impression of the deceased Mother Teresa lying as a corpse in a casket, after which he started shrieking and flailing his arms, explaining to his congregation that "she's burning in hell right now."
Mr. Anderson is also a Holocaust denier. "I don't believe that the official version of the Holocaust is true whatsoever," he said in a video ominously entitled The Holocaust Exposed. He uses debunked writings of Holocaust deniers in his videos to argue that while some Jews, along with many other people, may have died in World War II, there was no Holocaust, no Final Solution and no concerted effort to annihilate Jews as such. He has also gone on to declare that Jews are the most "wicked" people in the world, holding them responsible for the spread of pornography.
….
The 36 year old Steven Anderson's wife, Zsuzsanna Tóth, is Hungarian and the two met in 1999, in Munich, Germany. Zsuzsa had lived in both Germany and Britain and the young Steven seemed to be mesmerized by her "British" English. (She did not have much of a Hungarian or German accent, apparently.) The young Mr. Anderson was handing out Christian tracts in a public square and this is where the two first met. When Mr. Anderson returned to the U.S., the two remained in touch through email, regular letters and built a friendship. Yet Mr. Anderson believed he could never fall in love with her for a one very important reason. Mr. Anderson writes:
"She was still not saved, and I had absolutely no intention of ever falling in love with, dating, or marrying an unsaved girl, no matter how much I liked her…Every girl I ever dated was saved, and my first step was always to bring them to my church to see if they enjoyed the hard, biblical preaching."
That very American and individualist understanding of Christian salvation as being a personal, one-time act of "accepting Christ into your heart" and the notion of "hard, biblical preaching," was foreign to Christian culture in Hungary, be it Catholic or Protestant. Born-again Christianity was brought to the country, and to other parts of Eastern Europe, by American Evangelical and Baptist missionaries. Full disclosure: I am familiar with this first-hand. When I was living in Budapest with my parents in the nineties, they enrolled me in the International Christian School of Budapest (ICSB), located in the southwest Buda town of Diósd. The school was established by American born-again missionary groups, such as the Association of Baptists for World Evangelism, Campus Crusade for Christ and a handful of others. The concept of being a "born-again Christian" was as foreign to me, growing up in a Catholic family, as it was to nearly every other student of Hungarian origins. The notion that somehow I, my family and Hungarian society writ large–built on the narrative of St. Stephen's Christian state and historic Hungary as being a bulwark of western Christianity in the East–were not Christian, was incomprehensible.
To be sure, my time at ICSB was not characterized by the type of vitriol that forms the basis of Mr. Anderson's preaching, even if there seemed to be a broad consensus that Catholics were not saved and anti-Catholicism most certainly existed in some circles. The American missionaries on the outskirts of Budapest worked hard to raise enough money in their churches back home to allow them to live quite modestly in Hungary. They often learned Hungarian, tried to integrate into Hungarian society and were clearly driven by a deeply held belief that they could bring eternal life in Christ for the people of this post-communist society by convincing them to perform a simple, personal gesture of faith.
When Zsuzsa visited the Steven and his parents in Roseville, California, "saving" this young Hungarian woman was clearly a consideration. The same day her plane landed, she was introduced to a most extensive collection of Bibles. Mr. Anderson explains:
"I showed her the big bookshelf in my room that I was pretty proud of which had 3 long shelves (I have always love books and done a lot of reading). The top shelf contained about 40 different King James Bibles…She thought having forty-some Bibles was a little bit excessive. I told her that at least if I were ever burned at the stake, there would be plenty of fuel, and that didn't seem to make her feel any better about it…"
Mr. Anderson continues with his first impression of this young European:
"Being an unsaved girl from Europe, she had been brainwashed into believing a lot of left-wing ideology such as socialism, feminism, humanism, gay rights, etc., and she was definitely against spanking… I remember explaining to her why there was no way that evolution could actually be true. She had never in her life even heard of anyone questioning it."
Indeed, even conservative Hungarian Catholics and Protestants would not generally question evolution–it was simply not a topic of debate in Hungarian society in the nineties…nor elsewhere in the region. But Zsuzsa was softening, as she was introduced to the Anderson family's faith life. "On Sunday morning, we went to Regency Baptist Church with the whole family. This was her very first time in a Baptist church. She still wasn't a believer, but she really enjoyed the service and said that she liked it a lot better than Catholic church," recalls Mr. Anderson.
The young man had clearly developed feelings for Zsuzsa Tóth, but was troubled by the fact that she was not "saved."
"I went to my room with a heavy heart. I had really become fond of Zsuzsa, and I was sad that she still wasn't saved. I got on my knees and wept, praying to God that she would get saved. Little did I know that at the exact moment my tears were flowing as I prayed for her, she was upstairs in her room, asking Jesus Christ to save her."
And there it is: Zsuzsa Tóth become a Christian. In Roman Catholicism, salvation is a life-long process and one's relationship with the divine and indeed the mystery of the incarnation is more layered, multifaceted and much more communal in nature than to fit neatly into a one-time formula, invoked in private.
Despite her conversion, Zsuzsa, coming from a European background, was horrified by the death penalty in the U.S. and about Steven's visceral hatred towards homosexuals. Mr. Anderson recounts:
"I told her that I believed that our government should give homos the death penalty. This made her very upset and became our first fight. It was not that she had a particular soft spot for homos, it was just that she had always been taught that the death penalty was wrong in general, and especially for something other than murder! Basically, she was just emotional because she considered me to be a nice guy and could not believe that I would condone of such a "violent" measure. It seemed like a contradiction to her at the time. Keep in mind that she had just gotten saved only 6 days before…"
The two spoke a fair bit about marriage as they got to know each other better. Somewhat oddly for a born-again Christian so serious about his faith, they tried to get married in 2000 at what they believed was a 24/7 wedding chapel in Reno, Nevada, which turned out to be closed by the time they got there. In the end, they had a 2-minute wedding ceremony at a place called the Chapel of the Bells, without even Steven's parents present or knowing about it, upon which they "headed back to Roseville to consummate the marriage."
Zsuzsa returned briefly to Germany, so the young couple were in a long-distance marriage for the next three weeks, until her return to the U.S. Zsuzsa was then baptized at Regency Baptist Church, one month after being "saved." Mr. Anderson initially worked for a residential alarm company, installing home alarm systems. Zsuzsa gave birth to nine children and Steven established his church, Faithful Word Baptist Church, in 2005. He emphasizes that he never completed college or university, but is disciplined about memorizing large parts of the Bible–and has memorized nearly half the New Testament.
— Christopher Adam, Hungarian Free Press, Pastor Steven Anderson — A Vitriolic American Baptist and His Hungarian Connection, January 23, 2018