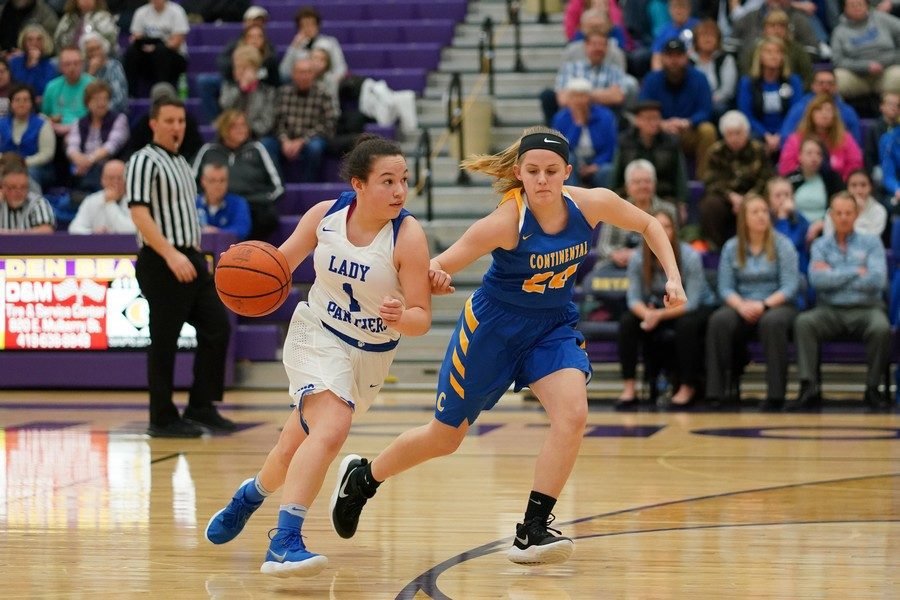 What follows is a letter I wrote  several days ago to the athletic director at Miller City High School and the Ohio High School Athletic Association (OHSAA):
February 27, 2018

Dear Deb,

Today, I attended the Fairview vs. Spencerville High School Tournament basketball game. I arrived at the venue seventy-five minutes before the doors opened. I asked the parking lot attendant to point me to the handicapped parking spaces nearest the gymnasium. He had me park in the handicapped spots in front of the main entrance. Indeed, this allowed me a short, easy path to my seat.

After the game, attendees were required to exit via the doors opposite of where I entered. When I realized that this path was going to take me away from where I was parked, I asked a man handling crowd control to tell me the best way to get to where I was parked. I told him exactly where I was parked. Instead of allowing me (or anyone else who parked in the front handicapped spaces) short, easy access to my parking space, he told me I had to exit the far side of the building. He then said, and I quote, "it's not too far away, you can walk it."

First, how did he know what "not to far away" was for me? There was a reason I parked where I did, and I expected to be able to return to my vehicle via the same path I entered the venue. Second, how did he know I could walk it? Did he have magic powers that enabled him to divine my handicap and physical abilities? Not wanting to press the matter further, I walked the long hallway to the far exit and exited the building. I then had to walk around the building to the front where my car was parked. Needless to say, I was exhausted by the time I reached my vehicle.

I am writing this letter to make you aware of this issue, asking that you please address my concerns with the relevant people. In the future, if people parking in handicapped spaces are expected to exit the far side of the building, then the parking spaces should be on that side. If the parking spaces remain at the front of building, then handicapped attendees parking in them should be able to exit the venue the same way they entered.

Thank you for taking the time to read my letter.

Bruce Gerencser
345 East Main Street
Ney, Ohio 43549
I received a prompt reply from Miller City's athletic director. She assured me the matter would be looked into and changes made so handicapped people don't face this or similar problems in the future. I appreciated Deb's thoughtful reply. As of the writing of this post, I have not heard back from the OHSAA.
I am a professional photographer. During the winter months, I attend local high school basketball games. I take numerous photographs, sharing them with the players and their families on Facebook. On a few occasions, I have even made a few bucks off my work. I thoroughly enjoy watching high school sports (both boys' and girls'), so attending the games and photographing them provides a brief respite for me as I struggle with chronic pain and disability.
This past season, I attended thirty or so games. It's tournament time now, so opportunities to see local teams play are becoming fewer and fewer. I have grandchildren in the Tinora and Stryker school districts, and my oldest granddaughter plays for Stryker, so I try to attend as many Tinora and Stryker games as I can. I live in the Fairview school district, so I try to attend their games as well. During the latest holiday season, I donned my red stocking hat as I attended games, leading to countless adults calling me Santa Claus, and more than a few children wondering if I was the "real" Santa. (Seriously, if I was Santa Claus, would I be spending winters in Ohio? Not a chance!) Bit by bit, high school players I have photographed have struck up conversations with me. I have learned much about high schoolers through these conversations. Attending games gives me opportunities to get out of the house, even when I don't want to. As people with chronic pain and illness will tell you, they have to battle the tendency to want to curl up in a corner and be left alone. In my case, I know it's good for me to be out and about, even if it causes my pain levels to rise.
In 1997, I was diagnosed with Fibromyalgia. Since then, the list of my afflictions continues to grow. I daily battle unrelenting chronic pain from the top of my head to the bottom of my feet. Over the weekend, I was sitting in my recliner watching TV with lover, friend, and caretaker, AKA Polly. All of a sudden, my left foot felt like it had been repeatedly hit with a hammer. My toe, if you can imagine this, was pulled back to about the ten o'clock position. For thirty or so minutes my foot throbbed with pain. I tried to walk, but I couldn't. Finally, the pain subsided, the tears dried, and I returned to watching TV. Just another day in the life of a chronic pain sufferer. You never know what you'll face on any given day.
I also have osteoarthritis in my neck, hands, hips, shoulders, upper back, lower back, knees, and feet. In other words, Uncle Arthur is my constant companion. Throw in high blood pressure, diabetes, incontinence, and bowel problems . . . well, life is grand. It is what it is. I embrace every day as it comes, grateful that I am still among the living.
When I attend public events such as the aforementioned basketball game, I plan my day carefully. I always arrive at least an hour early. This allows me to get parking close to the entrance, and it helps me avoid dealing with rude and inconsiderate people as they push and shove their way towards their seats. Arriving early also allows me to find seating that accommodates my handicap. At basketball games, I prefer to sit on the first row at floor level. I haltingly walk with a cane, so it is best for all involved that I don't attempt to walk up or down bleachers. I have fallen on more than a few occasions. I suspect if three-hundred-and-fifty-pound Bruce Gerencser landed on someone it would cause serious harm. I do all I can to avoid contact with others.
Seating, of course, is not my only concern. I also have to contend with access to concession stands and bathrooms. I try to go to the concession stand when there are not a lot of people in line. Bathrooms provide a unique and, at times, harrowing experience. Public school bathrooms are supposed to be ADA compliant, but older schools are not required to follow the code. On several occasions I have had to back into stalls, shut the door, and then turn around just be pee. Zeus help me if my bladder is screaming, Gotta go NOW! Accidents happen, and all I can do is hope that no one notices the dark wet stain on my blue jeans. And going #2, as my grandchildren say? I avoid that like the plague. Everything from small stalls, cheap single-ply toilet paper, and my suspenders coming loose, conspire to make taking a dump — another euphemism for defecation which my grandchildren use — a nightmare.
I write all this to give some context as to why someone saying to me, "It's Not Too Far Away, You Can Walk it" is a big deal. The last thing I need is for someone to dismiss my disability — even if the person does so innocently — because he was in a hurry, or just following the "rules." I have learned that the only way for disabled people to be heard is for them to shout loudly above the noise of the crowd. In my case, shouting loudly means writing letters, emails, or blog posts. By doing so, I hope that people will be educated about the difficulties the disabled face when attending public events.